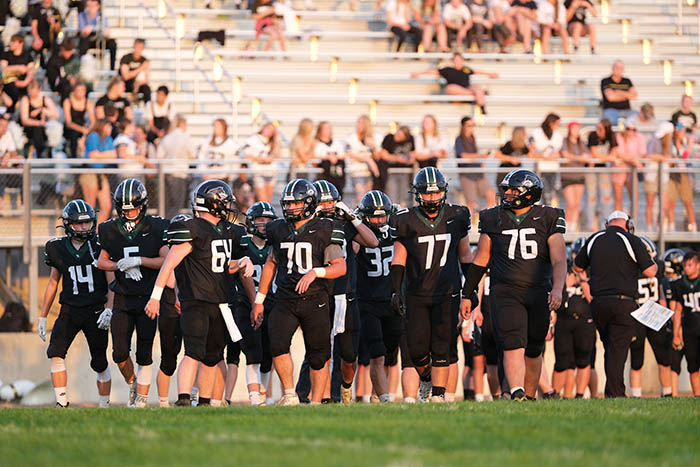 IKM-Manning at LoMa
LoMa 29
IKM-Manning 18
IKM-Manning was challenged Friday night and saw plenty of good plays as they continued district play against LoMa. 
The Wolves got off to a good start in the first quarter against the Panthers with a touchdown to lead 6-0 and were able to recover a fumble and start off at the LoMa 19-yard line heading into the second quarter. Cooper Irlmeier continued to do it all for the Wolves, rushing for 109 yard and a touchdown offensively, and defensively snatching an interception and running back a kickoff for an 81-yard touchdown. LoMa didn't lay back and let IKM-Manning go off, the Panthers were able to snap back by putting up 15 points in the second quarter and led 15-12 going into halftime. 
The Panther's offensively were led by Calvin Collins who rushed for 127 yards and a touchdown and Evan Roden who had 90 rushing yards and two touchdowns. LoMa's defense was able to win the battle in the third quarter and kept IKM-Manning out of the endzone while their offense was able to get another score on the board to lead 21-12 going into the final quarter of the game. Irlmeier showed off his shiftiness and running abilities in the fourth quarter where he got that 81-yard kickoff return touchdown to cut down the LoMa lead to 29-18 with 10:17 left in the game. LoMa's defense kept the Wolves away from scoring long enough in the fourth quarter to claim victory by a final score of 29-18. 
Other stat leaders for the Wolves included Irlmeier who also had 7.5 total tackles on the night and Davis Rasmussen who had 11 carries, 73 rushing yards, and a touchdown. The Wolves get a home game in week seven when they host Lawton Bronson. 
IKM-Manning Stat Leaders
Ross Kusel: 4/13, 51 Yards
Cooper Irlmeier: 24 Carries, 109 Yards, 1 TD; 7.5 Total Tackles, INT, 81-Yard Kick Return TD
Davis Rasmussen: 11 Carries, 73 Yards, 1 TD
Box Score
Teams         1         2        3       4         Final
IKMM           6        6        0       6     |     18
LOMA           0      15        6       8     |     29