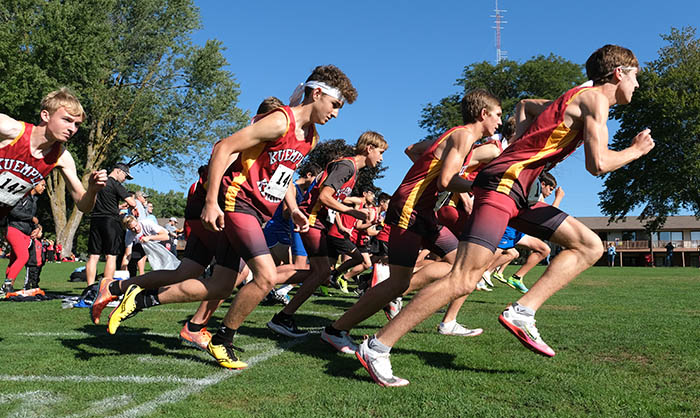 Boys Cross Country Results Thursday, September 14th 
Audubon, Coon Rapids Bayard, IKM-Manning and Kuemper At Panorama 
Panorama had timing issues and results have not been released at the time of posting the story. Kuemper did report the boys finished in 2nd place as a team with Ryan North in 7th place, Jacob Greving in 9th and Dayton Wiederien in 17th place.
East Sac and South Central Calhoun At Sioux Central 
East Sac continued their strong start to the season, taking 2nd place to go along with three championships in four meets. The Raiders finished with 78 points, 9 points behind Spirit Lake, who won the meet with 67 points. South Central Calhoun had a strong meet, taking 8th place with 187 points as the Titans had a runner in the top 10. East Sac placed two runners in the top 10, both in the top 5 and had four runners in the top 25.
Parker Engel ran a extremely strong race to lead East Sac, finishing 3rd in 16:33.95. Teammate Isaiah Aragon was 4th in 16:43.66. Redge Potts of South Central Calhoun, continues to lead the Titans, finishing 8th in 17:32.41. Evan Osler of Okoboji was the individual champion, running a 16:14.67 and Brandon Hughes of Spirit Lake took 2nd in 16:23.77. Owen Engel was 12th and Landon Sporrer was 22nd for East Sac.
Details for East Sac and South Central Calhoun are below.
Team Standings
Spirit Lake 67
East Sac 78 
Okoboji 78
Sheldon 98
Sioux Central 148
MVAOCOU 154
Sibley Ocheyedan 182
South Central Calhoun 187 
Manson NW Webster 212
Hartley Melvin Sanborn 256
Ridge View 259
Alta-Aurelia 291
OABCIG 334
South O'Brien 346
East Sac Results
3rd Parker Engel 16:33.95
4th Isaiah Aragon 16:43.66
12th Owen Engel 17:42.20
22nd Landon Sporrer 18:14.60
37th Riley Aragon 19:02.66
43rd Wyatt Smith 19:22.03
South Central Calhoun Results 
8th Redge Potts 17:32.41
27th Tristan Blair 18:25.62
36th Joe Thielen 19:01.51
47th Nathan Burley 19:46.11
72nd Landen Evans 21:24.53
81st Hayden Stickrod 22:38.35