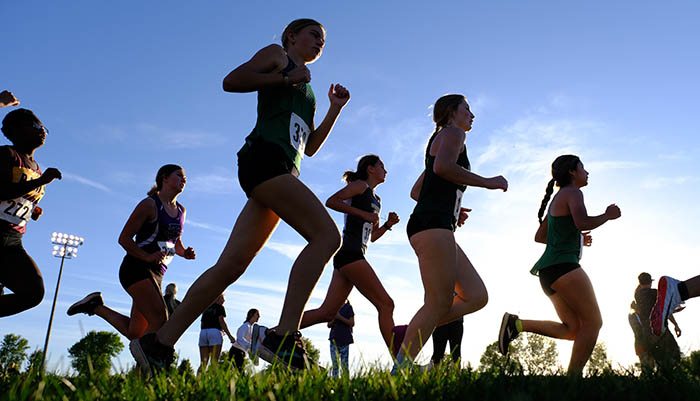 Girls Cross Country Results Thursday, September 14th 
Kuemper, IKM-Manning and Audubon At Panorama
Kuemper was the only area team to have enough runners for a team score and finished 10th in a strong field. The Knights finished with 260 points, edging Tri Center, who had 263 points. Urbandale won the event with 84 points, followed by Madrid with 98 points. All three area teams had at least one runner in the top 25. Marie Dea of Kuemper was the top local finisher, leading Kuemper with an 8th place finish in 20:36. Raegan Garrison continues to run strong for IKM-Manning, pacing them with a 22:27, finishing in 19th place. Stefi Beisswenger took 22nd for Audubon, running a 22:32. Emily Albertsen was 26th for IKM-Manning and her teammate Taylor Beckendorf finished 33rd. The Wolves had four runners and Audubon ran one runner.
Team Standings 
Urbandale 84
Madrid 98
Van Meter 101
Atlantic 118
Clarinda 130
Panorama 140
Boyer Valley 178
ACGC 222
Ogden 226
Kuemper 260
Tri Center 263
West Central Valley 329
Des Moines Christian 350
SE Valley 372
Pleasantville 380
Exira-EHK 386
IKM-Manning No Team Score
Audubon No Team Score 
Kuemper Results 
8th Marie Dea 20:36
57th Addie Davis 24:58
60th Kyra Wolterman 25:07
85th Shelby Greving 26:38
101st Madeline Segegart 28:03
119th Julia Craig 30:24
IKM-Manning Results 
19th Raegan Garrison 22:27
26th Emily Albertsen 22:44
33rd Taylor Beckendorf 23:21
73rd Anna Stangl 25:54
Audubon Results 
22nd Stefi Beisswenger 22:32
East Sac and South Central Calhoun At Sioux Central 
South Central Calhoun had another strong showing with one top 10 finish and three runners finish in the top 20, helping them finish 4th as a team with 102 points. East Sac had five runners and were able to have a team score, taking 9th place with 216 points. The Raiders had one runner in the top 25.
Chloe Judisch continues a strong start to her senior season, leading the Titans in 4th place, running a 20:25.57. Nora Peterson of Alta-Aurelia won the meet in 18:39.27 and Alyssa Richman took 2nd for Manson NW Webster in 19:09.26. Iris Melody was 14th and Bre Patterson took 19th for South Central Calhoun. Libbie Veit led East Sac again, taking 24th place in 23:21.64.
Details for the Titans and Raiders are below.
Team Standings
Alta-Aurelia 57
Okoboji 63
Sioux Central 75
South Central Calhoun 102
Manson NW Webster 135
Spirit Lake 156
Ridge View 165
MVAOCOU 190
East Sac 216 
OABCIG 254
South Central Calhoun Results 
4th Chloe Judisch 20:25.57
14th Iris Melody 22:21.80
19th Bre Patterson 22:47.14
39th Katie Burley 24:58.23
42nd Scout Rohlfs 25:07.98
59th McKinley Janssen 26:50.29
East Sac Results 
24th Libbie Veit 23:21.64
54th Kortni Thomsen 26:30.74
57th Cora Mahler 26:30.74
74th Julina Wagner 31:28.35
75th Jolina DeSimone 33:40.46