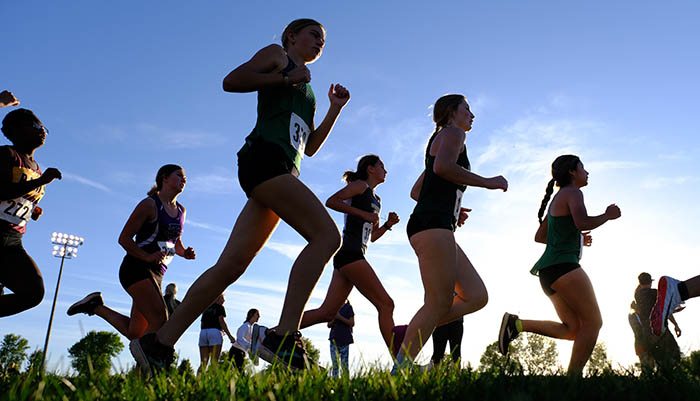 Cross Country Results For Thursday, August 31
Audubon, East Sac County, and IKM-Manning at Logan-Magnolia 
Reagan Garrison of IKM-Manning finished with the best time of the three local schools competing at Logan-Magnolia on Thursday night. Emily Albertsen ran the second fastest time of the three teams, finishing in 15. Stef Beisswenger ran the quickest time for the Audubon Wheelers, finishing in 24 place. For the East Sac County Raiders, it was Libbie Veit finishing 19.
Allysen Johnsen from Logan-Magnolia took home first place with a time of 18:25, followed closely by her teammate Madison Sporrer, who took second. AHSTW took home the team title with 67 points, and they just beat out Logan-Magnolia, who finished with 68. Denison-Schleswig finished in third with 71 total points, followed by Boyer Valley, who had 75. ESC was the only team that placed in the team standings, and they finished in eighth with a total of 175 points.
Team Standings
AHSTW 67
Logan-Magnolia 68
Denison-Schleswig 71
Boyer Valley 75
Heartland Christian 118
MVAOCOU 146
Tri-Center 158
ESC 175
(IKM-Manning and Audubon did not place due to not having enough runners)
IKM-Manning Stats
9th Reagan Garrison 21:11
15th Emily Albertsen 21:25
22nd Taylor Beckendorf 22:12
39th Emma Reginato 24:22
ESC Stats
19th Libbie Veit 21:53
43rd Cora Mahler 24:57
47th Kortni Thomsen 25:27
70th Jolina DeSimone 31:40
71st Julina Wagner 32:10
Audubon Stats
24th Stef Beisswenger 22:34
Kuemper at West Central Valley
Kuemper was edged out for the team title, though they ran a very good race. Interstate 35 had their top five runners finish in the top 19, scoring them 49 points to nip Kuemper, who finished 2nd with 50 points. The Knights continued to show their depth, even with young runners, having three in the top 10 and four runners in the top 20.
Marie Dea won the meet for the Knights, winning by over a minute with Taitlin Koch of West Central Valley finishing in 2nd place at 23:32.71. Dea looked strong again, running a 22:31.71. Julia Kanne added a 5th place finish and Addie Davis, a freshman took home 9th place.
Full results for the Knights are below.
Team Standings
Interstate 35– 49
Kuemper 50
Ankeny Christian 86
Pleasantville 91
West Central Valley 121
Exira-EHK 140
CAM Anita 159
Kuemper Results 
1st Marie Dea 22:31.71
5th Julia Kanne 25:08.97
9th Addie Davis 26:15.81
20th Kyra Wolterman 28:23.90
27th Shelby Greving 29:24.22
35th Kaisen Stypa 31:28.38