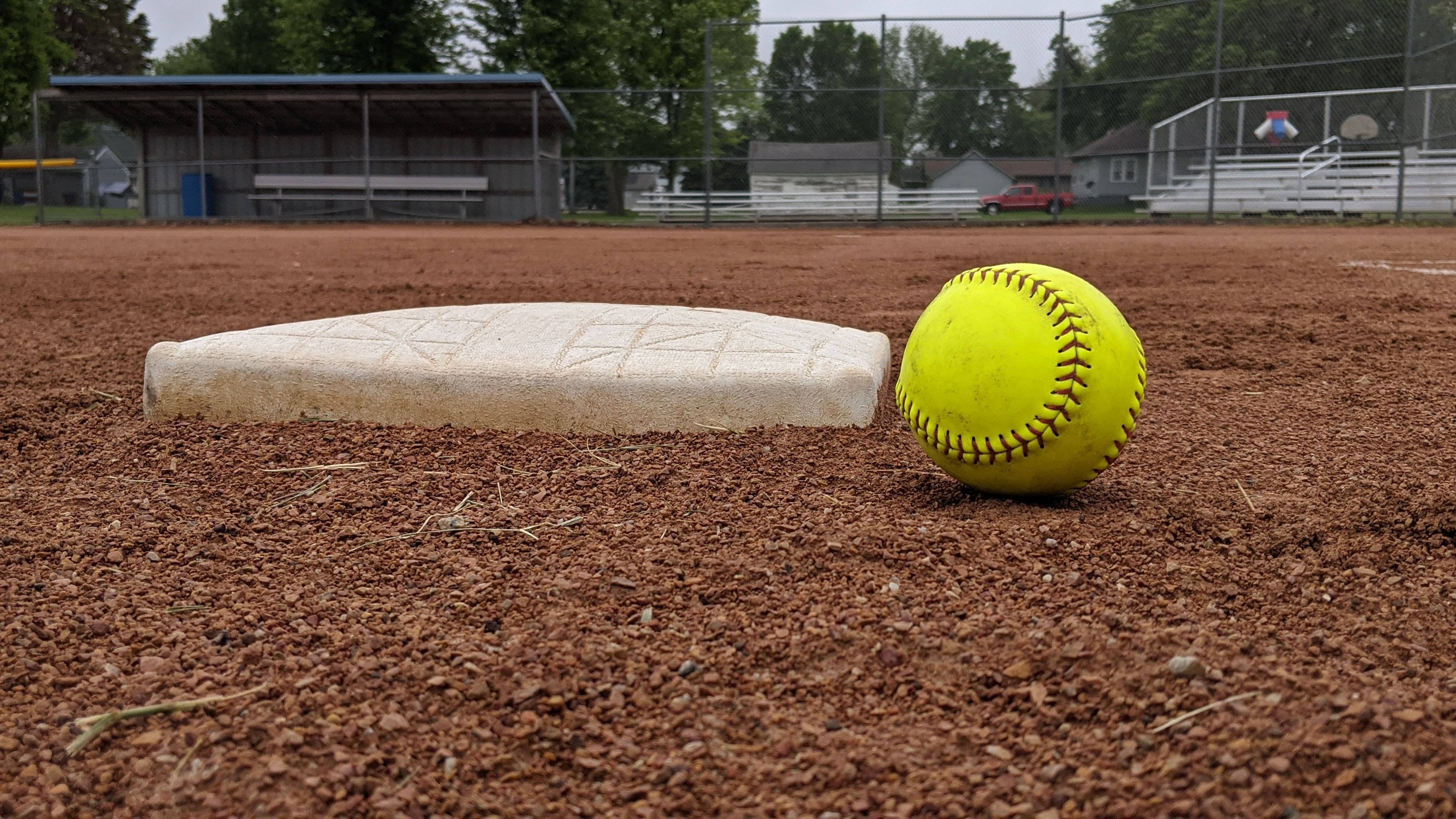 Softball Results Monday, June 5th 
Boone At Carroll 
Boone 21
Carroll 7
Carroll scored 4 times in the 1st inning but allowed 15-runs in the top of the 5th as the game slipped away late. Carroll and Boone were tied at 6 going into the 5th when Boone had 11 hits, used 5 Carroll errors to score 15-runs. The loss snaps Carroll's 3 game win streak and Boone's 3 game losing streak. Carroll had won two straight in the series. Parker Adams walked and Kloee Jones reached on an error in the 1st inning before Averi Burke walked and Makalie Kofron was hit-by-pitch to put Carroll up 2-0. Bailey Bowman had run for Adams and scored on the error off Jones ball in play and Jones scored to make it 2-0. Bella Lu ran for Burke and her and Ava Gross, who walked also scored and Carroll was up 4-0. Boone scored 3 in the top 2nd to cut the gap. Carroll added a pair of runs in the 3rd when Gross singled and Olivia Rowedder singled. Parker Adams drove in both with a double. The two runs gave Carroll the lead back after Boone had scored a pair of runs in the top 3rd. Boone added a run top 4th to tie the game then scored 15 in the top 5th to put the game out of reach. Amanda Wardell reached on a fielder's choice bottom 5th, stole 2nd and scored on a single by Parker Adams.
Parker Adams had a pair of hits, including a double with 3 RBI. Ava Gross had base hit and scored twice. Bailey Bowman and Bella Lu both scored as courtesy runners.
The loss drops Carroll to 7-7 overall and 0-5 in the Raccoon River Conference. The Tigers host South Central Calhoun on Tuesday.
Carroll Stats
Parker Adams 2-2, 2B, 3 RBI, 2 BB
Bailey Bowman 1 RS
Kloee Jones 1 RS, BB
Averi Burke 1 BB- Pitching LP, 4+ IP, 17 Hits, 14 RA, 12 ER, BB
Makalei Kofron 1 RBI, RS, HBP
Ava Gross 1-2, 2 RS
Olivia Rowedder 1-2, RS
Emma Kuhlmann 1-1, 2 BB
Amanda Wardell 1 RS
Gabby Olberding 1 IP, 3 Hits, 7 RA, 5 ER, 4 BB
Box Score
Teams     1     2    3    4    5    Final
Boone        0     3    2    1     15       21
Carroll       4      0   2    0     1          7
Harlan At Kuemper 
Kuemper 14
Harlan 4      (5 Innings)
Harlan scored twice in the 1st inning, but Kuemper pounded out 12 hits with a pair of home runs, scored 3-runs in the 1st inning and blew the game open with a 7-run 3rd inning. The Knights sent 10 batters to the plate in the 3rd. The win improved Kuemper to 7-5 overall, giving them their fifth straight record.
Kaylie Diercksen hit a solo home run in the 1st to jump start the team with 2-outs. Ellie Sibbel doubled and Myli Schaefer singled, both scored on a single by Allison Ostrander. The Knights never trailed again. They added 3 more runs in the 2nd inning, highlighted by a 2-run single from Ellie Sibbel. The 7-run 3rd began with Alexis Diercksen reaching on an error, Ally Sommerfeld reached on a fielder's choice and Kaylie Wolterman singled to score a run. Melinda Schaefer singled to drive in another run, followed by RBI from Kaylie Diercksen and Ellie Sibbel. Allison Ostrander ended the run with a 2-run single. A solo home run by Ellie Sibbel in the 5th ended the game.
Ellie Sibbel had 4 hits with a double, a home run and 4 RBI. Kaylie Diercksen added a home run, 2 RBI and scored 3 times. Melinda Schaefer had 2 hits and scored twice. Allison Ostrander had a pair of RBI as did Alexis Diercksen. Morgan Masching scored twice. Ally Sommerfeld earned the win, allowing 9 hits and 4 earned runs in 5 innings.
The Knights head to St Albert for a varsity double header on Tuesday.
Kuemper Stats
Melinda Schaefer 2-4, RBI, 2 RS
Kaci Peter 1-4, RS
Kaylie Diercksen 1-3, HR, 2 RBI, 3 RS, BB, SB
Ellie Sibbel 4-4, 2B, HR, 4 RBI, RS
Myli Schaefer 1-1, RBI, RS, BB, 2 SB
Allison Ostrander 1-2, 2 RBI, RS, BB, SB
Alexis Diercksen 1-3, 2 RBI, RS
Ally Sommerfeld 1 RS- Pitching WP, 5 IP, 9 Hits, 4 RA, 4 ER, 4 K's
Kaylie Wolterman 1-2, RBI
Kyla Wiskus 1 RS
Morgan Masching 2 RS, SB
Box Score
Teams      1     2     3    4    5    Final
Harlan       2     0     0     1     1        4
Kuemper   3     3     7      0    1       14
CAM Anita At Coon Rapids Bayard 
Coon Rapids Bayard 11
CAM Anita 1          (5 Innings)
Coon Rapids Bayard earned their second win of the season, scoring 8-runs in the bottom of the 5th to move to 2-7 overall but 2-2 in the Rolling Valley Conference. The Crusaders led 3-1 entering the 5th after both teams scored their runs in the 1st inning. The Crusaders only out hit CAM Anita 9 to 8, and didn't earn a walk but took advantage of every baserunner. They only struck out 3 times.
Malia Clayburg continues her strong start at the plate with 3 hits, a pair of RBI and scoring twice. Aubrey Hofbauer added a pair of hits and 2 RBI, scoring twice and Breeley Clayburg had a home run, drove in a pair of runs and scored a run. Lydia Hofbauer also had a pair of RBI. Lacie Davis scored twice. Anna Hart earned the win, going all 5 innings, allowing 1 run on 8 hits with 6 strikeouts.
The Crusaders will travel to Glidden Ralston on Wednesday.
Coon Rapids Bayard Stats
Anna Hart 1-4, RS- Pitching WP, 5 IP, 8 Hits, 1 RA, 1 ER, 6 K's, 3 BB
Lacie Davis 2 RS
Malia Clayburg 3-3, 2 RBI, 2 RS, 2 SB
Breeley Clayburg 1-3, HR, 2 RBI, RS
Aubrey Hofbauer 2-3, 2 RBI, 2 RS
Lauren Cook 1-2, RS
Kadey Olson 1 RS, SB
Lydia Hofbauer 1-3, 2 RBI, RS
Box Score
Teams      1     2     3    4     5    Final
CAM           1      0     0    0     0        1
CRB           3       0    0    0     8        11
East Sac At Pocahontas Area
Pocahontas Area 11
East Sac 1              (5 Innings)
East Sac collected four hits, only allowing 7 hits, but 5 errors helped the Indians pull away for a 5 inning win. Pocahontas Area scored 6 times in the 2nd inning, taking a 7-0 lead, then ending the game with a pair of runs in the 5th inning. The Raiders scored in the top 5th, getting a single from Kendall Quirk, a single from Emersyn Mack. Chloe Bieret, came into to run for Quirk and scored on a ground out to 3rd from Mary Bontrager.
Maci Gustavson, Emersyn Mack, Makenna Steiger and Kendall Quirk all had  hits for the Raiders. Maci Gustavson took the loss, going 5 innings, allowing 7 hits and 11 runs with 2 strikeouts.
The Raiders fall to 3-3 and will host GTRA on Wednesday.
East Sac Stats
Maci Gustavson 1-2, HBP- Pitching LP, 5 IP, 7 Hits, 11 RA, 2 K's, 4 BB, HBP
Emersyn Mack 1-3
Kami Ross 2 BB
Makenna Steiger 1-2
Kendall Quirk 1-2
Chloe Bieret 1 RS
Box Score
Teams      1     2     3    4    5    Final
East Sac     0     0     0     0    1        1
Pocy            1     6      2     0   2       11
Treynor At IKM-Manning 
Treynor 6
IKM-Manning 1
IKM-Manning had one slip through the fingers on Monday, getting a solid pitching performance from Ella Richards. She struck out 9 and didn't allow an earned run but the Wolves allowed 6 unearned runs, dropping a game at home. Anna Stangl scored their lone run in the 6th, walking, then scoring on a sacrifice from Karlee Arp. The Wolves were held to 1 hit by Grace Carroll. Treynor finished the game with 11 hits. Their biggest inning was the 4th, when they scored a pair of runs.
The Wolves dropped to 1-6 overall and 0-4 in the Western Iowa Conference. They travel to Audubon on Tuesday and will be broadcast on KIKD 106.7.
IKM-Manning Stats
Anna Stangl 1 RS, BB, 2 SB
Grace Carroll 1-3
Karlee Arp 1 RBI
Laura McCarville 1 BB
Brooke Booth 1 BB
Taylor Beckendorf 1 BB
Ella Richards LP, 7 IP, 11 Hits, 6 RA, 0 ER, 9 K's, 3 BB
Box Score
Teams      1     2     3    4    5    6     7    Final 
Treynor     1      0     1     2      1    0     1         6
IKM-M      0     0     0     0    0     1     0         1
Manson NW Webster At South Central Calhoun 
Manson NW Webster 6
South Central Calhoun 4
The Titans led most of the game, after scoring 3-runs in the 2nd inning and a run in the 3rd. They held a 3-2 lead into the 5th, when Manson NW Webster scored 3 times to take the lead. The Cougars added an insurance run in the 7th. The Titans hit the ball well, finishing with 11 hits with three players with multi hit games.
Jayci Graeve singled to start the 3-run 2nd inning, Mia Babcock reached on an error and Onna Haupert put the Titans on the board with a base hit, scoring Graeve. Olivia Toms drove in another Titan run, with one of her three hits. Graeve, Mia Babcock and Onna Haupert all scored in the inning. Graeve singled and scored in the 4th with Haupert picking up another RBI. South Central Calhoun had a runner on 2nd in both the 5th and 6th innings but didn't score.
Olivia Toms had a team high 3 hits while Jayci Graeve and Onna Haupert both had 2 hits. Haupert added a pair of RBI and Graeve scored twice. Morgan McChesney and Olivia Toms each had an RBI and Mia Babcock also scored a run.
The loss drops the Titans to 0-8 as they prepare to head to Carroll High on Tuesday.
South Central Calhoun Stats
Olivia Toms 3-4, RBI
Mady Smidt 1 BB
Adlen Wheelock 1-4
Keira Hammen 1-4
Jayci Graeve 2-4, 2 RS
Mia Babcock 1-3, RS
Onna Haupert 2-4, 2 RBI, RS
Morgan McChesney 1-3, RBI
Box Score
Teams       1     2      3    4    5     6     7   Final
MNW          1      0      1     0     3     0      1       6
SCC             0     3       1     0     0     0      0      4
LoMa At Audubon 
LoMa 10
Audubon 3
Audubon hit the ball well, finishing with 9 hits, including 3 doubles but weren't able to take advantage of their base runners as LoMa didn't walk or hit any batters. The Wheelers struck for a run in the 6th and two more in the 7th but it was too late as they trailed 9-0 heading into the bottom 6th. Audubon defense struggled, with 7 errors, allowing 6 unearned runs. The Panthers scored 4 times in the 1st and 2 more in the 4th. They used 4 hits to score in the 1st inning. A three run 6th inning, keyed by a pair of errors,  put the game out of reach.
Kali Irlmeier reached on a fielder's choice in the 6th inning, then scored on a passed ball after a Kylee Hart moved her to 3rd base. Michelle Brooks and Anna Larsen both singled in the 7th and scored on singles by Mattie Nielsen and Jordan Porsch.
The loss drops the Wheelers to 5-2 overall and 3-2 in the Western Iowa Conference. They will look to snap their two game losing streak on Tuesday when they host IKM-Manning on KIKD 106.7.
Audubon Stats
Mattie Nielsen 1-4, RBI
Jordan Porsch 3-4, 2B, RBI
Kali Irlmeier 1 RS
Kylee Hartl 1-3, 2B
Alexis Obermeier 1-3- Pitching LP, 7 IP, 9 Hits, 10 RA, 4 ER, 12 K's, HBP
Michelle Brooks 2-3, 2B, RS, SB
Anna Larsen 1-3, RBI, RS
Box Score
Teams     1     2    3    4    5    6    7    Final
LoMa         4     0     0   2     0    3     1       10
Audubon   0      0    0   0     0    1    2         3
West Harrison At Ar-We-Va 
Game was postponed to Tuesday as West Harrison only had 8 players available.