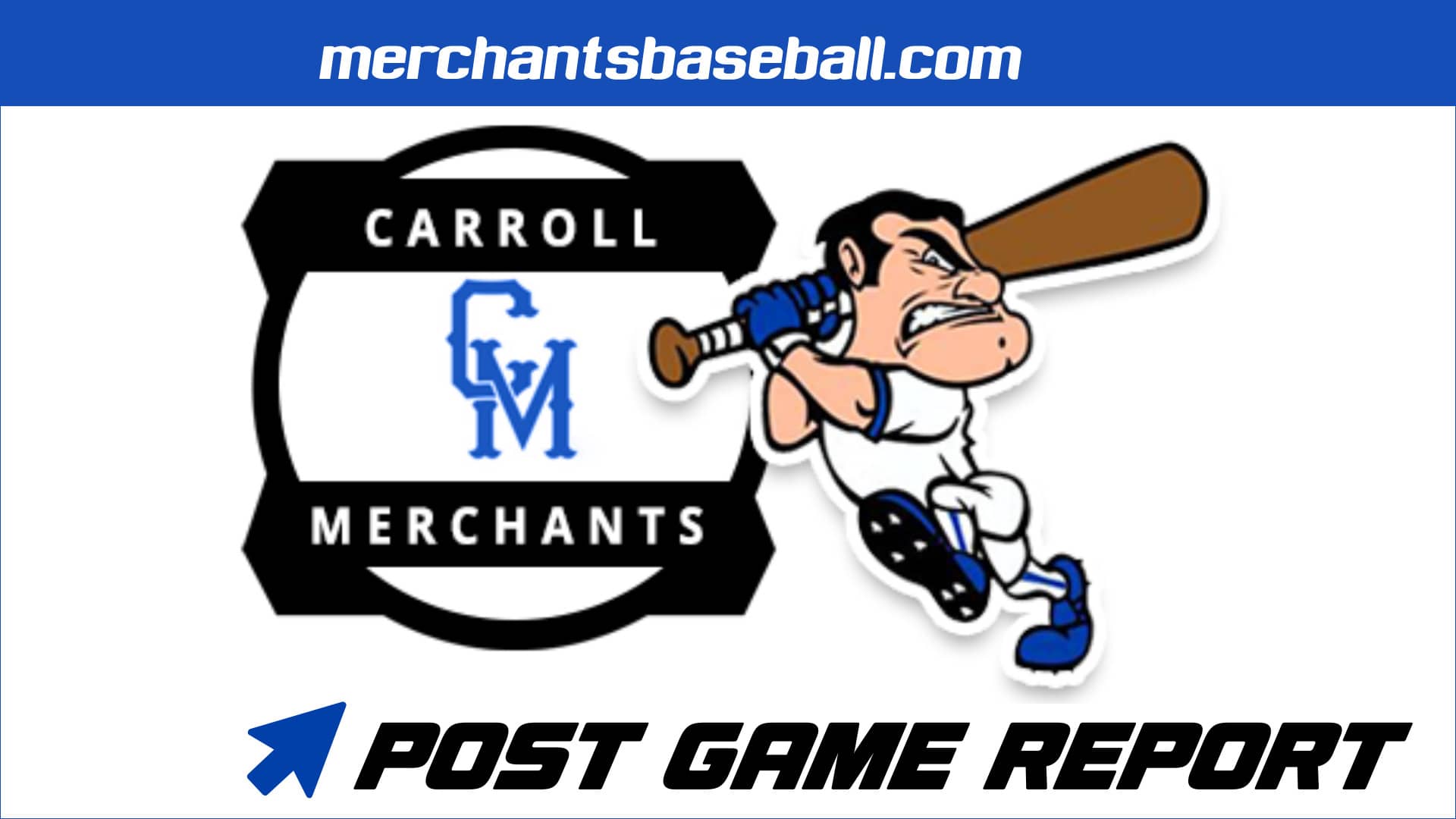 Carroll Merchants Results Sunday, June 4th 
Jefferson City At Carroll Merchants- Doubleheader 
Carroll 6
Jefferson City 1
Carroll scored a pair of runs in the 1st inning, taking control early. They loaded the bases, then took advantage of a passed ball with Michael Alt breaking home from 3rd. Lane Spieker then grounded out to the shortstop, scoring Dillon Kuehl from 3rd. The lead grew to 3-0 in the 4th when Kuehl singled, driving in Blake Tigges. Tigges singled in the 5th to score Cullan McBride and Carroll put the game away in the 6th, scoring a pair of runs on a sac fly by Joe Scarborough and Cullan McBride.
Michael Alt had 3 hits and scored a pair of runs, Dillon Kuehl added 2 hits, scoring twice and driving in a run. Blake Tigges also had a pair of hits with and RBI and a run scored. Joe Scarborough continues to pitch well, going 7 innings, allowing 4 hits and scoring a run with 7 strikeouts.
Carroll Merchants Stats
Michael Alt 3-4, 2 RS
Dillon Kuehl 2-3, RBI, 2 RS, BB
Joe Scarborough 1 RBI- Pitching WP, 7 IP, 4 Hits, 1 RA, 1 ER, 7 K's, 2 HBP
Cullan McBride 1 RBI, RS. SB
Lane  Spieker 1 RBI, BB, SB
J Johnson 1 BB
Blake Tigges 2-3, RBI, RS
D Allen 1 BB
Kasey Carter 1 BB
Box Score
Teams       1      2     3    4     5    6    7    Final 
Jeff City      0      0     0     0      0    0    1        1
Carroll        2       0     0     1      1     2    x        6
Carroll Vs Jefferson City 
Carroll 16
Jefferson City 11
Carroll completed a sweep of the doubleheader, having to rally back from down 8-3 in the 3rd inning to win going away. The Merchants 8-runs in the bottom 3rd, grabbing the lead for good. Jordan Brandenburg doubled, driving in 3-runs to put them up 10-8. Scoring on the play was Joe Scarborough, Michael Alt and Lane Spieker. Kyle Berg ended the rally with a single to score Brandenburg. D Allen began the rally in the 3rd with a line out that scored Jordan Brandenburg. He started another run in the 4th inning scoring on an error. Michael Alt doubled to score R Ladner and the Merchants led 13-8 after 4 innings. Carroll grabbed their largest lead with three runs, highlighted by a 2-run double from Michael Alt.
Michael Alt had a pair of doubles and 2 RBI while Jordan Brandenburg drive in a game high 4 runs, also scoring 3 times. Joe Scarborough added a double, 3 RBI and a run scored, Lane Spieker scored a pair of runs and Blake Tigges and R Ladner both had 2 hits with Ladner scoring 3 times. Former Kuemper Knight, Kyle Berg ended a strong game with 3 hits, an RBI and a run scored along with stealing 3 bases.
The Merchants host St Joe on Tuesday at 6:30.
Carroll Stats 
Lane Spieker 1-4, RBI, 2 RS, BB
Dillon Kuehl 1-2, 2B, RS
Michael Alt 2-2, 2B, 2 RBI, 2 RS, BB
Joe Scarborough 1-4, 2B, 3 RBI, RS, BB
Jordan Brandenburg 1-5,  2B, 4 RBI, 3 RS
Kyle Berg 3-5, RBI, RS, 3 SB
Blake Tigges 2-4, RBI, RS, 3 SB
D Allen 1 RBI, RS, BB, SB
R Ladner 2-4, 3 RS
Noah Dutler 1 RS, BB
J Smith 2 IP, 2 Hits, 6 RA, 6 ER, BB,
B Lafollett WP, 4 IP, 4 Hits, 2 RA, 2 ER, 3 K's, 2 HBP
Box Score
Teams      1     2    3    4    5     6    7     Final
Jeff City     2     0     6    0    0     0     3        11
Carroll       3      0    8    2     0     3     x        16