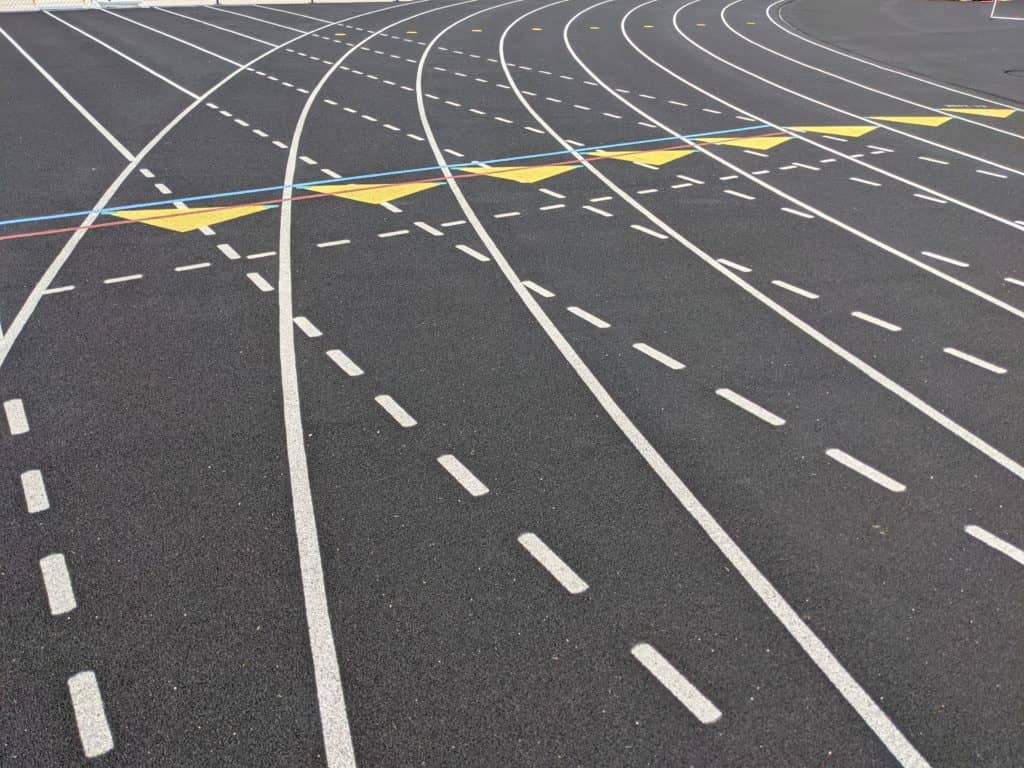 State Qualifying Track Meet Results from OA-BCIG, Thursday, May 11th 
East Sac, Kuemper and South Central Calhoun At OA-BCIG 
Kuemper Results – Knights qualified 8 Events with 7 boys and 1 goal 
Jacob Greving did as expected and qualified in the 3200 Meters, taking 2nd in a strong field. Greving ran a 10:31.17. Greving added a second event at state, helping the 4×800 qualify in 2nd place in 8:37.26. Greving was joined by Tregan Beiter, Koby Lampman and Trevor Rial. The Kuemper boys got their third event to state when DJ Vonnahme took 2nd in the 100 Meters. Vonnahme ran a 11.51. Vonnahme took 1st in the 200 Meters, running a 22.95, advancing in his second event. Jacob Greving made his third event in the 1600 Meters, winning in 4:45.20.  Ben Gerken took 2nd in both the High Jump  at 6-02.00 and the Long Jump with a 30-06.75, qualifying in both events for the Knights. Ellie Sibbel gave the Knights girls a state qualifier, taking 2nd in the Shot Put with a 38-04.75.
South Central Calhoun Results – Titans Qualified 4 Events with all 4 girls 
Iris Melody produced the first qualifier for the Titans on Thursday, winning the 3000 Meters in 11:24.06, taking about 25 seconds of her seeding time. Melody has had a very strong season in the 3000 Meters. The girls Distance Medley team cut a bunch of time of their best time, qualifying them for state as champs. They won the event with a 4:25.99 with Jayci Graeve, Mya Ridgely, Brenna McAlister and Chloe Judisch. Judisch qualified in her second event, continuing her strong season in the 800 Meters with a 1st place finish in 2:27.13. Keira Hammen locked up a trip to state, winning the Shot Put with a 39-02.00.
East Sac Reults
The Raiders didn't have any automatic but still has a chance to get some events.
Results for all 3 teams are below.
Girls Team Standings
Ridge View 115
Hinton 95
Kingsley Pierson 92
Greene County 86
Pocahontas Area 80
Cherokee 69
Kuemper 49
South Central Calhoun 46
OABCIG 34
SE Valley 34
MVAOCOU 24
East Sac 16 
Boys Team Standings 
SE Valley 93
Kuemper 91
OABCIG 78
Pocahontas Area 77.50
Ridge View 72
Kingsley Pierson 61
Cherokee 58
Hinton 55
Greene County 53
MVAOCOU 36
East Sac 35
South Central Calhoun 31.50
Kuemper, East Sac and  South Central Calhoun Results 
Boys Sprint Medley 
7th South Central Calhoun          1:39.85
Zakiah Pettigrew, Christian Hansman, Keegan Soard, Brock Nattress
Girls 3000 Meters
1st Iris Melody                South Central Calhoun      11:24.06     Qualified 
8th Keziah Janssen        Kuemper                              14:09.42
Boys 3200 Meters
2nd Jacob Greving          Kuemper                             10:31.17   Qualified 
3rd Parker Engel             East Sac                              10:42.61
5th Landon Sporrer       East Sac                               10:59.62
7th Tristan Blair            South Central Calhoun      11:25.63
8th Redge Potts             South Central Calhoun      11:29.86
Boys 4×800
2nd Kuemper                8:37.26                    Qualified 
Tregan Beiter, Koby Lampman, Trevor Rial, Jacob Greving
Girls Shuttle Hurdle
6th East Sac                1:14.28
Kierstin Carroll, Haley Jo King, Olivya Mack, Madison Meister
Boys Shuttle Hurdle
5th South Central Calhoun    1:10.67
Andrew Anderson, Zakiah Pettigrew, Kolin Folsom, Jordan Moreno
Girls 100 Meters
6th Kerrigan Irlbeck            Kuemper                     13.87
8th Macy Blum                     Kuemper                     14.23
Boys 100 Meters
2nd DJ Vonnahme           Kuemper                           11.51           Qualified 
6th Brock Nattress          South Central Calhoun   11.89
8th Logan Sibenaller      Kuemper                           12.24
Girls Distance Medley 
1st South Central Calhoun      4:25.99                      Qualified 
Jayci Graeve, Mya Ridgely, Brenna McAlister, Chloe Judisch
Boys Distance Medley 
6th Kuemper                            4:08.90
Sean Healy, Evan Loew, Joe Klein, Thomas Pottebaum
Girls 400 Meters
4th Mary Bontrager              East Sac               1:04.38
7th Jordin Carroll                 East Sac                1:07.62
Boys 400 Meters
3rd Logan Schroeder           East Sac                53.62
Girls 4×200
6th Kuemper                       1:53.69
Macy Blum, Catherine Mayhall, Kerrigan Irlbeck, Kaci Peter
Boys 4×200
6th East Sac                       1:38.67
Jack Gullett, Asher Lawler, Trace Kraus, Alexander Hemer
Girls 100 Hurdles
8th Madison Meister       East Sac                    17.94
Boys 110 Hurdles
6th Zakiah Pettigrew        South Central Calhoun    17.02
8th Andrew Anderson      South Central Calhoun     17.75
Girls 800 Meters
1st Chloe Judisch               South Central Calhoun     2:27.13           Qualified 
3rd Charlotte Hackfort    Kuemper                              2:36.25
Boys 800 Meters
3rd Koby Lampman           Kuemper                           2:07.75
7th Thomas Pottebaum    Kuemper                           2:19.74
Boys 200 Meters
1st DJ Vonnahme              Kuemper                          22.95                     Qualified 
4th Brock Nattress          South Central Calhoun   23.65
8th Jack Gullett               East Sac                             24.99
Girls 400 Hurdles
5th Grace C Hoffman        Kuemper                       1:13.47
7th Olivya Mack                 East Sac                        1:15.22
Boys 400 Hurdles
3rd Trevor Rial                   Kuemper                   58.30
5th Garret Ortner               East Sac                    1:00.93
Boys 1600 Meters
1st Jacob Greving                Kuemper                 4:45.20          Qualified
6th Parker Engel                East Sac                    5:01.37
7th Landon Sporrer          East Sac                   5:01.41
8th Tregan Beiter              Kuemper                 5:08.29
Girls 4×100
5th Kuemper                       53.37
Megan Scott, Kaci Peter, Catherine Mayhall, Kerrigan Irlbeck
7th East Sac                       55.16
Jen Aschinger, Elena Valenza, Jordin Carroll, Mary Bontrager
Boys 4×100
3rd South Central Calhoun        45.09
Brock Nattress, Keegan Soard, Zakiah Pettigrew, Chrsitian Hansman
5th Kuemper                                 45.30
Logan Sibenaller, Ben Gerken, Koby Lampman, DJ Vonnahme
Girls 4×400
8th East Sac                                  4:44.11
Jen Aschinger, Mary Bontrager, Jordin Carroll, Olivya Mack
Boys 4×400
3rd East Sac                                3:35.01
Garret Ortner, Trace Kraus, Asher Lawler, Logan Schroeder
Boys High Jump
2nd Ben Gerken                       Kuemper                             6-02.00       Qualified 
5th Andrew Anderson             South Central Calhoun    5-08.00
8th Kayden Hammen             South Central Calhoun     5-06.00
Girls Long Jump
4th Macy Blum                       Kuemper                                15-10.25
5th Grace C Hoffman            Kuemper                                14-08.00
Boys Long Jump
2nd Ben Gerken                     Kuemper                               20-06.75     Qualified 
Girls Discus 
3rd Keira Hammen           South Central Calhoun      111-01.00
4th Ellie Sibbel                   Kuemper                             104-07.00
Boys Discus 
3rd Evan Adams                Kuemper                              155-01.00
Girls Shot Put 
1st Keira Hammen           South Central Calhoun     39-02.00  Qualified
2nd Ellie Sibbel               Kuemper                               38-04.75  Qualified
Boys Shot Put 
7th Evan Adams                 Kuemper                            45-03.00