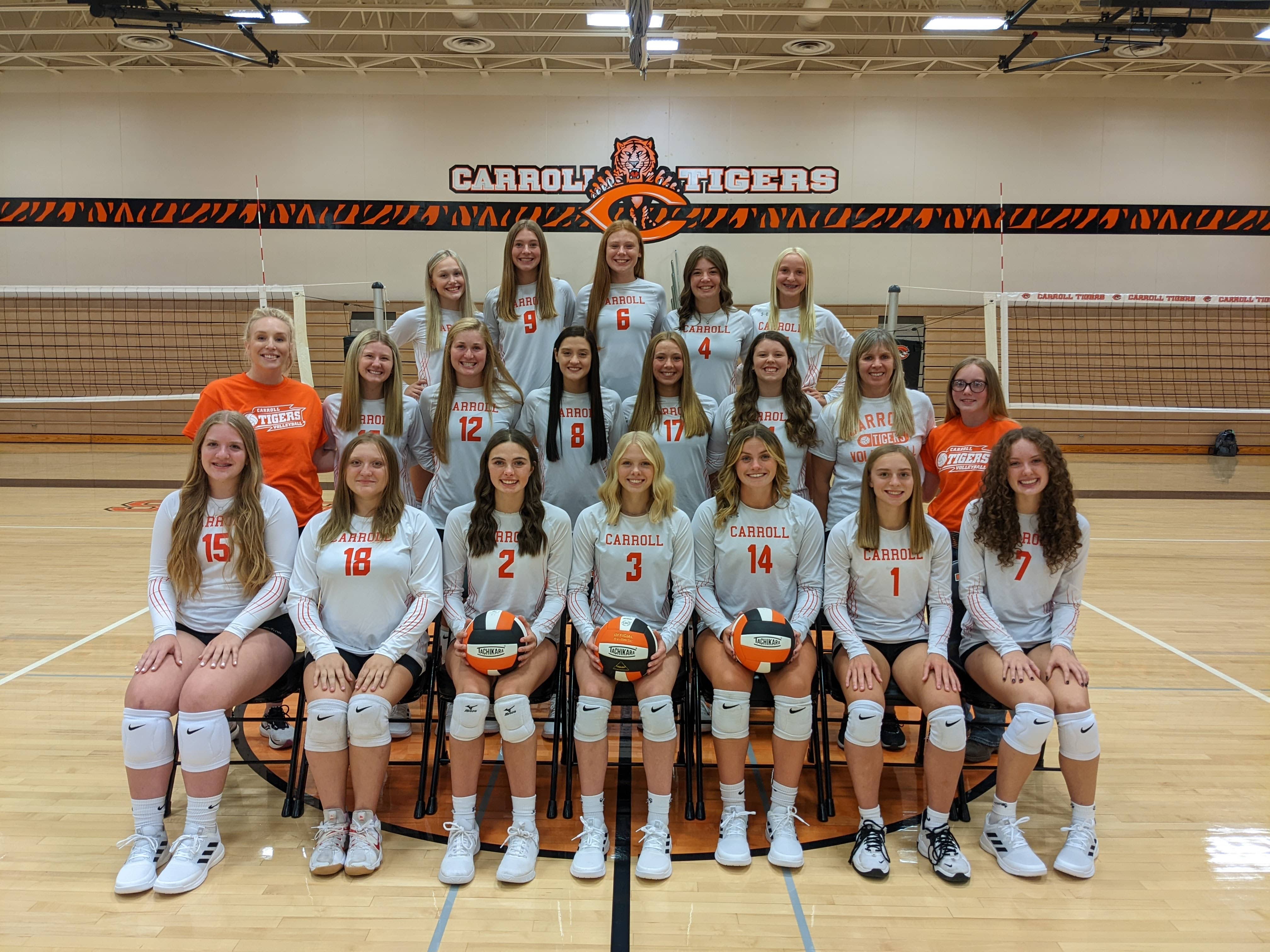 Regional Volleyball Playoff Results Thursday, October 20th 
Carroll At North Polk- Class 4A Regional 3 
North Polk 3
Carroll 0
25-11, 25-20, 25-13
Carroll ran into a buzz saw in a healthy North Polk team on Thursday in the Regional Semifinal. The Tigers struck quick in set one with Shay Sinnard getting the first point on a kill, then Riley Nagl served an ace and Carroll led 2-0. North Polk settled in tying the set at 3 and 4 before taking their first lead at 5-4. The Comets went on a 9-1 after that, leading 15-4. Carroll wasn't able to recover and North Polk took a 1-0 lead with a 25-11 win. Set two started like an avalanche for the Tigers.  North Polk scored the first four points, and built an 11-1 lead before a block and kill by Madison Thornock switched the momentum. Carroll should great resilience, fighting back, forcing a timeout with the Tigers down 14-13. North Polk responded out of the break with 4 of the next 5 points and led 18-14. Carroll closed within two twice more at 19-17 and 20-18 but North Polk held on to win 25-20. North Polk scored the first-three points in the third set, pulling away to lead 24-10. Carroll scored three in a row but North Polk ended the match with a 25-13 win.
Carroll served a 97.8% with 3 aces. Struggles at the net blocking, where the Tigers finished with 6 blocks affected the back row, keeping the setters moving. The Tigers hit -.009, finishing with 21 kills with three hitters, hitting above .000. Shay Sinnard led the attack at the net with 7 kills while Olivia Rowedder and Madison Thornock both had 4 kills. Riley Nagl had a team high 8 assists with Kaitlyn Tigges adding 7 assists. Sinnard also led the team with 18 digs, Madison Tunning had 11 digs and Riley Nagl finished with 10 digs. Katelyn Aden had a team high 3 blocks.
Carroll finishes the season 10-23.
Carroll Stats 
Shay Sinnard 7 Kills, 18 Digs
Madison Tunning 1 Assist, 11 Digs, Ace
Riley Nagl 8 Assists, 10 Digs, Ace
Olivia Rowedder 4 Kills, 2 Digs, Block
Kaitlyn Tigges 7 Assists,  3 Digs
Madison Thornock 4 Kills, 4 Digs, Block, Ace
Katelyn Aden 2 Kills, 3 Digs, 3 Blocks
Shayne Aschinger 2 Kills
Camryn Schable 2 Kills, Dig, Block
Andrea Sander 1 Dig
Ava Gross 4 Digs