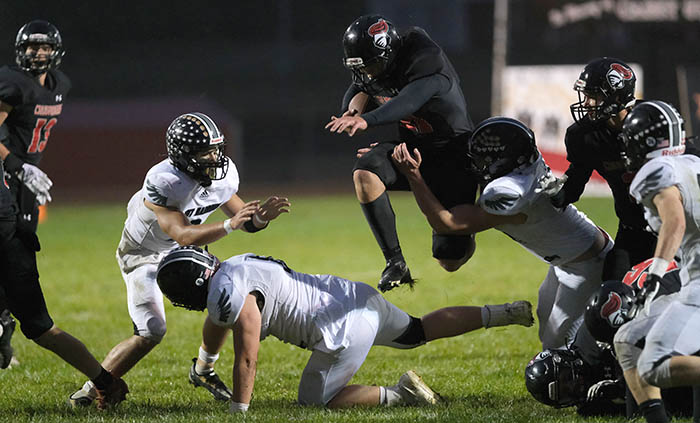 Coon Rapids Bayard at Exira-EHK
Exira-EHK 51
Coon Rapids Bayard 14
The Coon Rapids Bayard Crusaders saw their season come to an unfortunate end as they took on Exira-EHK in their regular season finale. 
Both teams looked to be evenly matched in the first half with the Spartans leading 7-6 after the first quarter. Exira-EHK kept their offense rolling into the second quarter with another score and two-point conversion to take a 15-6 lead into halftime. The Crusaders were banged up a bit coming into this contest, Lance Clayburg, their leading rusher, was not at 100% and with Wyatt Oswald out Cal Heydon took the responsibilities of quarterback in this game. Heydon put up a solid effort in his first outing as QB, putting up 117 passing yards and completing 12 of his 22 attempts. He'd also end up throwing three interceptions. The third quarter solely belonged to the Spartans who put up 22 points while the Crusaders were only able to manage eight points. Exira-EHK completed their route of Coon Rapids Bayard with 14 fourth quarter points to come away with a 51-14 win and 4th place in the district. 
The Coon Rapids Bayard Crusaders ended their season with a final record of 3-5 overall and 2-2 in the district, finishing fifth overall.  
Coon Rapids Bayard Stat Leaders
Cal Heydon: 12/22, 117 Yards, 1 TD, 3 INT
Lance Clayburg: 10 Carries, 100 Yards, 1 TD; 4 Rec, 39 Yards, 1 TD; 7.5 Total Tackles, 6 Solo Tackles
Kolby Culbertson: 8 Total Tackles, 6 Solo Tackles, 1 Sack, 1 TFL
Box Score
Teams      1        2        3       4         Final
CRB          6        0         8       0     |     14
EEHK        7        8      22     14     |     51