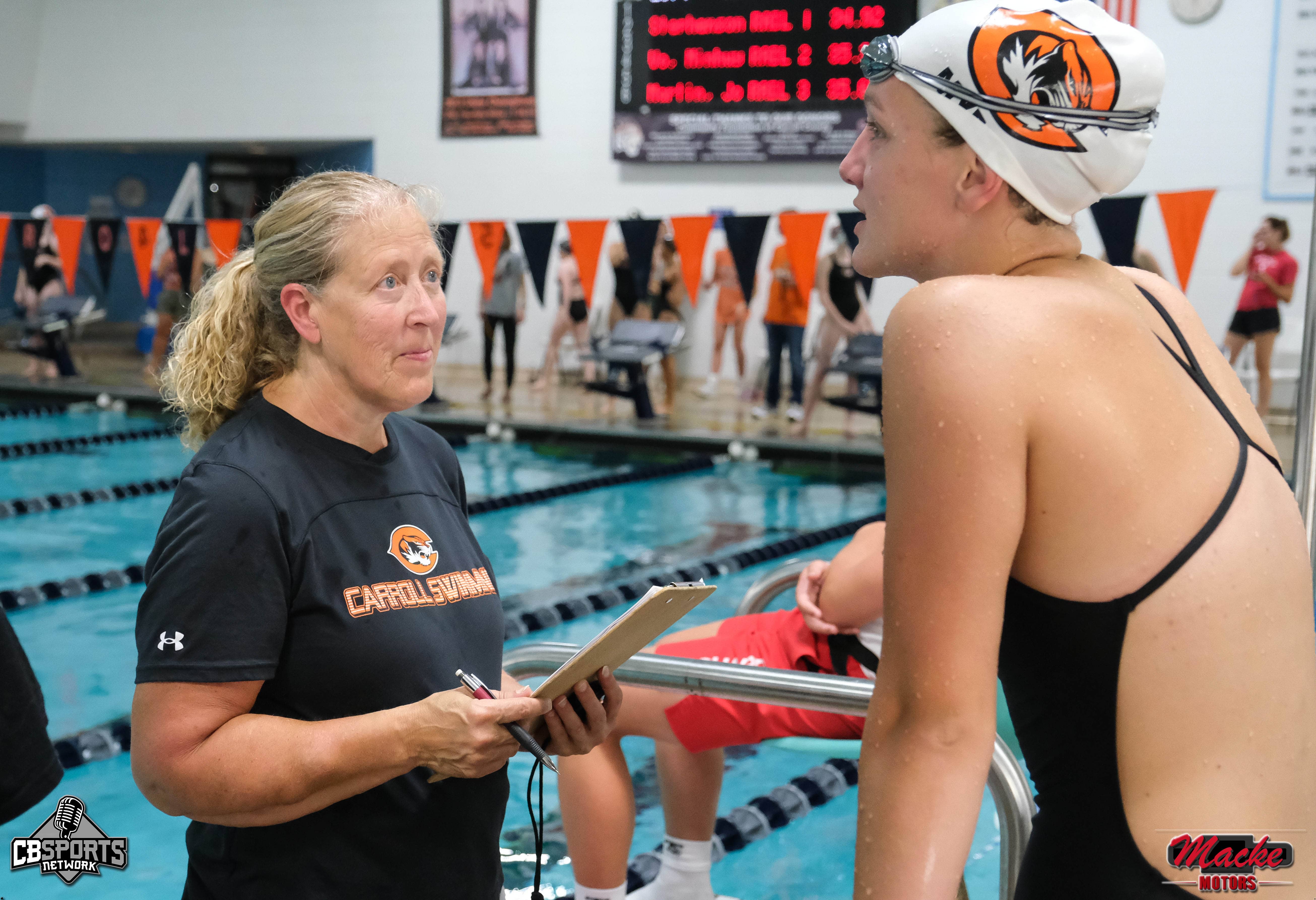 Girls Swimming Results for Saturday, October 15th
Carroll at Lewis Central Invitational
The Carroll Tigers had plenty of solid competition Saturday at the Lewis Central Invitational and competed well. They'd end up fourth overall as a team with 170 team points. Sioux City Metro came away as the meet winner with 306 points. 
Emma Myers continued to swim well on the season and had a solid meet with two individual second place finishes and helped two relays to top three finishes. In her individual events, Myers second place finishes came in the 200 IM with a time of 2:20.43 and the 100 breaststroke with a final time of 1:09.84. She was also part of the 200 Medley Relay and 200 Free Relay. Along with Hailey Burns, Amelia Holt, and Zelda DeMoss, the 200 Medley Relay team finished third with a final time of 2:00.23. Myers, Burns, Holt, and Natalie Kent were able to finish third in the 200 Free Relay with a time of 1:47.59. Holt also captured a third-place finish individually in the 50 free in a time of 26.54. Carroll's other individual third place finish came from Burns who got third in the 100 free in a time of 59.17, a personal best. Carroll Swim Coach Deb Danner says they mixed up the swimmers competing in the relays, and she was happy with the results. 
The Tigers will be back in action on Tuesday, October 18th when they travel to compete at Council Bluffs Abraham Lincoln. 
Team Standings
Sioux City Metro

306

Lewis Central

282

Spencer

215

Carroll 170

Council Bluffs Thomas Jefferson

117

Atlantic

  25
Carroll Results
200 Medley Relay
3rd Carroll 2:00.23
Hailey Burns, Emma Myers, Amelia Holt, Zelda DeMoss
200 Free
7th Natalie Kent 2:20.14
10th Zelda DeMoss 2:27.04
14th Keziah Janssen 2:34.65
200 IM
2nd Emma Myers 2:20.43
9th Claudia Gidoncha 2:50.62
50 Free
3rd Amelia Holt 26.54
9th Ella Perry 29.50
18th Lydia Dose 32.63
100 Fly
4th Amelia Holt 1:07.90
10th Natalie Kent 1:18.22
100 Free
3rd Hailey Burns 59.17
15th Keziah Janssen 1:10.73
500 Free
10th Zelda DeMoss 6:34.18
13th Lydia Dose 7:27.78
200 Free Relay
3rd Carroll 1:47.59
Emma Myers, Natalie Kent, Hailey Burns, Amelia Holt
100 Back
9th Hailey Burns 1:11.89
11th Ella Perry 1:15.95
22nd Samantha Potts 1:27.80
100 Breast
2nd Emma Myers 1:09.84
11th Claudia Gindocha 1:25.22
13th Leah Nystrom 1:30.46
400 Free Relay
4th Carroll 4:27.52
Zelda DeMoss, Ella Perry, Claudia Gidoncha, Natalie Kent