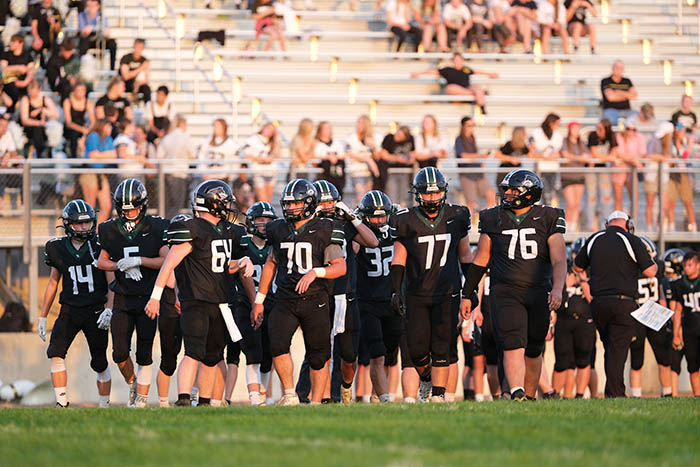 Lawton Bronson At IKM-Manning
Lawton Bronson 20
IKM-Manning 13
IKM-Manning played well again, just came up short again, losing their second game by one score and third game this season by 11 points or less. The Wolves trailed 7-0 after the 1st quarter and were down 13-7 at half. Lawton Bronson extended the lead to 20-7 in the 3rd quarter but IKM-Manning fought back in the 4th quarter. The Wolves had 14 first downs but hurt themselves with 15 penalties, costing them 135-yards while Lawton Bronson had 9 penalties for 89-yards. The run game struggled for IKM-Manning finishing with 51-yards on 38 carries but the pass game was able to strike for 157-yards. Lawton Bronson outgained IKM-Manning 275 to 208, running for 68-yards but throwing for 207-yards.
Brayden Williams hit Louden Grisley for an 18-yard touchdown in the 1st quarter, giving Lawton Bronson a 7-0 lead. they added a touchdown catch by Braden Heiss in the 2nd quarter, leading 13-0. IKM-Manning answered just before half when Ross Kusel found Cooper Irlmeier for a 13-yard touchdown, finishing a 10 play 72-yard drive to cut the lead to 13-7 at half.
The Eagles scored early in the 3rd quarter on a 4-yard pass to Louden Grimsley, extending the lead to 20-7. The Wolves cut in to the deficit in the 4th quarter scoring on a 1-yard run by Ross Kusel, but that would be all the scoring and Lawton Bronson was able to run the clock out.
Ross Kusel was 13-25 passing for 157-yards and a touchdown to Cooper Irlmeier. Irlmeier finished with 5 catches for 48-yards while Ben Ramsey had 3 catches for 67-yards and Eli Dreyer finished with 4 catches for 33-yards. Davis Rasmussen ran the ball 3 times for 20-yards while Ben Langel finished with 26-yards rushing on 19 carries. Ben Ramsey had a team high 11.5 tackles with 8 solo. Eli Dreyer and Hunter Smith each had 5.5 tackles. Reed Hinners was 1-2 on extra points.
The Wolves host Ogden in Week 8.
Box Score
Teams     1      2     3     4   Final
LB              7      6      7      0      20
IKM-M     0      7       0     6      13