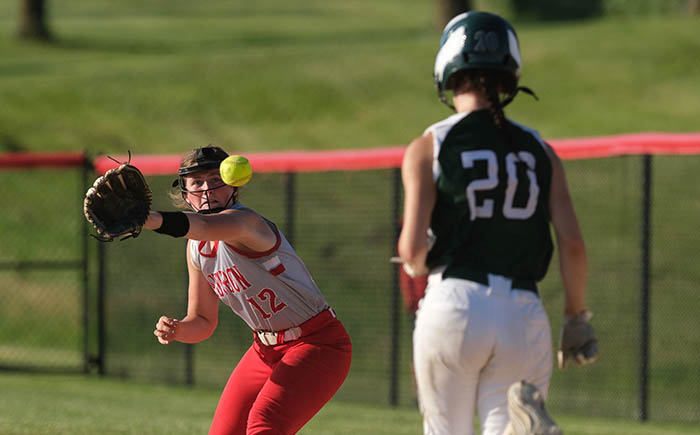 Softball Results for Thursday, June 23rd
Carlisle at Carroll
Carlisle      10
Carroll         2
The Carroll Tigers continued to battle against strong teams in the Raccoon River Conference as they took on Carlisle Thursday.
The Wildcats got their offense going with a run scored in the first inning and followed that up in the second inning with a game-high six runs, leading 7-0. Carroll's Vanessa Ayala and Averi Burke were able to give the Tigers two runs, one in the fourth and one in the sixth. Carroll did see some defensive struggles with 22 putouts on 36 chances. Camryn Schable took over for Alyssa Brant after four and one thirds innings, and she got the Tiger defense back on a good track. In two and two thirds innings, she allowed five hits, three earned runs, and recorded two strikeouts. The Wildcats kept the lead from start to finish and defeated Carroll 10-2. 
The Tigers continue their week with another Raccoon River Conference game as they take on Boone on Friday, June 24th. 
Carroll Stats
Parker Adams: BB, HBP
Josie Ayala: 1-4, 2B
Vanessa Ayala: 2-2, 2 RS, HR, RBI
Camryn Schable: 2-3; Pitching: 2.2 IP, 5 Hits, 3 RA, 3 ER, 3 BB, 2 K
Averi Burke: 1-2, BB, RBI
Makalei Kofron: BB
Alyssa Brant: 1-3; Pitching: 4.1 IP, 13 Hits, 6 RA, 6 ER, BB, 3 K, L
Box Score
Team         1  2  3  4  5  6  7    Final
CARL          1  6  0  1  2  0  0  |   10
CARR          0  0  0  1  0  1  0  |     2
Audubon At IKM-Manning (Finale from Suspended Game from June 7th) 
Audubon 15
IKM-Manning 3    (6 Innings)
Audubon and IKM-Manning resumed their suspended game from June 7th with Audubon leading 11-2 in the bottom of the 5th inning. The Wheelers held IKM-Manning in the bottom of the 5th then scored 4-runs in the top 6th. IKM-Manning answered with a run in the bottom of the 6th but the game ended 15-3.  
IKM-Manning had taken a 2-0 lead when Anna Stangl and Carlee Neil scored on a pair of errors in the bottom of the 1st inning. It took the Wheelers until the 4th inning to get on the board as Ella Richards was throwing well for the Wolves and their defense had been sharp. Victoria Asmus singled to right field to score Addie Hocker to get the Wheelers on the board in the 4th inning. Mattie Nielsen then drove in Michelle Brooks to tie the game. Asmus scored later in the inning on an error to put the Wheelers ahead for good. They added 8-runs in the 5th inning, highlighted by a 2 RBI sac fly from Kylee Hartl. 
After the game resumed, the Wheelers scored 2 in the 6th on a ball from Hannah Thygesen who reached on an error, scoring Jordan Mulford and Mattie Nielsen. Jordan Porsch doubled and scored Thygesen and then Porsch scored on a double by Kali Irlmeier. IKM-Manning struck for a run in the bottom of the 6th when Carlee Neil singled to score Laura McCarville. 
Kali Irlmeier and Victoria Asmus both had 3 hits for Audubon, Asmus drove in 3-runs and Irlmeier added 2 RBI. Jordan Porsch scored twice and drove in a pair of runs. Michelle Brooks, Addie Hocker and Mattie Nielsen all had 2 hits. Hocker Brooks and Nielsen each scored twice. Kylee Hartl drove in a pair of runs. Kali Irlmeier pitched 6 innings, allowed 2 hits and 1 earned run with 8 strikeouts. 
Ella Richards doubled for IKM-Manning and Carlee Neil added a base hit. Neil had an RBI. Anna Stangl, Laura McCarville and Neil all scored a run.
Audubon Stats
Hannah Thygesen 1-5, RBI, 2 RS, SB
Jordan Porsch 1-4, 2B, 2 RBI, 2 RS, BB
Kali Irlmeier 3-5, 2B, 2 RBI- PItching WP, 6 IP, 2 Hits, 3 RA, 1 ER, 8 K's 3 BB 
Kylee Hartl 2 RBI, RS
Addie Hocker 2-4, RBI, 2 RS, BB
Michelle Brooks 2-5, 2 RS, SB
Victoria Asmus 3-4, 3 RBI, 2 RS
Jordan Mulford 1-4, 2 RS
Mattie Nielsen 2-3, RBI, 2 RS, HBP
IKM-Manning Stats
Ella Richards 1-1, 2B, 2 BB- Pitching LP, 4 1/3 IP, 10 Hits, 10 RA, 3 ER, 6 K's
Anna Stangl 1 RS, SB
Lauren Greving 1 RS, BB
Carlee Neil 1-3, RBI, RS
Sarah Christensen 1 SB
Karlee Arp 2/3 IP, 1 Hit, RA, ER, 2 BB
Brooke Booth 1 IP, 4 Hits, 4 RA, 3 ER, K 
Box Score
Teams          1   2   3   4   5   6    Final
Audubon     0   0   0   3   8   4   |    15
IKM-M         2   0   0   0   0    1  |      3
IKM-Manning at Audubon
4 Innings
Audubon          13
IKM-Manning     1
The Audubon Wheelers were able to get back into the win column as they got past IKM-Manning in four innings.
Both teams were sizing each other up in the first two innings after completing a suspended game from June 2nd. IKM-Manning was able to break the silence with a run scored by Taylor Beckendorf off a passed ball from Audubon. The Wheelers' response in the third was a massive nine-run inning. Hannah Thygesen led the charge in that inning going 2-2 with three RBIs and a triple and she scores twice herself. Mattie Nielsen was also able to knock a triple and went 2-2 in the third inning with an RBI with two runs scored.
Alexis Obermeier and the Audubon defense were also on point with Obermeier striking out 8 batters while allowing one run. After shutting down IKM-Manning in the fourth, Audubon closed out the game with four more runs scored. Addie Hocker and Michelle Brooks both got RBIs while Jordan Mulford ran in the final score to elevate the Wheelers over the Wolves 13-1.
IKM-Manning Softball At Audubon 6-23-22
The win improved Audubon to 8-11 overall and 4-10 in the Western Iowa Conference while IKM-Manning fell to 2-12 overall and 2-11 in the conference. Next up for both teams, Audubon takes on Tri-Center on Friday, June 24th while IKM-Manning gets AHSTW on Friday.
Audubon Stats
Hannah Thygesen: 2-3, 3B, 2 RS, 3 RBI
Jordan Porsch: 1-3, 2B, RS, RBI
Kali Irlmeier: 1-3, RS
Kylee Hartl: 2-3, 2B, 2 RS
Michelle Brooks: 2-3, 2 RS, RBI, SB
Victoria Asmus: 2-3, RS, 2 RBI
Jordan Mulford: 2-2, 2 RS
Mattie Nielsen: 1-2, 3B, 2 RS
Addie Hocker: RBI
Alexis Obermeier: Pitching: 4 IP, RA, 8 K, W
IKM-Manning Stats
Taylor Beckendorf: RS
Ella Richards: 3.2 IP, 11 Hits, 13 RA, 5 ER, 2 K, L
Box Score
Team         1  2  3  4    Final
IKMM        0  0  1  0  |     1
AUD           0  0  9  4  |   13
Ar-We-Va at East Sac
3 Innings
East Sac          15
Ar-We-Va          3
The East Sac Raiders were able to pick up win number four in the season as they got past the Ar-We-Va Rockets on Thursday.
The Rockets started off the first inning by getting Kora Obrecht home thanks to Sophie Jackson knocking an RBI hit that ended up being a reach on errors. East Sac was able to tie up the game at 1-1 in the first inning when Mary Bontrager found her way home. The Rockets were able to hold another lead in the second inning when they brought two runners home. Trista Reis and Jamie Hausman both got on the bags off hit by pitches, and Maggie Ragaller and Jackson were credited with bringing them home to give the Rockets a 3-1 lead.
East Sac's offense at that point got to work with two big innings that ended the game early. The Raiders put up consecutive seven-run innings that left the Rockets behind. A big playmaker for East Sac was Meredith Brown who kept her bats alive by going 3-3 with a double, two runs scored, and four RBIs. Maci Gustavson in the circle also had a solid night, allowing only one hit, three earned runs, and recorded three strikeouts. The only big knock on Gustavson's game were the four hit batters that got Ar-We-Va up 3-1 early. With a 15-3 lead after three innings, the Raiders were victorious. 
The win improved East Sac to 4-11 overall on the season as the Rockets fell to 3-11. Up next for both teams; East Sac will travel to take on Storm Lake St. Mary's on Tuesday, June 28th while the Rockets finish off their week with an away game against Whiting on Friday, June 24th. 
East Sac Stats
Emersyn Mack: 2-2, 2 RS, BB, SB
Mary Bontrager: 2-2, HBP, 3 RS, 2 RBI
Meredith Brown: 3-3, 2B, 2 RS, 4 RBI
Kami Ross: 2-3, RS, RBI, SB
Maci Gustavson: 1-3, RBI; Pitching: 3 IP, 1 Hit, 3 RA, 3 ER, 4 HB, 3 K, W
Jamie Pierce: 1-1, 2 BB
Kendall Quirk: 2-3, 2B, 3 RS, 2 RBI, SB
Gracie Snyder: BB, RS
Ar-We-Va Stats
Jamie Hausman: HBP, RS
Kora Obrecht: RS
Maggie Ragaller: 1-2, RBI
Sohpie Jackson: 2 RBI
Delaney Schurke: HBP
Emma Leiting: HBP
Amber Ragaller: Pitching: 3 IP, 15 RA, 10 ER, 4 BB, HB, L
Trista Reis: HBP, RS
Box Score
Team         1  2  3    Final
AWV          1  2  0  |     3
ESC            1  7  7  |    15