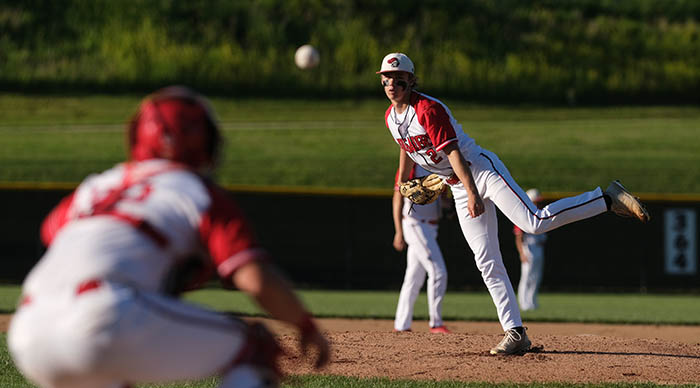 Baseball Results for Wednesday, June 15th
Ogden at Coon Rapids Bayard
Coon Rapids Bayard      4
Ogden                              0
The Coon Rapids Bayard Crusaders got out to an early lead and were able to stay ahead of Ogden Thursday with solid defense. 
While no one on the Crusaders' starting lineup did better than 1-3, they were able to produce runs in the first two innings. Some highlights included Kolby Culbertson crushing a triple and Cal Heydon getting a two RBI single in his lone hit. Along with Preston McAlister and Tanner Oswald being credited with RBIs, the Crusaders were able to grab a 4-0 lead and keep it steady the entire way through. The big reason for their ability to stay ahead was Kolby Culbertson and the defense behind him. Culbertson pitched all seven innings on the hill and only allowed two hits, one walk, and recorded nine wins, keeping undefeated streak on the hill alive with his fourth win. The defense too was solid, with 21 putouts on 31 chances and only having one error that didn't cost them a run. 
Coon Rapids-Bayard Baseball Vs Ogden 6-15-22
The Bulldogs were unable to get past the Crusaders' defense as they fell by a final score of 4-0. Coon Rapids Bayard improves to 14-3 overall on the season. They continue with their packed week as they take on Stanton in another non-conference game on Thursday, June 16th. 
Coon Rapids Bayard Stats
Easton Hays: RS
Cal Heydon: 1-3, 2 RBI
Lance Clayburg: 1-3, RS
Gabe Obert: 1-3, RS
Preston McAlister: 1-3, RBI
Tanner Oswald: 1-3, RBI
Kolby Culbertson: 1-3, 3B; Pitching: 7 IP, 2 H, BB, 9 K, W
Jacob Estrada: 1-3
Wyatt Oswald: 1-3, RS
Team       1  2  3  4  5  6  7    Final
OGD         0  0  0  0  0  0  0  |    0
CRB          2  2  0  0  0  0  0  |    4
Glidden Ralston at Boyer Valley
6 Innings
Glidden Ralston       21
Boyer Valley             10
Glidden Ralston was able to grab win number two of the season as they scored big against Boyer Valley Wednesday. 
The Wildcats got on the board early with two runs in the first inning, later upping Boyer Valley who got three across home plate to take the 3-2 lead. After a scoreless second inning, the Wildcats went the rest of the game scoring at least one run. They added one run in the third inning, three in the fourth, four in the fifth, and a massive 11 runs in the sixth inning. All together, the Wildcats put up an impressive 21 runs on Boyer Valley. The bats for the Wildcats were quite alive too, with Tyler Brant and Ethan Olberding both going 3-3 with three RBIs. Waylon Hein was a big help running the bases as he scored four runs, just ahead of Jonathan Bergmeier's three runs scored. 
The Bulldogs were sporadically able to add runs to their total, with a run in the bottom of the fourth and six in the bottom of the sixth. With their 11-run inning, the Wildcats were able to end the game by a final score of 21-10. Colby Wallace and Chandler Grossman shared time on the hill with Wallace being awarded the win where he allowed five hits, two earned runs, and recorded four strikeouts. 
The Wildcats continue their week with game two of three as they take on Whiting on Thursday, June 16th. 
Glidden Ralston Stats
Jackson Sklenar: 3 RS, RBI, 2 BB, HBP, SB
Jonathan Bergmeier: 1-4, 3 RS, RBI, 2 BB, SB
John Whitver: 2-4, 5 RS, 2B, 4 RBI, 2 BB
Tyler Brant: 3-3, 3 RS, 3B, RBI, BB, 2 HBP
Mark Lensch: 2-4, RS, 3 RBI, 2 BB, SB
Ethan Olberding: 3-3, RS, 2B, 3 RBI, 2 BB, HBP, SB
Caden Wenck: RBI, HBP
Colby Wallace: 1-4, RS, BB; Pitching: 5 IP, 5 H, 4 RA, 2 ER, 2 BB, HB, 4 K, W
Waylon Hein: 1-2, 4 RS, RBI, 2 BB, HBP, SB
Chandler Grossman: Pitching: 1 IP, 4 H, 6 RA, 6 ER, 3 BB, K
Team       1  2  3  4  5  6      Final
GR             2  0  1  3  4  11  |   21
BV             3  0  0  1  0   6   |   10
AHSTW at Audubon
Audubon      3
AHSTW         2
The Audubon Wheelers didn't get many hits in their game against AHSTW, but they were able to score early and stay ahead of the Vikings Wednesday. 
AHSTW wasn't able to score any runs in their first at bats, but Audubon got the train rolling. Evan Alt got on base with a double and then was able to reach home off a Gavin Smith triple to get up 1-0. Gavin Larsen was able to get Smith home off a sac fly to give the Wheelers an early 2-0 lead. AHSTW was able to derail the Wheelers before they could continue to score and they got their offense going with a run in the second and another in the third to tie up the game at 2-2. 
Audubon rebounded in the third inning with Aaron Olsen's baserunning abilities. He was walked in his at bat, was able to zoom to second off a wild pitch, got to third off a sac fly ball, and Larsen got another RBI thanks to a double that scored Olsen, giving Audubon the lead back at 3-2. After that leading run, both offenses went silent and went the rest of the game without a run. Audubon Head Coach Matt Wilder says they were able to make some timely defensive plays and made enough plays on offense to stay ahead. The Wheelers were able to score early and keep their lead to win it over AHSTW 3-2. 
Cooper Nielsen was on the hill the entire game, going six innings allowing three hits, two earned runs, and recording six strikeouts. The Wheelers finish up a four game week with their final and biggest challenge as they travel to take on Underwood on Thursday, June 16th. 
Audubon Stats
Aaron Olsen: RS, BB
Evan Alt: 1-3, 2B, RS
Gavin Smith: 2-3, RS, 3B, RBI
Gavin Larsen: 1-1, 2B, 2 RBI, BB; Pitching: 1 IP, H, BB, K
Cooper Nielsen: Pitching: 6 IP, 3 H, 2 RA, 2 ER, BB, 2 HB, 6 K, W
Colton Hansen: BB
Carson Meaike: BB
Team       1  2  3  4  5  6  7    Final
AHSTW     0  1  1  0  0  0  0  |    2
AUD          2  0  1  0  0  0  X  |     3
Pocahontas Area at South Central Calhoun
Pocahontas Area              14
South Central Calhoun     7
The South Central Calhoun Titans were able to get a good amount of runs home against Pocahontas Area Thursday, but the Indians had a massive first inning that kept them in front. 
The Indians in that big first inning were able to put up eight runs that set the tone early. South Central Calhoun had a good response with a run scored in the bottom of the first, kept Pocahontas Area scoreless in the second, and scored two runs in the bottom half of the inning to cut down the Indian lead to 8-3. The Indians crossed double digit runs with two more scored in the third, leading 10-3. South Central Calhoun's bats were keeping alive throughout the contest, with highlights being Brock Nattress going 3-5 with a double and an RBI, Jayden Soard who ran the bases well with four stolen bases while going 2-3, and Keegan Soard who went 2-2 with two runs scored. 
Pocahontas Area, though, was able to hit well off of Charlie Nattress and Carson Shaver and got past the Titan defense. They scored another four runs between the fifth and sixth innings while South Central Calhoun managed to put four more runs up, one in the fourth, two in the fifth, and a final run in the seventh. The final chance to make a big comeback was spoiled as Pocahontas Area won 14-7. 
The Titans fell to 4-8 overall on the season and 2-5 in the Twin Lakes Conference. They will close out a rather busy week with another conference match up on Friday, June 17th when they take on East Sac. 
South Central Calhoun Stats
Kaden Dorman: 1-4, RS, BB
Andrew Anderson: 1-5, RS, 2B, 2 RBI, SB
Jayden Soard: 2-3, 2 RS, 2 HBP, 4 SB
Charlie Nattress: RBI, 2 BB; Pitching: 2.1 IP, 6 H, 6 RA, 6 ER, 5 BB, HB, 2 K, L
Brock Nattress: 3-5, 2B, RBI
Jacob Kalkwarf: 2-4, BB
Khyean Hawkins: BB
Cody Thompson: 1-2, RS, HBP
Keegan Soard: 2-2, 2 RS, 2 BB
Carson Shaver: Pitching: 4.2 IP, 3 H, 8 RA, 4 ER, 8 BB, HB, K
Team       1  2  3  4  5  6  7    Final
POC          8  0  2  0  3  1  0  |    14
SCC           1  2  0  1  2  0  1  |      7