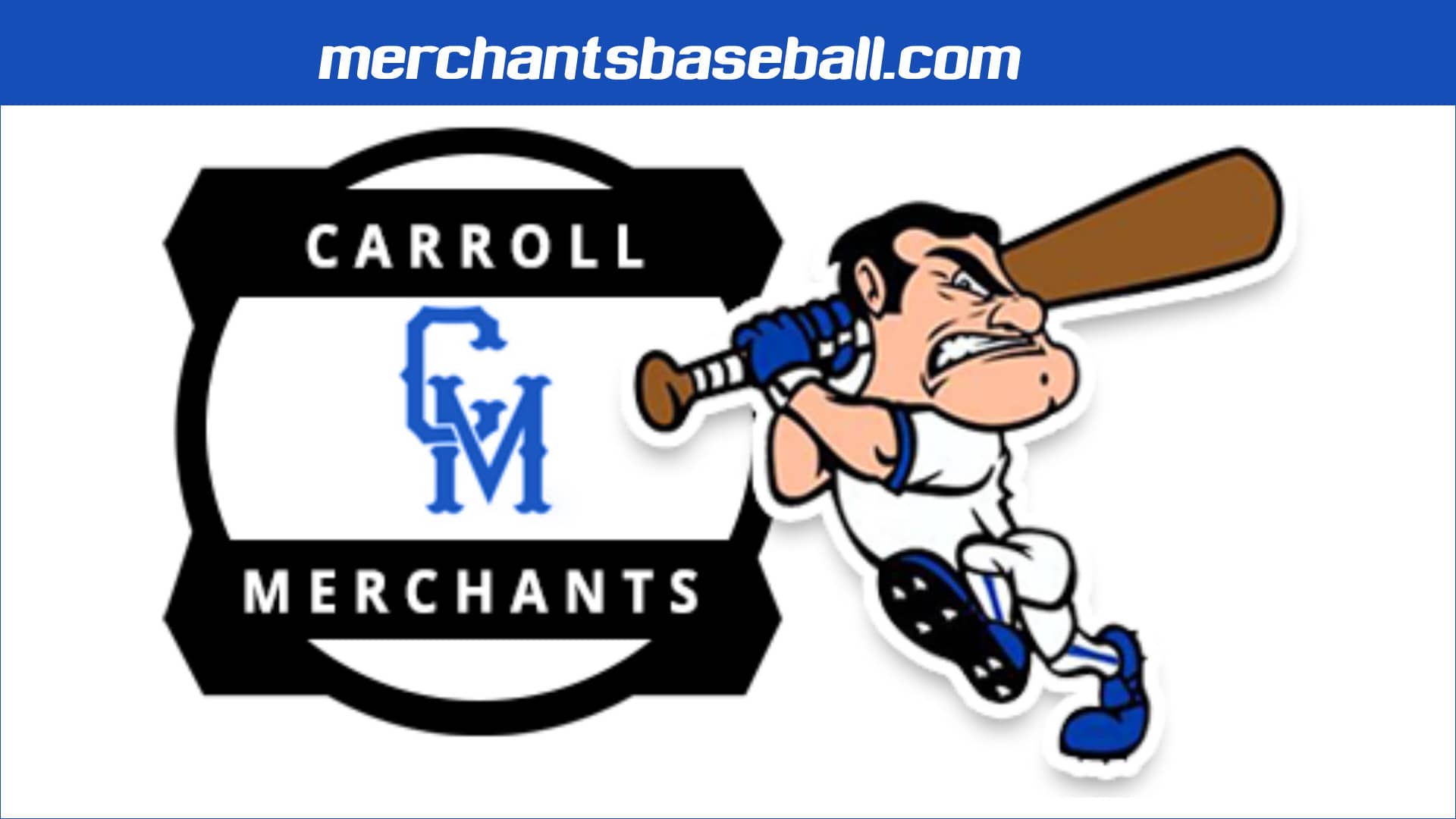 Carroll Merchants Results Wednesday, June 8th 
Des Moines At Carroll
Carroll 14
Des Moines 4
The Merchants put together 12 hits with 2 players with 3 hits each as they roll to a 10-run win on Wednesday night. Carroll built an early lead with a run in the 1st and 2nd inning, then opened the game up with 5-runs in the 3rd. They added a 5-run inning in the 7th to end the game. The Merchants held Des Moines to 5 hits, holding them to 1-run prior to a 3-run 7th inning. Parker Ingram had one of the teams 3 extra base hits with a triple while Noah Dutler and Kaleb Freeman both doubled.
Kaleb Freemen finished with 3 RBI, picking one of them up in the 1st inning. He doubled to left center field, scoring Jordan Matthewson. After Des Moines tied the game in the 2nd the Merchants went back up 1 when Noah Dutler singled to left, scoring J. Ben Haynes. The 3rd inning was the turning point for Carroll. J. Ben Haynes walked to score Kaleb Freeman which started a streak for the Merchants. Michael Alt walked and scored Hunter Reid. A Brent Hokeness single to centerfield scored Haynes before Seth Christiansen singled to center, scoring Dutler. The lead was 7-1 heading into the 4th inning.  Carroll added a pair of runs in the 4th but wouldn't score again until the 7th. Seth Christiansen singled to score Noah Dutler, then Parker Ingram tripled to left center, scoring Brent Hokeness  and Christiansen. Ingram would score moments later on a passed ball.
Seth Christiansen and Noah Dutler each had 3 hits with Christiansen driving in 3-runs and Dutler finishing with 2-runs scored and 2 RBI. Parker Ingram had a triple and 3 RBI. J. Ben Haynes scored 3 times and Brent Hokeness added a pair of runs scored. Benjamin Coldiron pitched very well, going all 7 innings, allowing 5 hits and 4 earned runs with 6 strikeouts.
The Merchants travel to Clarinda for a double header on Saturday.
Merchants Stats
Jordan Matthewson 1-4, RS, BB
Seth Christiansen 3-5, 3 RBI, RS
Kaleb Freeman 1-3, 2B, RBI, RS, BB
Noah Buss 1 RS, BB
Hunter Reid 1-4, RS
Parker Ingram 1-4, 3B, 3 RBI, RS
J. Ben Haynes 3 RS, 3 BB, SB
Michael Alt 1-3, RS, BB
Noah Dutler 3-3, 2B, 2 RBI, 2 RS
Brent Hokeness 1-2, RBI, 2 RS, 2 BB
Benjamin Coldiron WP, 7 IP, 5 Hits, 4 RA, 4 ER, 6 K's, HBP
Box Score
Teams      1     2     3     4     5    6     7   Final
DM             0     1      0      0     0     0     3      4
Merchants 1    1      5       2     0      0     5      14