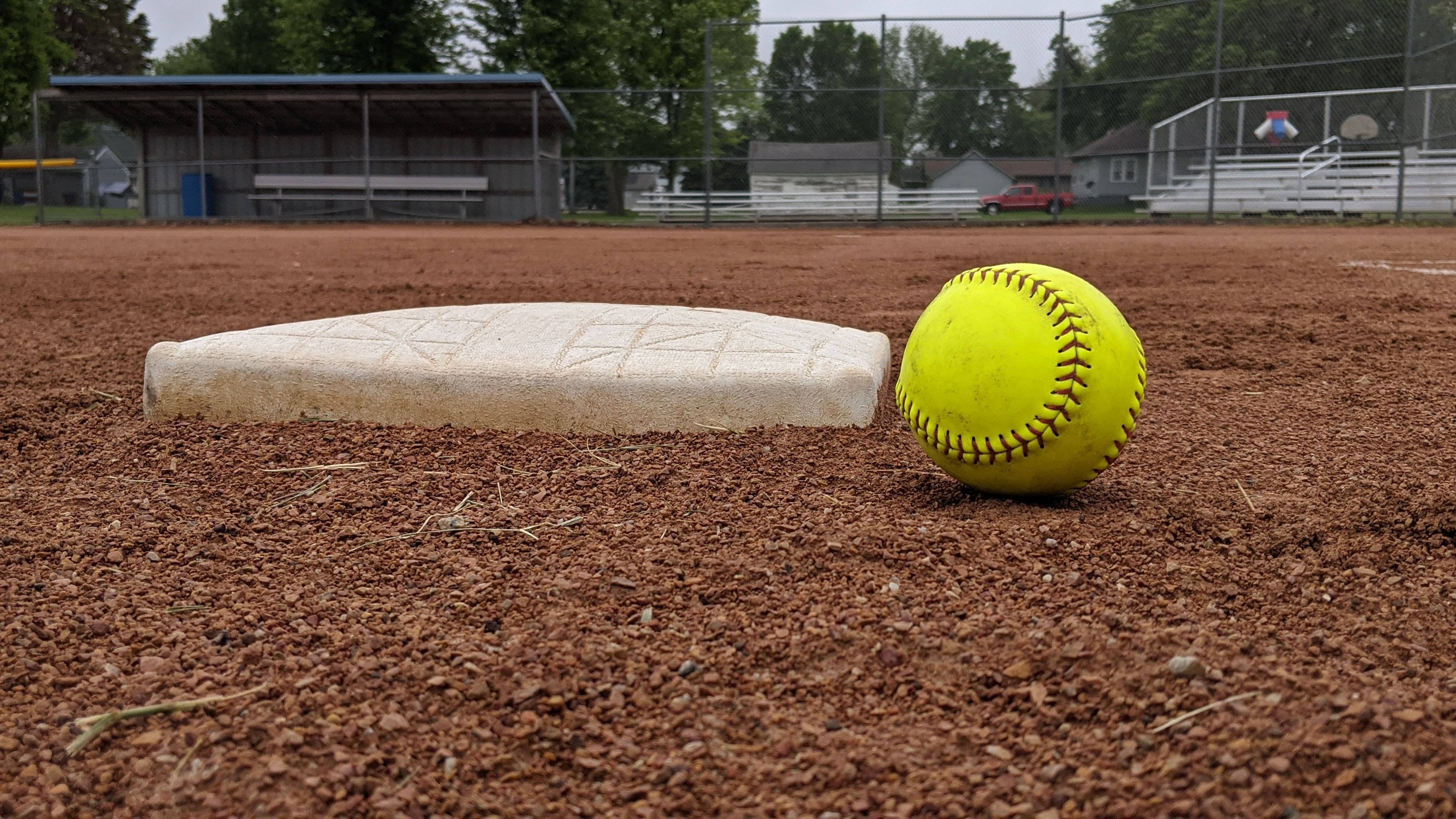 Softball Results Wednesday, June 8th 
Glidden Ralston At Coon Rapids Bayard
Glidden Ralston 10
Coon Rapids Bayard 8
Glidden Ralston rallied with a big 6th inning, then held off a Coon Rapids Bayard rally in the 7th to pick up their third win of the season. Coon Rapids Bayard jumped up 6-2 after 2 innings and held a 6-3 lead heading into the 6th. The Wildcats scored 6 times, with 5 hits and a Crusader error to take a 10-6 lead. Coon Rapids Bayard pushed a couple runs across in the bottom 7th and had the tying run on base when the game ended. Glidden Ralston pounded out 13 hits while Coon Rapids Bayard finished with 10.
The Wildcats scored first when Vanessa Koehler singled to start the game and scored on a single by Elizabeth Lloyd. Tiela Janssen walked and scored on a wild pitch to put them up 2-0. Coon Rapids Bayard answered quickly with Lacie Davis singling, Miranda McClellan reached on an error and Breeley Clayburg walked. The three scored with Kadey Olson getting an RBI single and the other runs scoring on a wild pitch and an error. The Crusaders pushed the lead to 6-2 in the 2nd with Laci Davis and Anna Hart picking up RBI, helping Lydia Hofbauer and Miranda McClellan score, while Emma Hart scored on a passed ball.
Glidden Ralston battled back in the 5th when Vanessa Koehler walked and scored on a base hit by Kassidy Wenck. They struck again in the 6th with most of their damage coming with 2 outs. Ashlynn Tigges singled to start the inning and Summer Toms walked. After a sac bunt by Brileigh Bock Addy Boell hit a pop up to centerfield and Coon Rapids Bayard made its only error, allowing a pair of runs to score. The Wildcats used that to score 4 more runs with Vanessa Koehler, Tiela Janssen, Kassidy Wenck and Elizabeth Lloyd all singling, Janssen and Lloyd both had an RBI while Wenck drove in 2. They added an insurance run in the 7th when Summer Toms scored on  single by Addy Boell. Coon Rapids Bayard nearly came back in the bottom 7th. Kadey Olson reached on an error and Malia Clayburg singled, followed by a walk by Bridget Shirbroun. Lydia Hofbauer reached on a fielders choice but Olson was thrown out at home. Emma Hart walked to score a run and Lacie Davis hit a deep sac fly to center field, scoring a run. The Crusaders had the tying run on 1st base but Brileigh Bock was able to snag a ground ball to 2nd and made the play to 1st to end the game.
Vanessa Koehler and Ashlynn Tigges both had 3 hits for Glidden Ralston with Koehler having a double. Kassidy Wenck and Elizabeth Lloyd had 2 hits each with Wenck driving in 3-runs and Lloyd 2-runs. Addy Boell also had 3 RBI. Vanessa Koehler led the team with 3-runs scored while Tiela Janssen and Summer Toms each scoring twice.
Bridget Shirbroun had 3 hits to lead the Crusaders. Emma Hart and Malia Clayburg both had a pair of hits. Lacie Davis had a team high 2 RBI and Miranda McClellan scored twice.
The Wildcats move to 3-5 overall and 3-3 in the Rolling Valley. The Crusaders fell to 5-4 overall and 4-2 in the RVC. The Wildcats host Boyer Valley on Thursday. Coon Rapids Bayard hosts West Harrison on Friday.
Glidden Ralston Stats
Vanessa Koehler 3-4, 2B, 3 RS, BB, 3 SB- Pitching WP, 12 Hits, 8 RA,  4 ER, 2 K's, HBP, 6 BB
Tiela Janssen 1-2, RBI, 2 RS, 3 BB
Kassidy Wenck 2-4, 3 RBI, RS, 2 SB
Elizabeth Lloyd 2-4, 2 RBI
Ashlynn Tigges 3-4, RS
Summer Toms 1-3, 2 RS, BB
Brenna Bowman 1 BB
Addy Boell 1-4, 3 RBI, RS
Coon Rapids Bayard Stats
Emma Hart 2-4, RBI, RS, BB- Pitching 7 IP, 13 Hits, 10 RA, 4 ER, 9 K's, 6 BB
Lacie Davis 1-3, 2 RBI, RS, BB
Miranda McClellan 2 RS, BB
Breeley Clayburg 1-2, RS, HBP, BB
Anna Hart 1 RBI
Kadey Olson 1 RBI
Malia Clayburg 2-4, RBI, RS, SB
Bridget Shirbroun 3-3, RS, BB
Lydia Hofbauer 1-3, RS, BB
Box Score
Teams      1      2     3      4     5     6      7    Final 
GR             2       0      0      0      1     6       1        10
CRB          3       3      0      0       0     0      2         8
Whiting At Ar-We-Va 
Ar-We-Va 15
Whiting 5           (5 Innings)
Ar-We-Va won their second straight in convincing fashion, scoring in four of the five innings and pounding out four extra base hits in their seven hits overall. The Rockets put some distance between themselves and Whiting with a 5-run 2nd inning. That came after scoring 3 in the 1st inning. They ended the game in the 5th inning with 6-runs.
Maggie Ragaller led the way with a pair of hits, including a double along with scoring twice. Amber Ragaller tripled and scored twice. Jamie Hausman and Trista Reis both doubled with Hauman scoring twice and Reis driving in a run and scored once. Emma Leiting scored 3-runs. Amber Ragaller won in the circle, allowing 3 hits, all in the 5th inning along with 5 runs.
The Rockets head to Exira-EHK on Thursday.
Ar-We-Va Stats
Jamie Hausman 1-4, 2B, 2 RS, HBP, SB
Kora Obrecht 1-4, RBI, RS, BB
Maggie Ragaller 2-3, 2B, RBI, 2 RS, HBP, SB
Sophie Jackson 1 RBI, 2 RS, HBP, BB
Delaney Schurke 2 RS, 2 HBP, BB
Emma Leiting 1-3, RBI, 3 RS, HBP, SB
Amber Ragaller 1-1, 3B, RBI, 2 RS, 3 BB- Pitching WP, 5 IP, 3 Hits, 5 RA, 3 K's, 3 BB
Karime Sanchez 2 RBI, 2 HBP, SB
Trista Reis 1-4, 2B, RBI, RS
Box Score
Teams        1     2      3    4     5     Final
Whiting       0     2     0      0      3        5
AWV            3      5      0      1      6       15
East Sac At GTRA
GTRA 8
East Sac 3
Meredith Brown homered and doubled but it wasn't enough as the Raiders dropped a tough game on the road, falling to 2-4 on the season. A four run 2nd inning by GTRA was the difference in the game, as the Titans got the four of the first-five batters in the inning on base and scored 4-runs. East Sac had a nice night at the plate but weren't able to take advantage, out hitting the Titans 10-7.
Meredith Brown was one of three Raiders with multiple hits, finishing with a solo home run in the 3rd inning, along with a double. She had 2 RBI and scored a run. Emersyn Mack and Gracie Snyder each had 2 hits with Mack scoring a run and Snyder drove in a run. Maci Gustavson pitched 6 innings, allowing 7 hits with 3 strikeouts.
The Raiders head to Storm Lake St Mary's on Thursday.
East Sac Stats
Emersyn Mack 2-4, RS, SB
Meredith Brown 3-4, 2B, HR, 2 RBI, RS
Kami Ross 1-4, SB
Maci Gustavson 1 BB- Pitching LP, 6 IP, 7 Hits, 8 RA, 3 K's, 4 BB, HBP
Anna McCollough 1 RS
Aleisha Thayer 1-3
Jamie Pierce 1-3
Gracie Snyder 2-3, RBI
Box Score
Teams     1     2     3     4     5    6     7     Final
ESC           1      0     1      0      0     1      0        3
GTRA        1     4      1      1       0     1     x         8