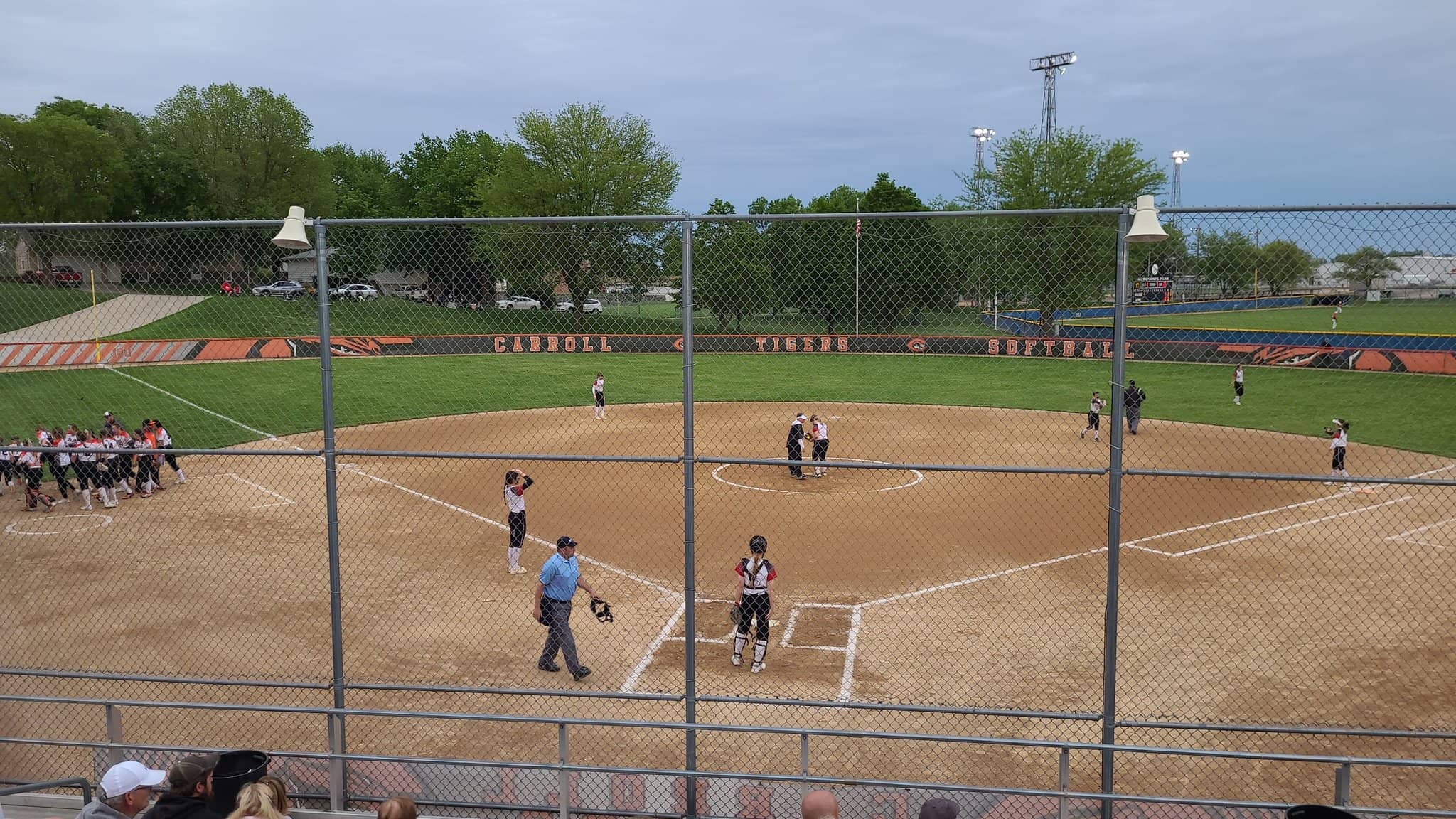 Softball Results for Monday, May 23rd
Gilbert At Carroll 
Gilbert   6
Carroll    3
The Carroll Tigers opened up the 2022 season with a home game as they hosted Gilbert and had a nice late-game rally. Gilbert got out in front quickly in the first inning when Carlee Schwartze hit a deep ball to left-center field and later scored to get Gilbert up 1-0. Thankfully, Carroll got to work on defense with Alyssa Brant back in the circle for her senior campaign. Brant got to work in the second inning with two strikeouts, and two more in the third. Gilbert had two runners on base in those innings, but Carroll was able to get plays to go their way for the final out before Gilbert could extend their lead. 
Brant and the Carroll defense kept Gilbert to that 1-0 lead for a large portion of the game, including two three up, three down innings in the fourth and fifth. Gilbert was eventually able to get their bats awake with a strong sixth inning scoring stretch. They added three runs to their lead, including RBIs from Clara Newton and Taylor Puck. With a 4-0 lead, the Gilbert Tigers used that momentum in the bottom of the sixth to keep Carroll away from scoring, while adding two more runs of their own in the top of the seventh due to an error from Carroll and an RBI double. Carroll's luck did change in the seventh inning when Parker Adams got a single, Averi Burke followed that up with a single, as did Brenna Goins. Ava Gross got two runners home with an RBI single and an error from Gilbert at home. But, before Carroll could tie up the contest, Gilbert close out the game with a strikeout to Brielle Hinners to win it 6-3. 
Carroll starts their 2022 season with a record of 0-1. They travel to Denison Schleswig to take on the Monarchs on Tuesday, May 24th. 
Carroll Stats
Ava Gross: 1-4, 2 RBI, BB
Brielle Hinners: 1-4
Vanessa Ayala: 2-3
Parker Adams: 1-3, RS
Averi Burke: 1-3, RS
Makalei Kofron: 2 BB
Alyssa Brant: 1-3; Pitching: 7 IP, 7 H, 6 R, 3 RA, 6 BB, 8 K, L
Kylie Reisberg: RBI
Brenna Goins: RS
Box Score
Team       1  2  3  4  5  6  7     Final
GIL            1  0  0  0  0  3  2  |    6
CARR        0  0  0  0  0  0  3  |    3
LoMa At Kuemper 
LoMa          2
Kuemper    0
The Kuemper Knights were neck and neck with LoMa in their season opener Monday, but a strong fifth inning was what gave the Panthers the edge. Up until the fifth inning, both teams had difficulties getting past each other's defenses, with a scoreless game through four innings. Hailey Ostrander was able to go 2-3, but she was the lone Knight to record hits against LoMa. The Panthers got on the board in the fifth inning and took a 2-0 lead. The Knights saw Melinda Schaefer and Kamryn Venner get walked while Kenzie Schon was hit by pitch, but all three runners were unable to get home. 
The Panthers would keep the Knights at a distance and come away with a 2-0 win in the season opener. Chloe Venteicher returned to the circle for the Knights in their season opener, where, in seven innings pitched, she allowed two earned runs off nine hits, a walk, and a hit batter while recording two strikeouts in a loss. 
The Knights return to the ballpark on Wednesday, May 25th when they take on IKM-Manning at Irwin. 
Kuemper Stats
Hailey Ostrander: 2-3
Melinda Schaefer: BB
Kenzie Schon: HBP
Kamryn Venner: BB
Chloe Venteicher: Pitching: 7 IP, 6 H, 2 R, ER, BB, HB, 2 K, L  
Team       1  2  3  4  5  6  7     Final
LoMa       0  0  0  0  2  0  0   |    2
KUE          0  0  0  0  0  0  0  |     0
Earlham At Audubon 
Audubon   5
Earlham     4
The Audubon Wheelers got their 2022 season off to a wild start as they were able to edge Earlham thanks to a walk-off run in the bottom of the seventh. Earlham were the ones to strike first in the top of the second when an error allowed them to get to runners home to get up 2-0. Addie Hocker gave the Wheelers a wave of momentum when she scored when Alexis Obermeier got on base off an error. Audubon tied the game up in the bottom of the third when Kylee Hartl reached first off a dropped third strike, allowing Hannah Thygesen to get home. They would grab the 3-2 lead later in the inning when Addie Hocker singled a hard ground ball to score Hartl. 
Both teams left the fourth inning tied again as Earlham scored off a hard-hit ground ball in the top of the fourth. Earlham grabbed the lead back in the top of the fifth thanks to another error by the Wheelers, giving the Cardinals the 4-3 lead. Mattie Nielsen in the bottom of the sixth was able to reach first thanks to an error on the Cardinals, which gave Brooks enough time to score and tie up the game again. After a 1-2-3 inning for the Cardinals in the top of the seventh, the Wheelers had the chance to win it. Jordan Porsch was able to single for a base hit, and she turned on the jets to score when the Cardinals once again had an error that allowed her to score for the walk-off winner. The Wheelers come away with a 5-4 win at home. 
The Wheelers are back to the diamond on Tuesday, May 24th when they host AHSTW. 
Audubon Stats
Michelle Brooks: 1-1, RS, 2 BB
Jordan Porsch: 1-3, RS
Addie Hocker: 1-2, RBI, RS, BB
Kylee Hartl: RS, BB
Hannah Thygesen: 1-4, 2B, RS
Alexis Obermeier: Pitching: 3 IP, 4 H, R, 2 K, W
Kali Irlmeier: Pitching: 4 IP, 8 H, 3 BB, 3 R, ER, 6 K
Team       1  2  3  4  5  6  7     Final
EARL        0  2  0  1  1  0  0  |    4
AUD         0  1  2  0  0  1  1  |    5
CAM Anita At Ar-We-Va 
CAM Anita    16
Ar-We-Va   0
The Ar-We-Va Rockets opened up the 2022 season with a homestand against conference foe CAM Anita Monday. The Cougars came out swimming from the beginning as they put up eight runs in the first inning, and left the Rockets scoreless. The same was true for the second inning where CAM Anita put up three runs, and in the third where they closed out the game with five more runs to end the game. Jamie Hausman was able to reach base, going 2-2 in the game. Maggie and Amber Ragaller shared pitching duties for the Rockets, with Amber recording two strikeouts while allowing one hit, seven runs, one earned run and five walks. Maggie in two and one-third innings pitched, allowed six hits, nine runs, three earned runs and had five walks and a hit batter. 
The Rockets return to the ballpark on Wednesday, May 25th when they travel to take on Exira-EHK. 
Ar-We-Va Stats
Jamie Hausman: 2-2
Maggie Ragaller: Pitching: 2 1/3 IP, 6 H, 9 R, 3 ER, 5 BB, HB
Amber Ragaller: Pitching: 2/3 IP, H, 7 R, 1 ER, 5 BB, 2 K, L
Box Score
Team           1  2  3      Final
CAM              8  3  5  |  10
AWV              0  0  X  |    4
Exira-EHK At Coon Rapids Bayard 
Exira-EHK                     6
Coon Rapids Bayard   0
The Coon Rapids Bayard Crusaders held off the Exira-EHK Spartans well through three innings, but the Spartans were able to score off of errors from the Crusaders. In those first three innings, the Crusaders were keeping up with their opponent well but were unable to get any score on the board. Exira-EHK were the ones on the board first as they scored off a hit batter and an error in the top of the fourth to lead 1-0. They'd extend that lead later in the sixth inning when Coon Rapids Bayard had a string of errors. With four errors committed by the Crusaders, the Spartans brought home five runs off three hits, extending their lead to 6-0. The Crusaders were unable to rally late for the win as they'd end up falling to the Spartans by a score of 6-0. Coon Rapids Bayard Head Coach Darla Davis says besides those error blunders, they had some solid defensive plays from Lacie Davis in the outfield and Miranda McClellan at shortstop. Emma Hart, Breeley Clayburg, Kadey Olson, and Malia Clayburg all got hits for the Crusaders. 
Coon Rapids Bayard is back in action on Friday, May 27th when they take on Boyer Valley in Dow City. 
Coon Rapids Bayard Stats
Emma Hart: 1-3; Pitching: 7 IP, 3 H, 6 R, ER, 3 BB, 2 HB, 8 K, L
Breeley Clayburg: 1-3
Kadey Olson: 1-3
Malia Clayburg: 1-2
Team       1  2  3  4  5  6  7     Final
EEHK        0  0  0  1  0  5  0  |    6
CRB          0  0  0  0  0  0  0   |   0
Madrid At Glidden Ralston 
Madrid                  9
Glidden Ralston   4
The Glidden Ralston Wildcats opened up the 2022 season at home as they played host to Madrid Monday night. In the first half of the game, Glidden Ralston was competing well with the Tigers, tied at two runs apiece after three innings. Vanessa Koehler got the start of the Wildcats in the circle, and some first-game jitters were in effect. She walked 11 batters, recorded 10 strikeouts, and allowed five earned runs off eight hits. Madrid was able to get up for good in the fifth inning when they put up six runs and an additional one in the sixth inning to get up 9-2. The Wildcats still put up a fight until the end, adding two runs to their total in the bottom of the seventh. The Tigers were able to end the game before the Wildcats could get on a roll, defeating the Wildcats 9-4. Elizabeth Lloyd was perfect in her at-bats, going 4-4 with a double and an RBI. Ashlynn Tigges went 2-4 in her at-bats with an RBI while Brenna Bowman had two RBIs while going 1-3. 
The Wildcats are back in action when they travel to Lytton to take on South Central Calhoun on Tuesday, May 24th. 
Glidden Ralston Stats
Vanessa Koehler: 1-4, RS; Pitching: 7 IP, 8 H, 9 R, 5 ER, 11 BB, HB, 10 K, L
Tiela Janssen: 1-3, RS, 2B, BB
Ashlynn Tigges: 2-4, RBI
Elizabeth Lloyd: 4-4, 2B, RBI
Summer Toms: 1-3, 
Kassidy Wenck: 1-3, RS
Brenna Bowman: 1-3, 2 RBI
Amelia Garrett: BB
Grace Lensch: RS
Team       1  2  3  4  5  6  7     Final
MAD        0  1  1  0  6  1  0  |    9
GR            0  2  0  0  0  0  2  |    4
Storm Lake At South Central Calhoun
Storm Lake                         10
South Central Calhoun       0
The South Central Calhoun Titans took on the Storm Lake Tornadoes in their season and home opener. Both teams were evenly matched through two innings of play without either scoring a run. Grace Hungate pitched five innings for the Titans and was able to record seven strikeouts, but allowed nine hits and five earned runs while walking eight batters. The narrative changed when Storm Lake was able to put up six runs in the top of the third and leave the Titans without any in the bottom of the inning. The Tornadoes continued in the top of the fourth with another run and ended the game in the top of the fight with three runs to win it 10-0 over South Central Calhoun. 
The Titans return to the diamond on Tuesday, May 24th when they host Glidden Ralston. 
South Central Calhoun Stats
Emma Anderson: 1-3, 2B
Keria Hammen: BB
Kylee Schleisman: 1-1, 2B, BB
Grace Hungate: Pitching: 5 IP, 9 H, 10 RA, 5 ER, 8 BB, 7 K, L
Team       1  2  3  4  5     Final
SL              0  0  6  1  3  |  10
SCC           0  0  0  0  X  |   0