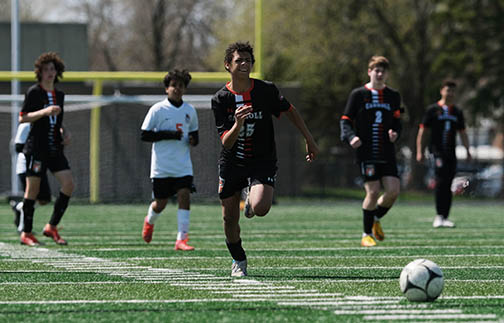 Boys Soccer Results Saturday, May 7th 
Carroll Boys Soccer Tournament 
Carroll Vs Council Bluffs Thomas Jefferson
Council Bluffs Thomas Jefferson 2
Carroll 1             (OT)
Carroll  tied the game on a goal by Clayton Weitl with 11:54 remaining, then had several chances to win in late but didn't score. Carroll controlled the ball most of the 2nd  half, after giving up a goal at 16:54 in the 1st half to trail 1-0 at halftime. The Tigers had numerous scoring chances in the 2nd half, having several shots sail just over the goal, due to the strong wind at their back. Overtime was penalty kicks instead of the normal 10:00 time period. Thomas Jefferson scored on their first attempt, going up 1-0. Clayton Weitl booted in his attempt, tying the score at 1. Thomas Jefferson went up 2-1 and Carroll missed their second attempt. Thomas Jefferson extended the lead to 3-1, having made all three of their attempts. Carroll cut it to 3-2 on a penalty kick by Chase Ragaller. Thomas Jefferson scored again to put the pressure on the Tigers, down 4-2 with two shots left, they couldn't afford to miss again. Thomas Jefferson made a nice diving stop to secure the win.
Carroll Stats
Clayton Weitl 8 shots on goal- 1 penalty kick
Trey Hunter 3 shots on goal
Christian Best 2 shots on goal
Chase Ragaller 2 shots on goal- 1 penalty kick
Tanner Heithoff 9 Saves
Carroll Vs Mason City- 3rd Place
Mason City 6
Carroll 2
Carroll  held the lead twice but couldn't hold on as Mason City scored five straight goals in the 2nd half to finish in 3rd place. Clayton Weitl scored midway through the 1st half, putting the Tigers up 1-0 with 22:24 remaining in the half. They held lead until late when Mason City scored with 1:16 remaining to tie it a 1 at half. Carroll came out quick in the 2nd half, taking a 2-1 lead on a goal by Christian Best with 38:13 remaining. Mason City responded, scoring 5 straight goals.
Clayton Weitl and Christian Best both scored as the Tigers had 15 shots on goal. Tanner Heithoff finished with 15 saves.
Carroll falls to 2-8 on the season. They host LoMa on Monday.
Carroll Stats
Clayton Weitl 1 Goal, 5 shots on goal
Christian Best 1 Goal, 3 shots on goal
Markus Wagner 2 shots on goal
Trey Hunter 2 shots on goal
Chase Ragaller 2 shots on goal
Jireh Gallegos 1 shot on goal
Tanner Heithoff 15 Saves