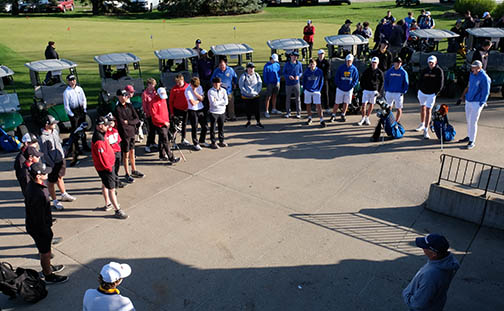 Boys Golf Results Saturday, May 7th
Carroll and Kuemper Boys At Larry Clark Invite At Carroll Country Club 
Kuemper and Carroll took the top three individual places on Saturday, but neither team was able to grab the tournament championship. Kuemper took 3rd with a 328, seven shots behind ADM who won the tournament with a 321 and a couple strokes behind the 326 from Webster City. Carroll was 5th with a 344, behind 4th place Spencer who shot a 331.
Maverick Schwabe of Kuemper, Drew Munson and Bryce Berlau of Carroll and Finn Garton of ADM, Garrett Arnold of Webster City, Easton Korell of ADM and Beau Klaver of Webster City all were in major contention for the individual championship. Schwabe edged the other golfers with a 77, Munson was 2nd with a 78 and Berlau and tied the rest of the leading pack with 79's. Schwabe finished with  43-34. His 34 on the back nine featured a birdie and 7 pars. He added a birdie and 2 pars on the front 9. Munson shot 38-40, picking up a birdie and 6 pars on the front 9 and 4 pars on the back 9. Berlau went 43-36 with a birdie and 2 pars on the front 9 and 7 pars on the back 9. Benicio Lujano also finished in the top 10 for Kuemper, taking 8th place with a 80 going 41-39. Lujano went for a birdie and 2 pars on the front 9 and a birdie and 3 pars on the back 9. Tyler Auen shot a 84 and Carter Putney added a 87 for Kuemper. Will Ragaller finished with a 88 and Conner Kirsch shot a 99 for Carroll.
Team Standings
ADM 321
Webster City 326
Kuemper 328
Spencer 331
Carroll 344
Atlantic 358
Humboldt 367
OA-BCIG 370
Panorama 394
Denison Schleswig 397
St Edmond 408
Kuemper Scores
Maverick Schwabe 77                   1st Place
Benicio Lujano 80                        8th Place
Tyler Auen 84                               15th Place
Carter Putney 87                          21st Place
Kaydon Schon 88                         25th Place
Dawson Billmeier 94                   38th Place
Carroll Scores
Drew Munson 78                        2nd Place
Bryce Berlau 79                          3rd Place
Will Ragaller 88                          24th Place
Conner Kisch 99                        47th Place
Alec Sinnard 102                        49th Place
Miles Bogue 105                        53rd Place
Kuemper Catholic and Carroll Boys Golf compete at the Larry Clark Invitational 5-7-22
Glidden Ralston, Storm Lake and AC-GC At Coon Rapids Bayard Invite
Coon Rapids Bayard took 2nd place at their tournament on Saturday while Glidden Ralston finished 4th. Storm Lake won with a 356, Coon Rapids Bayard had a 370, AC-GC shot a 382 and Glidden Ralston finished with a 459. The Crusaders grabbed two of the top three places with Preston McAlister winning the meet with a 87 and Jacob Estrada finishing with a 88.
McAlister shot 41-46 while Estrada went 48-40. Toby Benninger added an 98, going 51-47 and Trey Rosenbeck finished 46-51 for a 97 for the Crusaders. Caden Wenck led Glidden Ralston with a 55-48 for a 103. Tyler Brant shot 116, going 60-56, Mark Lensch had a 119 with a 61-58 and Colby Wallace shot 121, going 58-63.
Team Standings
Storm Lake 356
Coon Rapids Bayard 370
AC-GC 382
Glidden Ralston 459
Coon Rapids Bayard Scores
Preston McAlister 87                    1st Place 
Jacob Estrada 88                          3rd Place 
Toby Benninger 98
Trey Rosenbeck 97
Ella Esdohr 112
Glidden Ralston Scores
Caden Wenck 103
Tyler Brant 116
Mark Lensch 119
Colby Wallace 121