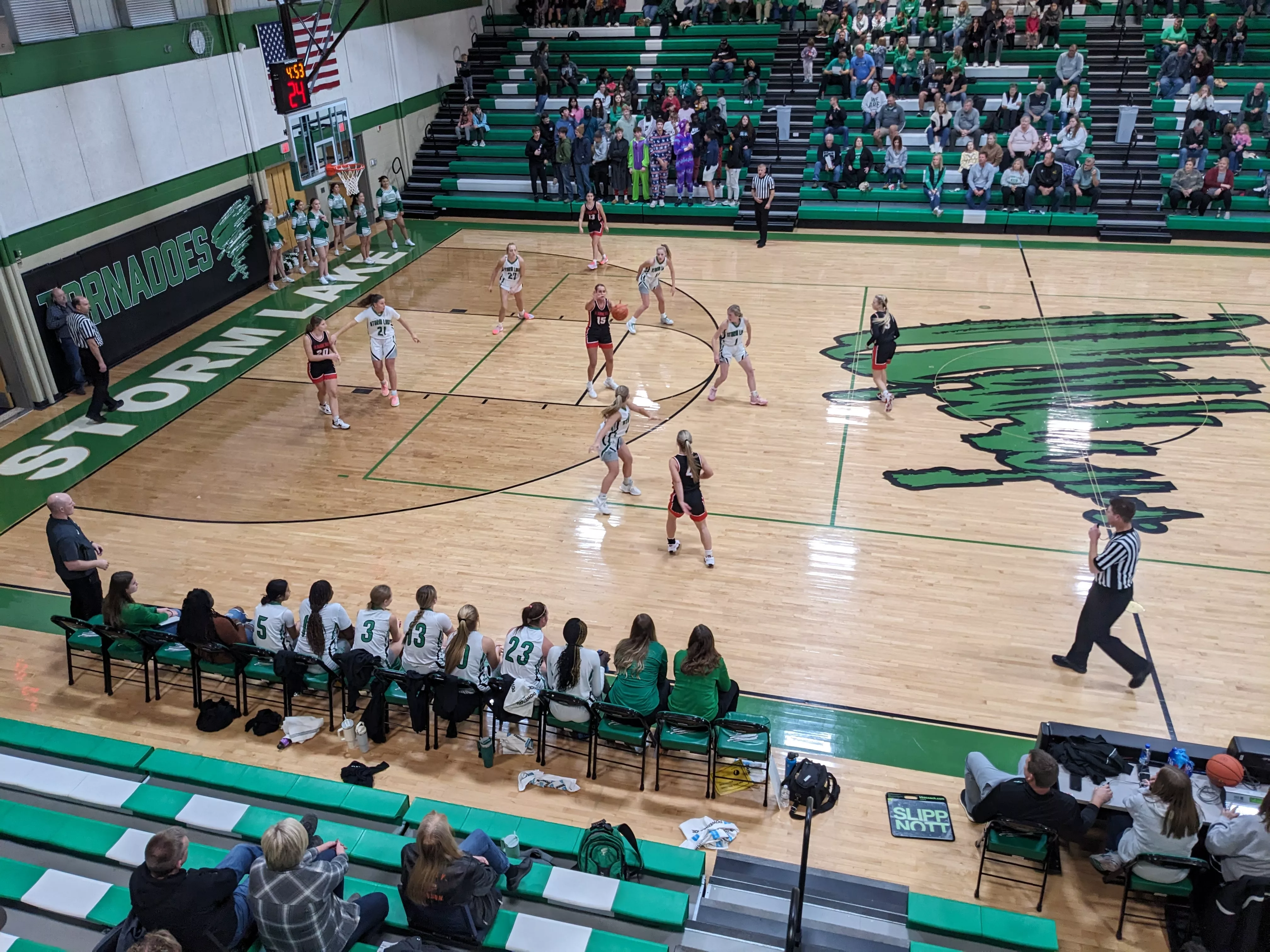 Girls Basketball Results Friday, November 17th 
East Sac At Storm Lake 
Storm Lake 58
East Sac 24
East Sac showed strong growth in the 2nd half, holding Storm Lake in check, allowing 15-points over the final two quarters. A rough 1st half put them in a hole they weren't able to dig out of. Sarah Bontrager hit a baseline jumper, tying the game at 2, but Storm Lake went on a 15-0 run led by Adeeya Yanga. Yanga was strong inside, using her quickness and height to score 13-points in the 1st half. East Sac trailed 19-7 at the end of the 1st quarter after a three from MaKenna Steiger. Kendall Quirk broke the 15-0 run with a jumper from the free throw line area. A 14-0 run by Storm Lake to start the 2nd quarter with Yanga and Audrey Kosky leading the way for the Tornadoes pushed the lead to 33-7. MaKenna Steiger scored to break the streak, then hit a pair of free throws later in the half as she scored all 4-points for East Sac in the 2nd quarter. The Raiders trailed 43-11 at half.
The Raiders did a nice job on Yanga in the 2nd half, triple teaming her in the post, holding her to 3-points in the 2nd half. The defense held Storm Lake to 8-points in the 3rd quarter and 7-points in the final stanza. The game did get into a continuous clock in the 3rd quarter as Storm Lake grabbed a 51-14 lead. Chloe Bieret hit a three for East Sac, cutting it to 51-17 early in the 4th quarter, Jen Aschinger added a free throw and Sarah Bontrager hit another three for the Raiders. Steiger finished up their scoring with a three late in the game. The Raiders were outscored 15-13 in the 2nd half and Head Coach Jason Phillips was really pleased with their effort and the confidence they played with in the 2nd half. He felt they settled down and half and played with more confidence on both ends of the floor.
MaKenna Steiger led the way with 13-points. Kendall Quirk and Addisen Ehler had good nights on the boards with Quirk pulling down 9-rebounds and Ehler adding 7-rebounds. Sarah Bontrager had 5-points and Chloe Bieret finished with 3-points.
The Raiders are off until Tuesday, November 28th when they travel to Woodbury Central.
East Sac Stats 
MaKenna Steiger 13 Points, 3 Rebounds, 2 Assists
Jen Aschinger 1 Point, 2 Assists
Sarah Bontrager 5 Points, Assist, Steal
Addisen Ehler 7 Rebounds, Assist, 2 Steals
Kendall Quirk 2 Points, 9 Rebounds, Assist
Chloe Bieret 3 Points, Steal
Jordin Carroll 2 Rebounds
Box Score
Teams              1     2     3    4     Final
East Sac             7      4     6     7         24
Storm Lake       19    24   8    7         58