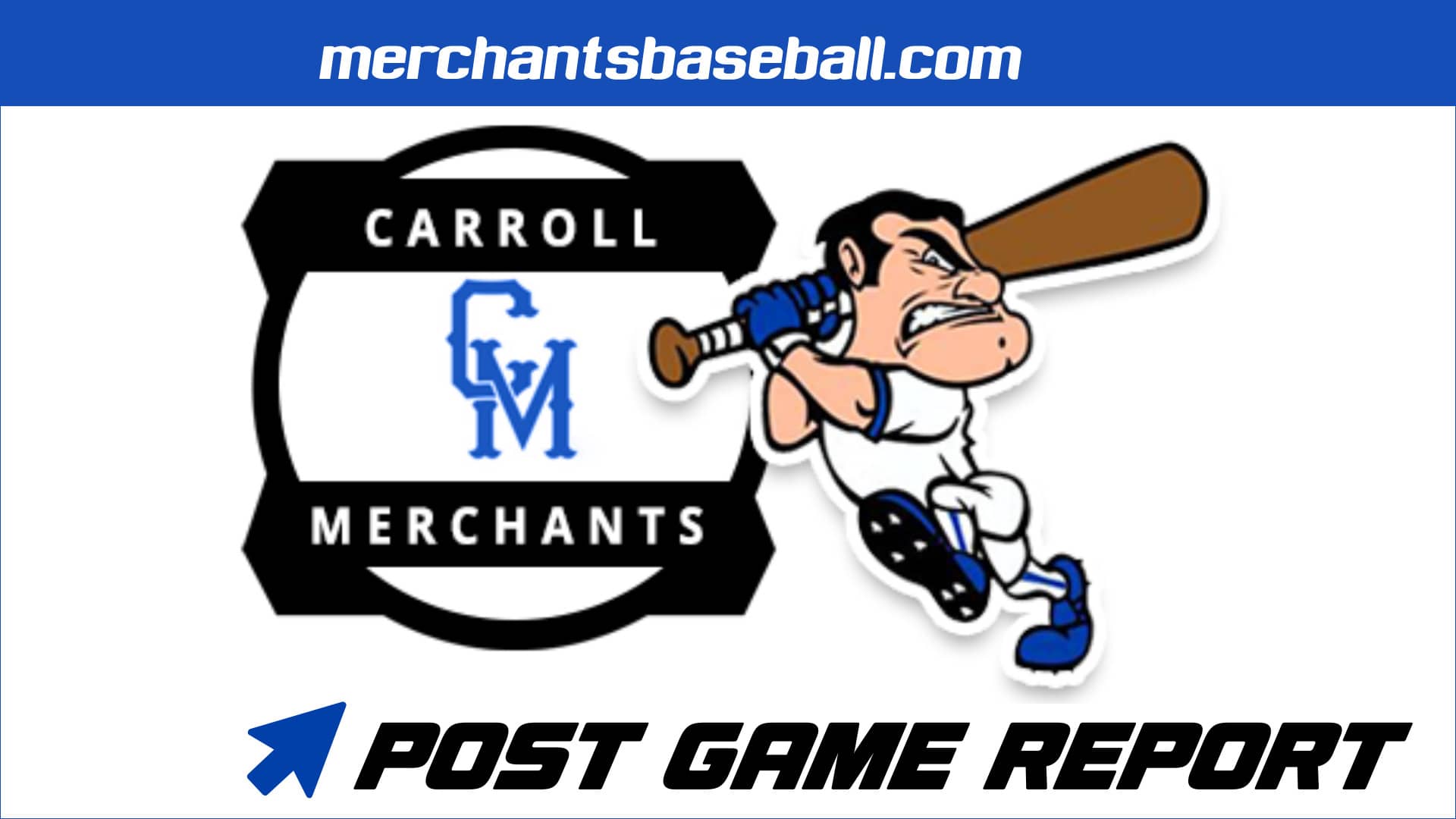 Clarinda At Carroll Merchants
Carroll 9
Clarinda 5
In a preview of the opening round of the post-season the Carroll  Merchants topped second place Clarinda as both teams prepared for their game in Clarinda on Monday. The Merchants won 9-5, though they were out hit 12-5, thanks to working out 16 walks. Carroll scored 5-runs in the 1st inning, taking control early, then adding 3 more runs in the 4th to blow the game open. With the two teams playing again on Monday, neither team looked to use most of their top pitchers. Carroll won their last 4 games to finish in 3rd place at 24-20 and have won 10 of their last 13 games.
Clarinda got on the board first with a run in the top of the 1st, but the Merchants responded in the bottom half. Clarinda walked the eight batters in the first inning, including the first four batters to tie the game. After a bases loaded pop up for the first out, Clarinda walked four of the next five batters, helping Carroll scored 5-runs with no hits in the inning. The A's made it 5-2 in the top 3rd, scoring a run with 3 hits in the inning. The Merchants put the game away in the bottom of the 4th, scoring 3-runs on 1 hit, helped out by 4 walks and a hit-by-pitch. Clarinda never got back into the game as the Merchants cruised to the win.
Blake Tigges had 2 of the Merchants 5 hits with Kyle Berg, Justin Johnson and Lane Spieker having the other 3. Berg and Spieker both doubled. Justin Johnson, Chris Hege, Archer Ogbourne and Doug Allen all had 2 RBI. Zach Zwicky and Isaiah Byrkeland combined to pitch 7 2/3 innings, allowing 11 hits and 5 earned runs with 4 strikeouts.
The Merchants head to Clarinda on Monday, having  gone 5-2 against the A's this season.
Carroll Stats
Kyle Berg 1-3, 2B, 2 RS, 3 BB, 2 SB- Pitching 1 IP, 1 Hit, 2 K's
Blake Tigges 2-5, 2 RS, BB, 2 SB
Jordan Brandenburg 2 RS, 2 BB
Justin Johnson 1-2, 2 RBI, 2 RS, BB
Lane Spieker 1-5, 2B
Chris Hege 2 RBI, RS, 3 BB
Archer Ogbourne 2 RBI, 2 BB, SB
Doug Allen 2 RBI, 2 BB- Pitching 1/3 IP, K, HBP
Noah Dutler 1 BB
Braden Karnes 1 BB, SB
Zach Zwicky 4 IP, 7 Hits, 2 RA, 2 ER, 2 K's, 2 BB
Isaiah Byrkeland 3 2/3 IP, 4 Hits, 3 RA, 3 ER, 2 K's, 3 BB
Box Score
Teams        1      2    3     4   5    6    7    8   9    Final
Clarinda      1       0     1      0    0    0    1    2    0        5
Carroll        5        0     0     3    1     0    0   0    x        9