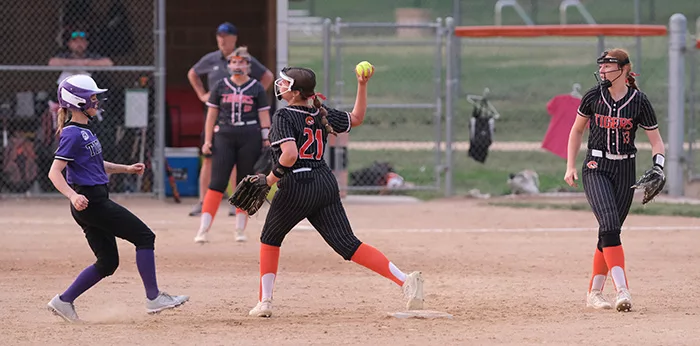 Softball Results Tuesday, June 6th 
South Central Calhoun At Carroll  High 
Carroll High 13
South Central Calhoun 1   (4 Innings)
Carroll High bounced back from a tough loss on Monday, picking up 10 hits and their 8th win of the season. South Central Calhoun had 5 hits, dropping their 9th game to begin the season. The Tigers strung together hits in the 1st inning, scoring 5-runs. Carroll had just one extra base hit, as Parker Adams continues to swing a good bat. They scored in all 4 innings, ending the game with a 3-run bottom 4th. Averi Burke singled to score Amanda Wardell for the game ending run. The Titans scored in the 3rd when Adlen Wheelock was hit-by-pitch, scoring Morgan McChesney.
Averi Burke had a tremendous night for Carroll, having 3 hits with 2 RBI, along with picking up the win, going all 4 innings, allowing 7 hits and a run.  Parker Adams had 2 hits with a double, driving in 4-runs. Makalei Kofron scored twice as did Amanda Wardell.
Adlen Wheelock had an RBI for the Titans with Morgan McChesney scoring their run. Gracie Hungate, McChesney, Olivia Toms, Mady Smidt and Onna Haupert all had a base hit.
Carroll improves to 8-7 overall and hosts Ballard on Thursday on KIKD 106.7. The Titans slip to 0-9 and will travel to West Bend Mallard on Wednesday.
Carroll Stats
Parker Adams 2-3, 2B, 4 RBI, HBP
Kloee Jones 1-3, RS, BB, 2 SB
Averi Burke 3-3, 2 RBI, BB, SB- Pitching WP, 4 IP, 7 Hits, 1 RA, 1 ER, 3 K's, BB, HBP
Makalei Kofron 1-2, RBI, 2 RS, BB, 3 SB
Ava Gross 1-3, RBI, RS, 2 SB
Marin Overmohle 1 RBI, RS, SB
Olivia Rowedder 1-3, RBI, RS, 2 SB
Emma Kuhlmann 1 RS, 3 BB, 2 SB
Amanda Wardell 1-1, 2 RS, 2 BB
Bailey Bowman 1 RS
Tahlia Hahn 1 RS, SB
Bella Lu 2 RS, 3 SB
South Central Calhoun Stats
Adlen Wheelock 1 RBI, BB, HBP
Gracie Hungate 1-2
Morgan McChesney 1-2, RS
Oliva Toms 1-2
Mady Smidt 1-2
Onna Haupert 1-2- Pitching LP, 4 4 IP, 13 RA, 10 Hits, K, 8 BB, HBP
Box Score
Teams     1     2     3     4    Final
SCC            0     0    1       0         1
Carroll       5     2    3       3         13
Kuemper At St Albert- Varsity Doubleheader 
Game 1 
St Albert 6
Kuemper 1
The Knights had their five game winning streak snapped in game 1 of the doubleheader on Tuesday. They were out hit 7 to 1 with Ellie Sibbel picking up their lone hit. The Knights never gave up a big inning, but St Albert was able to score in four of the first-five innings, building a 6-0 lead. The Knights tried to rally in the 7th when Kaylie Diercksen reached on a fielder's choice. Morgan Masching ran for her and scored on a single by Ellie Sibbel.
Ellie Sibbel had a single driving in Morgan Masching. Myli Schaefer took the loss, going 6 innings, allowing 7 hits and 2 earned runs with 5 strikeouts.
Kuemper Stats
Ellie Sibbel 1-3, RBI
Morgan Masching 1 RS
Myli Schaefer LP, 6 IP, 7 Hits, 6 RA, 2 ER, 5 K's, 4 BB, HBP
Box Score
Teams       1     2    3    4    5   6    7   Final
Kuemper    0     0     0     0    0    0   1       1
St Albert     2     1      1     0     2    0    x      6
Game 2
St Albert 6
Kuemper 4
Kuemper played better in game 2 as the bats came alive, finishing with 7 hits but the Falcons had 9 hits, scoring 6-runs to finish off the doubleheader sweep. St Albert responded to the Knights rally in the 5th, scoring 3 times with a 3-run bottom half of the inning, then added an insurance run in the 6th. Melinda Schaefer started the rally in the 5th inning, singling, followed by a single from Kaci Peter, then Kaylie Diercksen hit a 3-run home run, giving Kuemper a 4-2 lead. Alexis Narmi hit a 2-run home run in the bottom 5th, putting St Albert back in front.
Kaylie Diercksen cranked another home run for the Knights, her third of the season. She added 3 RBI. Melinda Schaefer paced the offense with a pair of hits and she scored once. Kaylie Wolterman doubled and Alexis Diercksen, Mylie Schaefer and Kaci Peter all had a base  hit.
The pair of losses, drops the Knights to 7-7 overall. They head to Atlantic on KIKD 106.7 on Wednesday.
Kuemper Stats 
Melinda Schaefer 2-4, RS
Kaci Peter 1-4, RS
Kaylie Diercksen 1-4, 3-Run HR, 3 RBI, RS
Ellie Sibbel 1 HBP
Myli Schaefer 1-3, RBI- Pitching 2 Hits, 1 RA, 1 ER, 3 K's, 2 BB
Alexis Diercksen 1-3, SB
Ally Sommerfeld LP, 7 Hits, 5 RA, 5 ER, 3 K's, 2 BB
Kaylie Wolterman 1-3, 2B
Morgan Masching 1 RS
Box Score
Teams      1    2     3    4     5    6     7    Final
Kuemper    0   0     0     1      3     0     0       4
St Albert     0   0     1     1      3     1       x       6
IKM-Manning At Audubon 
Audubon 10
IKM-Manning 0    (6 Innings)
Audubon hit 3 solo home runs, collected 7 hits, allowed no hits, struck out 11 batters and only allowed 3 Wolves on base as they snap a 2-game losing streak. The Wolves fell down 3-0 in the 1st, had 6 errors but played good defensive softball from the 3rd inning to the 6th inning, getting a three and out in the 4th and allowing just 1 run in the 5th. Audubon ended the game with 2-outs in the 6th, loading the bases and drawing a walk to end the game. Alexis Obermeier was one of their two huge stars, throwing a no-hitter, striking out 11, including 8 in a row and 10 of 12 batters. Kylee Hartl started the game 2-2 with two solo home runs that were blasted over the left field fence. She was hit-by-pitch her third time and intentionally walked in the 6th. Obermeier added a solo home run and a double at the plate to complete her outstanding night.
Alexis Obermeier pitched a 6 inning no hitter, striking out 11 and walking just 1. She added a double and a home run with 2 RBI while Kylee Hartl had a pair of solo home runs with 2 RBI and 3 runs scored. Addie Hocker added a pair of RBI and Kali Irlmeier doubled, driving in a pair of runs.
Karlee Arp pitched well for the Wolves in relief. She went 3 1/3 innings, allowing 2 hits while striking out 5 and walking 3. She gave up 5-runs but only 1 was earned. Alikxa McGinn stole a pair of bases and Brooke Booth walked.
The Wheelers improve to 6-3 overall and 4-2 in the WIC and travel to Tri Center on Thursday. IKM-Manning falls to 1-7 overall and 0-5 in the WIC. They host Ar-We-Va on Wednesday.
Audubon Stats
Mattie Nielsen 1 RS
Jordan Porsch 1 RBI, RS, SB
Kali Irlmeier 1-4, 2B, 2 RBI, RS
Kylee Hartl 2-2, 2-HR, 2 RBI, 3 RS, BB, HBP
Alexis Obermeier 2-3, 2B, HR, 2 RBI, RS, BB- Pitching WP, 6 IP, 11 K's, BB
Marie Brand 1 RS
Addie Hocker 1-3, 2 RBI, BB
Michelle Brooks 1-3, RS
Jordan Mulford 1 RS, BB
IKM-Manning Stats
Alikxa McGinn 2 SB
Brooke Booth 1 BB
Ella Richards LP, 2 1/3 IP, 5 Hits, 5 RA, 2 ER
Karlee Arp 3 1/3 IP, 2 Hits, 5 RA, 1 ER, 5 K's, 3 BB, HBP
Box Score
Teams     1     2     3    4     5    6   Final
IKM-M      0    0     0     0      0    0     0
Audubon   3    0     2      0     1     4     10
Glidden Ralston At Woodbine
Woodbine 10
Glidden Ralston 0    (5 Innings)
The Wildcats drop their second straight game, struggling defensively early, giving up 5 unearned runs in the 1st inning. They played better in the 2nd, 3rd and 4th innings, but allowed 3-runs in the bottom 5th to end the game. Jaelyn Subbert had their lone hit and Tiela Janssen walked a stole a base. Vanessa Koehler took the loss, throwing 1 inning, not allowing an earned run.
The Wildcats drop to 6-2 overall and 4-2 in the RVC. They host Coon Rapids Bayard on Wednesday.
Glidden Ralston Stats
Jaelyn Subbert 1-2- Pitching 2 1/3 IP, 1 Hit, 5 RA, 4 ER, 2 K's, 9 BB, HBP
Tiela Janssen 1 BB, SB
Vanessa Koehler LP, 1 IP, 4 Hits, 5 RA, 0 ER, K
Addy Boell 1 IP, 1 BB
Box Score
Teams            1     2     3    4    5    Final
GR                    0      0     0    0     0      0
Woodbine       5      0     1     1      3     10