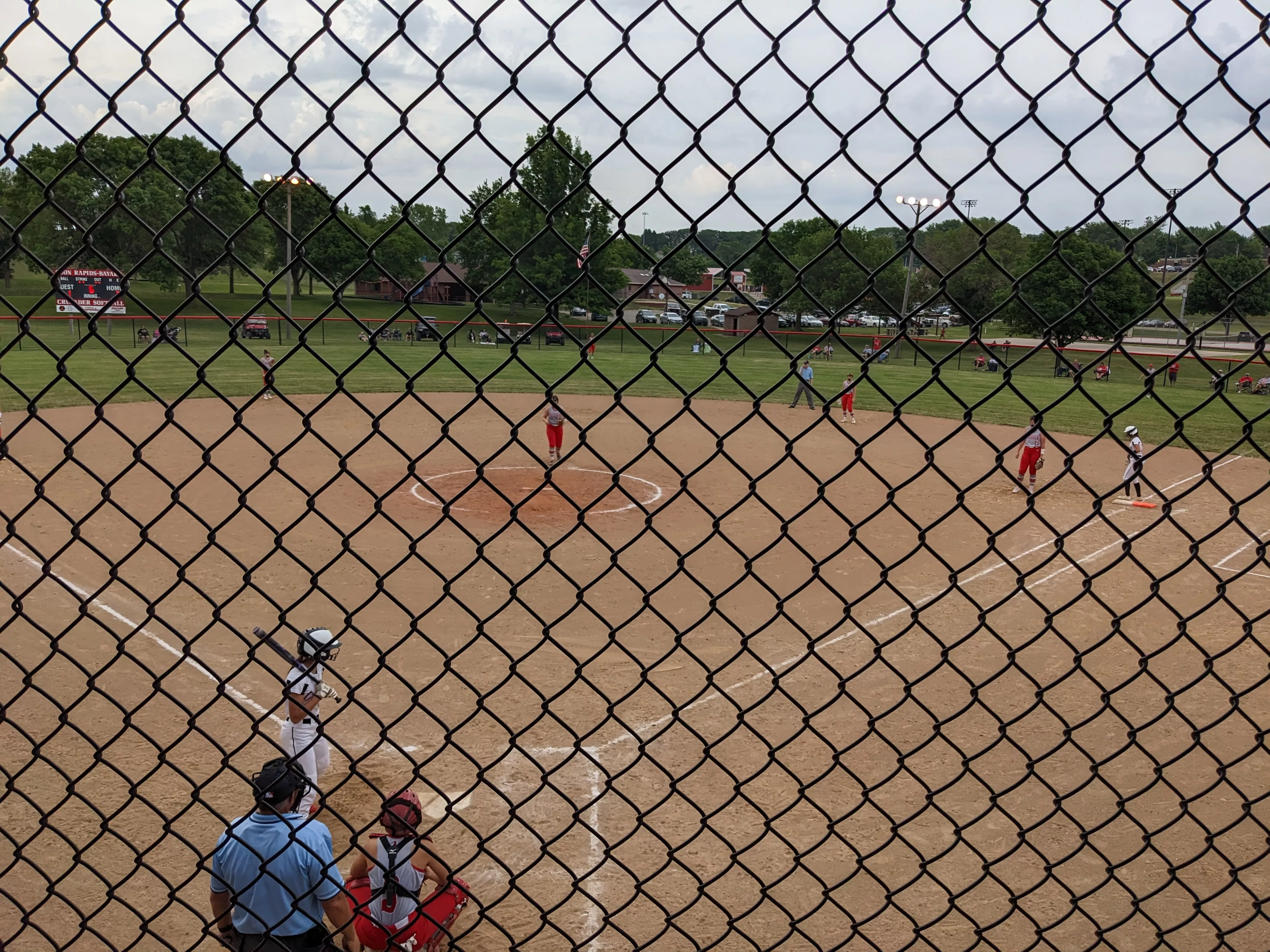 Softball Results Thursday, June 1st 
Kuemper At Ridge View 
Kuemper 10
Ridge View 0        (5 Innings)
Kuemper put the game away early with a 7-run 1st inning. Then ended it with 3-runs in the 7th. The Knights pounded out 10 hits while Myli Schaefer held the Raptors to 4 hits. Kaci Peter paced the offense with 3 hits, scoring twice. Kaylie Diercksen had a pair of hits with an RBI and scoring a pair of runs. Kaylie Wolterman added a double with 2 RBI. Kuemper had seven different players pick up a hit. Myli Schaefer picked up the win in the circle, going 5 innings, allowing 3 hits and striking out 6.
Kuemper Stats
Melinda Schaefer 1-4, RBI, RS
Kaci Peter 3-3, 2 RS, HBP, SB
Kaylie Diercksen 2-4, RBI, 2 RS
Ellie Sibbel 1-3
Morgan Masching 1 RS, SB
Myli Schaefer 1 RBI, HBP- Pitching WP, 5 IP, 3 Hits, 0 RA, 6 K's, 3 BB
Chloe Gehling 1 RS
Allison Ostrander 2 RS, BB, 3 SB
Alexis Diercksen 1-2, BB, SB
Ally Sommerfeld 1-1, RBI, RS, BB
Kaylie Wolterman 1-2, 2B, 2 RBI
Kyla Wiskus 1 BB
Box Score
Teams        1     2     3     4    5       Final
Kuemper     7      0     0     0    3           10
RV                0     0      0     0    0           0
Carlisle At Carroll 
Carlisle 14
Carroll 2      (4 Innings)
Carroll was out hit 14-3 and fell to 0-4 in the Raccoon River Conference, falling in 4 innings to Carlisle. The Tigers are 4-6 overall, going 4-2 outside the league. Emma Kuhlmann, Parker Adams and Kloee Jones all had base hits with Kuhlmann driving in one of the Tigers two runs. Tahlia Hahn and Ava Gross scored the Carroll runs. Makalei Kofron pitched 1 inning, allowing 2 earned runs.
The Tigers head to the Atlantic Tournament on Saturday.
Carroll Stats
Parker Adams 1-2
Kloee Jones 1-2, BB, SB
Makalei Kofron 1 BB- Pitching 1 IP, 2 RA, 2 ER, 2 BB
Ava Gross 1 RS, BB
Emma Kuhlmann 1-2, RBI
Tahlia Hahn 1 RS, SB
Averi Burke 1 1/3 IP, 7 Hits, 7 RA, 7 ER, 3 BB
Gabby Olberding 1 2/3 IP, 7 Hits, 5 RA, 4 ER, K, 2 BB
Box Score
None Reported
Audubon At Coon Rapids Bayard
Audubon 4
Coon Rapids Bayard 3       (10 Innings)
Audubon rallied from down 3-0 to tie the game in the 7th and won it in 10 innings on a solo home run from Mattie Nielsen. Nielsen came up big at the plate late, Alexis Obermeier was huge in the circle, allowing the Wheelers time to get the bats going against Anna Hart, who was terrific in the circle and Michelle Brooks made a couple huge defensive plays that kept the Wheelers with a chance late. Coon Rapids Bayard scored three runs in the 3rd inning and Anna Hart was cruising through 6 innings with 13 strikeouts, including three strikeouts in the 1st, 2nd and 6th innings. The Wheelers broke through in the 5th, then tied it with a pair of runs in the 7th with 2-outs. Mattie Nielsen drove a 2-0 pitch over the left field fence in the 10th, giving Audubon their first lead of the game.
Lacie Davis reached on an error with 1-out for Coon Rapids Bayard in the 3rd. Anna Hart walked and Breeley Clayburg drove in Davis. Hart scored on passed ball, making it 2-0 and Malia Clayburg singled to score Breeley Clayburg. The Crusaders left two runners on base in the 3rd, after leaving the bases loaded in the 2nd inning. They had a chance to score in the 4th but a bunt in the air was caught by a diving Michelle Brooks who was crashing down the 3rd base line and caught the ball up the 1st base line. She through out the baserunner on 1st base for a double play to end the Crusaders threat.
Audubon got on the board in the 5th. Anna Larsen reached on a fielder's choice, then scored on a ground-out by Mattie Nielsen. Audubon had left a pair runners on base in the 1st inning but only had one baserunner until the 5th. Michelle Brooks walked to start the 7th, then Anna Hart got the next two batters out. Mattie Nielsen tripled, scoring Brooks, Nielsen then scored on a RBI single from Jordan Porsche, tying the game at 3.
Malia Clayburg reached on an error for the Crusaders in the bottom 8th, stole 2nd and 3rd base but Alexis Obermeier struck out the final two batters to end the threat. Brooklyn Burmeister singled and was stranded in the 9th but the Crusaders didn't score, sending the game to the 10th. The Wheelers didn't have a runner reach base in the 8th or 9th but Mattie Nielsen led off the 10th with a shot to left, that cleared the fence by 20-30 feet. Her home run turned into the game winner when Coon Rapids Bayard went down in order in the bottom 10th.
Mattie Nielsen, Jordan Porsch both 2 hits with Nielsen having a triple and a home run. She drove in 3-runs and scored twice. Porsch added an RBI. Kali Irlmeier pitched 2 1/3 innings, allowing 2 earned runs with 5 strikeouts. Alexis Obermeier went 7 2/3 innings, allowing 2 hits while striking out 11.
Anna Hart was fantastic, dominant for most of the game. She struck out 18 batters, allowing 6 hits with 4 of them in the 7th and 10th innings combined. Hart allowed 4 earned runs with 4 walks in 10 innings. Breeley Clayburg had 2 of the Crusaders 5 hits, driving in a run and scoring a run. Malia Clayburg had a hit and a RBI while Kadey Olson and Brooklyn Burmeister both had a base hit.
Audubon improves to 5-1 overall and travels to Missouri Valley on Friday. Coon Rapids Bayard falls to 1-3 and will head to Woodbine on Friday.
Audubon Stats
Mattie Nielsen 2-5, 3B, HR, 3 RBI, 2 RS
Jordan Porsch 2-4, RBI, BB
Kali Irlmeier 1-5- Pitching 2 1/3 IP, 3 Hits, 3 RA, 2 ER, 5 K's, 4 BB
Michelle Brooks 1 RS, 2 BB
Anna Larsen 1 RS
Jordan Mulford 1-3, BB, SB
Alexis Obermeier WP, 7 2/3 IP, 2 Hits, 11 K's, HBP
Coon Rapids Bayard Stats
Lacie Davis 1 RS
Anna Hart 1 RS, BB- LP, 10 IP, 6 Hits, 4 RA, 4 ER, 18 K's, 4 BB
Breeley Clayburg 2-5, RBI, RS, SB
Malia Clayburg 1-5, RBI, 3 SB
Maddy Mason 1 BB, SB
Kadey Olson 1-3, BB
Lydia Hofbauer 1 BB
Brooklyn Burmeister 1-3, HBP
Box Score
Teams    1     2    3   4    5    6    7    8   9    10    Final
Audubon  0    0     0   0    1    0     2    0   0       1        4
CRB          0     0    3    0    0   0     0    0    0      0       3
East Sac At OA-BCIG 
OA-BCIG 9
East Sac 8
East Sac had the game slip away late as the Falcons scored 3-runs over the final two innings, including scoring a run on an error in the 7th to end the game. The Raiders led most of the game, going up 3-1 in the 2nd inning, then scoring 4-runs in the 5th to go back up 7-6. The Falcons used a 3-run 3rd and a 2-run 4th inning to take a 6-3 lead. The Raiders out hit the Falcons 8-4 but weren't able to capitalize. East Sac added an insurance run in the 6th but the Falcons scored a pair in the bottom half to tie the game.
Maci Gustavson and Jen Aschinger both had 2 hits with Gustavson tripling and driving in a run while Aschinger had 3 RBI and scored a run. Kami Ross and Gracie Snyder both scored twice. Maci Gustavson pitched 5 2/3 innings, allowing 4 hits and 7 runs with 9 strikeouts.
The loss drops the Raiders to 2-1 as they prepare to host Alta-Aurelia on Friday.
East Sac Stats
Maci Gustavson 2-3, 3B, RBI, RS, SB- Pitching 5 2/3 IP, 4 Hits, 7 RA, 9 K's, 6 BB, 2 HBP
Jamie Pierce 1-4, RS, SB
Anna McCollough 1 RS
Kami Ross 1-3, 2 RS, BB
Gracie Snyder 2 RS, HPB, 2 BB, 2 SB
Jen Aschinger 2-4, 3 RBI, RS
Makenna Steiger 1-4- Pitching 1 1/3 IP, 2 RA, BB
Box Score
Teams      1     2     3   4    5    6    7   Final
East Sac     0     3     0    0    4     1     0     8
OABCIG     0     1     3     2    0    2     1      9
Ar-We-Va At River Valley 
River Valley 12
Ar-We-Va 0             (4 Innings)
The Rockets were no hit and fell in 12 innings as River Valley took advantage of Ar-We-Va miscues to score 12-runs on 9 hits. River Valley took control with a 7-run 3rd inning, after scoring a run in the 1st and 2 more in the 2nd. They ended the game with a pair of runs in the bottom 4th.
Delaney Schurke and Amber Ragaller both walked for the Rockets.
The loss drops Ar-We-Va to 1-5. They are off until Monday when they host West Harrison.
Ar-We-Va Stats
Delaney Schurke 1 BB
Amber Ragaller 1 BB- Pitching LP, 3 1/3 IP, 9 Hits, 12 RA, 3 K's, BB, HBP
Box Score
Teams      1     2     3    4      Final
AWV           0     0     0     0         0
RV               1      2      7     2        12
Ogden At South Central Calhoun 
Ogden 14
South Central Calhoun 4
The Titans were in the game until the Bulldog scored 5-runs in the 7th inning to build a 10-run lead. South Central Calhoun pulled within 4-3 with a 3-run 2nd inning Mady Smidt singled and Mia Babcock reached on an error, Morgan McChesney grounded out but drove in a run, followed by an RBI groundout from Olivia Toms. Adlen Wheelock singled and later scored the third run in the inning. Keira Hammen doubled in the 5th and scored, pulling the Titans within 8-4.
Olivia Toms had a team high 2 hits with an RBI. Keira Hammen doubled and scored while Jayci Graeve drove in a run with a base hit. Morgan McChesney added an RBI and Adlen Wheelock, Mady Smidt and Mia Babcock all scored a run.
The Titans fall to 0-6. They travel to Sioux Central on Friday.
South Central Calhoun Stats
Olivia Toms 2-5, RBI
Adlen Wheelock 1-4, RS
Jayci Graeve 1-4, RBI
Keira Hammen 1-3, 2B, RS, BB
Onna Haupert 1 BB –  Pitching LP, 7 IP, 16 Hits, 14 RA, 4 K's, BB, HBP
Mady Smidt 1-2, RS, HBP
Mia Babcock 1 RS
Morgan McChesney 1 RBI
Box Score
Teams      1    2    3    4    5   6    7    Final
Ogden        3     1    3     1     0    1    5        14
SCC            0     3    0    0     1    0    0        4
Riverside At IKM-Manning 
Riverside led 9-0 after 2 innings when the game was suspended due to rain. They will finish the game on June 16th when the Wolves travel to Riverside.
Glidden Ralston At Greene County
Game was Postponed and a makeup date will be determined.