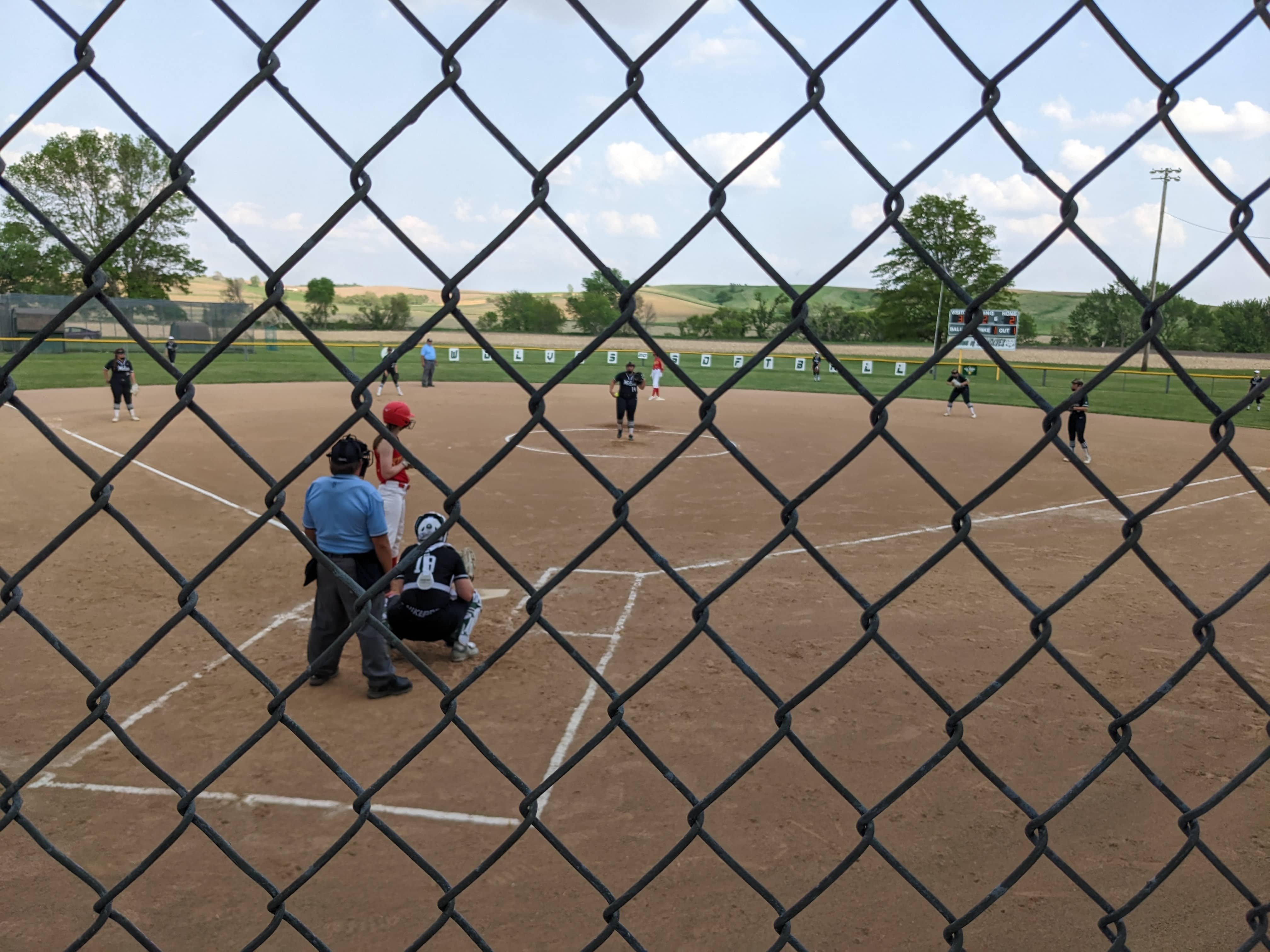 Softball Results Wednesday, May 24th 
Kuemper At IKM-Manning 
Kuemper 14
IKM-Manning 1      (3 Innings)
Kuemper exploded in the 1st inning, scoring 12 runs on 6 hits with help from IKM-Manning which made six errors. The Knights first-eleven batters reached base and scored. Melinda Schaefer started it with a single, followed by a single from Kaci Peter and singles from Kaylie Diercksen, Ellie Sibbel and a triple from Kaci Peter her second time up in the inning. After the Wolves picked up their first out, Kaylie Diercksen cranked an opposite field 2-run home run. The Knights add a run in the 2nd and another in the 3rd inning to lead 14-0. IKM-Manning scored in the 3rd. Ella Richards led the inning off with a walk and Grace Carroll came in to run for her. Anna Stangl walked and Hannah McKinney reached on an error to load the bases. Karlee Arp worked out a walk, scoring Carroll from 3rd.
Kaylie Diercksen and Kaci Peter both had 3 hits for the Knights with Diercksen hitting a home run and driving in 4-runs along with scoring a pair of runs. Peter tripled and scored 3 times. Melinda Schaefer and Chloe Gehling both scored a pair of runs. Myli Schaefer pitched 2 innings, allowing 1 hit while striking out 3.
Karlee Arp had an RBI while Grace Carroll scored a run.
Kuemper improves to 1-1 and will host West Monona on Thursday. IKM-Manning falls to 0-2 and will travel to Boyer Valley on Thursday.
Kuemper Stats
Melinda Schaefer 1-3, 2 RS
Kaci Peter 3-3, 3B, RBI, 3 RS, 2 SB
Myli Schaefer 2-3, RBI- Pitching WP, 2 IP, 1 Hit, 3 K's, 2 BB
Morgan Masching 1 RS, 2 SB
Kaylie Diercksen 3-3, 2-Run HR, 4 RBI, 2 RS
Ally Sommerfeld 1-3, RBI, RS- Pitching 1 IP, 1 Hit, 1 RA, 1 ER, 2 K's, 3 BB
Allison Ostrander 1 RS, BB
Ellie Sibbel 1-2, BB
Chloe Gehling 2 RS
Alexis Diercksen 1 RBI, RS
Kyla Wiskus 2 RBI, RS, SB
IKM-Manning Stats
Ella Richards 1 BB- Pitching 3 IP, 5 Hits, 4 RA, 2 ER, BB
Grace Carroll 1 RS
Anna Stangl 1 BB
Hannah McKinney 1 BB
Karlee Arp 1 RBI, BB- Pitching LP, 3 Hits, 10 RA, 4 ER, BB
Brooke Booth 1 BB
Box Score
Teams          1      2     3       Final
Kuemper      12      1      1           14
IKM-M          0       0     1             1
Carroll At ADM 
ADM 10
Carroll 0         (5 Innings)
Carroll had 5 hits but weren't to drive in a run and ADM jumped out 5-0 in the 1st inning on their way to a 10-0 win. ADM outhit the Tigers 12-5 picking up a pair of doubles and two home runs. ADM pushed the lead to 7-0 after 2 innings and scored a pair of runs in the bottom 5th to end the game. Parker Adams led Carroll with a pair of hits, Averi Burke, Makalei Kofron and Kloee Jones all had a base hit.
Carroll falls to 1-2 and will head to North Polk on Thursday for their fourth game in the first-four days of the season.
Carroll Stats
Parker Adams 2-3, SB
Averi Burke 1-3
Makalei Kofron 1-2
Emma Kuhlmann 1 BB
Kloee Jones 1-2
Box Score
Teams       1       2     3      4      5      Final
Carroll         0       0     0       0      0         0
ADM           5        2      0       1       2        10
Glidden Ralston At Boyer Valley
Glidden Ralston 6
Boyer Valley 2                   (8 Innings)
Glidden Ralston scored four times in the top of the 8th to move to 3-0 on the season. Vanessa Koehler went the distance in the circle, giving up 4 hits and 2 earned runs. The Wildcats scored a pair of runs in the 2nd but Boyer Valley rallied with 2-runs in the 4th. Neither team scored until the 8th. Glidden Ralston finished with 6 hits and worked out 7 walks.
Kassidy Wenck, Elizabeth Lloyd, Ashlynn Tigges, Jaelyn Subbert, Brenna Bowman and Allison Snyder all had a base hit. Tigges and Kate Bergmeier both scored a pair of runs. Ashlynn Tigges added an RBI, as did Elizabeth Lloyd, Brileigh Bock and Brenna Bowman.
Glidden Ralston moves to 3-0 and will host Ar-We-Va on KIKD 106.7 on Friday night.
Glidden Ralston Stats
Tiela Janssen 1 RS, 3 BB, SB
Kassidy Wenck 1-3, RS, HBP, SB
Elizabeth Lloyd 1-3, RBI, HBP
Ashlynn Tigges 1-2, RBI, 2 RS, 2 BB
Jaelyn Subbert 1-4
Brileigh Bock 1 RBI, 2 BB
Brenna Bowman 1-4, RBI
Allison Snyder 1-2
Kate Bergmeier 2 RS
Vanessa Koehler WP, 8 IP, 4 Hits, 2 RA, 2 ER, 9 K's
Box Score
Teams       1       2      3     4      5      6     7     8    Final 
GR               0       2       0     0       0      0     0     4         6
BV                0       0      0     2        0      0     0     0         2
Exira-EHK At Ar-We-Va 
Exira-EHK 15
Ar-We-Va 1                  (5 Innings)
Ar-We-Va drops their second game this week, falling in 5 innings to the Spartans. The Rockets were able to put the bat on the ball, finishing with 5 hits, but gave up 10 hits and 15-runs. The Spartans scored twice in the 1st inning, then blew the game open in the 3rd with 4 more runs. They put it out of reach with a 5-run 3rd inning.
Jamie Hausman finished with 3 hits and scored the Rockets run. Maggie Ragaller tripled, driving in Hausman as part of a 2-hit night. Amber Ragaller took the loss in the circle.
Ar-We-Va falls to 0-2 and will head to Whiting on Thursday.
Ar-We-Va Stats
Jamie Hausman 3-3, RS
Maggie Ragaller 2-3, 3B, RBI, SB
Amber Ragaller 1 BB- Pitching LP, 5 IP, 15 RA, 10 Hits, 2 K's, 5 BB
Box Score
Teams          1      2     3     4     5     Final
Exira-EHK    2      4      5     4      0        15
Ar-We-Va     0       0     1      0      0         1