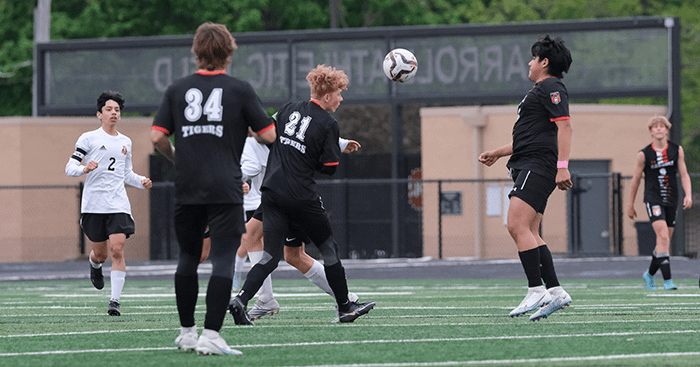 Boys Substate Soccer Results Monday, May 15th 
Kuemper At East Sac- Class 1A Substate 1
East Sac 2
Kuemper 1              (2 OT)
It was a defensive effort for both teams tonight in the opening round of the postseason. The Raiders finished with 8 shots on goal, scoring on 2 of them while Kuemper 19 shots on goal, but was only able to score once. The Knights took a 1-0 lead in the 1st half on a goal by Carson Kanne. It stayed that way into the 2nd half as Kuemper was controlling the play but Luke Wernimont was having a fantastic night in the goal for the Raiders. East Sac finely broke threw on a corner kick from Isaiah Aragon. Luke Wright made a nice play and was able to score on a header, tying the game at 1. Neither team was able to score the rest of the 2nd half or in the 1st overtime. East Sac broke through with the game winner in the 2nd overtime as Elias Aragon found Isaiah Aragon for the game winning goal.
Luke Wright and Isaiah Aragon each had a goal for the Raiders and Elias Aragon added an assist. Isaiah Aragon led them with 4 shots on goal. Luke Wernimont had 18 saves.
Carson Kanne had the lone goal for the Knights on 4 shots on goal. Emiliano Nava and Tommy Fitzsimmons both had 4 shots on goal. Michael Kasperbauer had 4 saves.
The Raiders improve to 4-8 on the season and will head to Western Christian on Monday. Kuemper season ends at 4-13.
East Sac Stats
Luke Wright 1 Goal, 2 Shots on Goal
Isaiah Aragon 1 Goal, 4 Shots on Goal
Elias Aragon 1 Assist, 1 Shot on Goal
Sam Julin 1 Shot on Goal
Luke Wernimont 18 Saves
Kuemper Stats
Carson Kanne 1 Goal, 4 Shots on Goal
Michael Kasperbauer 4 Saves
Emiliano Nava 4 Shots on Goal
Tommy Fitzsimmons 4 Shots on Goal
Sergeant Bluff Luton At Carroll High- Class 2A SubState 8
Carroll 4
Sergeant Bluff Luton 3
Carroll looked in trouble as Sergeant Bluff-Luton 3-0 in the 2nd half but rallied for a 4-3 win. The Tigers defense was solid in the 1st half, holding Sergeant Bluff Luton to 10 shots on goal and containing the Warriors top weapons. Sergeant Bluff Luton got rolling early in the 2nd half, scoring two quick goals at 37:05 and 34:36 to go up 3-0. Carroll had made an adjustment, putting Chase Ragaller at forward with Landon Petersen to use their speed.  That helped jump start the offensive and Carroll went on a run, starting at 25:30. Camron Schweers led Chase Ragaller on a terrific pass and Ragaller beat the goalie to get the Tigers on the board. Markus Wagner kept Carroll with the momentum as Markus Wagner made a corner kick to the back post and Chase Ragaller made a header to the front post, finding Kiernan Polking for a header, making it 3-2. Wagner set up another Carroll goal with another corner kick. Chase Ragaller this time found Elias Villanueva with a header and Villanueave scored to tie the game at 3 with 11:25 left in the half. With under 8:00 remaining Sergeant Bluff Luton was called for a penalty, setting up Markus Wagner for a penalty kick, which he scores on and Carroll took their first lead at 4-3. The Warriors kept the pressure on for the next 8:00 minutes, just missing the game tying goal to the right and Carroll held on for the win.
The win improves Carroll to 6-11 and sets up a matchup with Perry on Monday in Class 2A Substate 2nd round. The game will be played at the Greene County Middle School Linduska Field.
Carroll Stats
Tanner Heithoff 13 Saves
Landon Petersen 2 Assists, 3 Shots on Goals
Chase Ragaller 1 Goal, 2 Assists, 3 Shots on Goals
Kiernan Polking 1 Goal
Markus Wagner 1 Goal, 2 Shots on Goals
Jameson Polking 2 Shots on Goals
Will Schultes 1 Shot on Goal
Blake Heiman 1 Shot on Goal
Elias Villanueva 1 Goal, 1 Shot on Goal
Camron Schweers 1 Assist