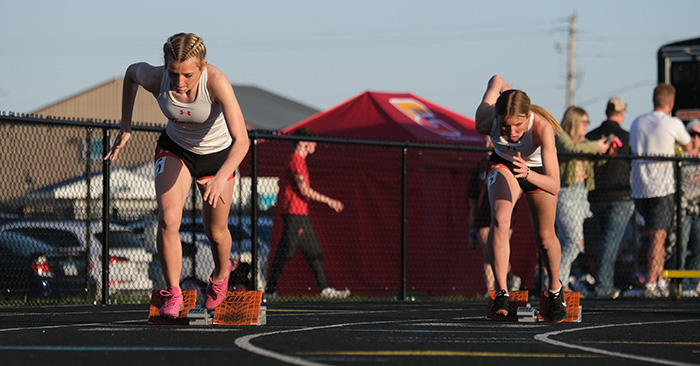 Girls Track Results Wednesday, May 3rd
Carroll hosts Raccoon River Conference Meet
Carroll set a new school record, won conference championships in six events and placed five more events in 2nd or 3rd place. The Tigers have had a terrific season and it continued on Wednesday at the Raccoon River Conference Meet in Carroll. The league is loaded with great teams and everyone was chasing ADM which won the team title with 170 points. Carroll was 3rd with 110 points, behind 2nd place North Polk with 115.33 points. Those three teams pulled away in what was expected to be a deep battle for 2nd through 5th to 6th place.
The Sprint Medley Relay team ran a nearly perfect race with the outstanding Marie Dea closing with a great kick to move the Tigers into first place. She ran by all the competitors around the 4th curve and pulled away down the stretch to give Carroll their first championship in this year's meet. Carroll set a New School Record with a 1:51.54, with Brenna Goins, Libby Perkins, Madison Tunning and Marie Dea. The record had been held since 2011 when Lauren Janning, Katie Trecker, Ally Meiners and Eden Younberg broke it with a 1:52.64. The quick start for the girls continued when Olivia Rowedder won the discus with a 111-08. Shay Sinnard added a 3rd title for Carroll in the Long Jump, qualifying for the finals, then getting the winning jump of 18-01.50 on her final jump in the finals. Madison Tunning added a title in the 100 Hurdles, winning in 15.56 and winning by .58 of a second. Marie Dea followed that with her second championship of the day, winning the 800 Meters in 2:20.43. The final Carroll championship came with the 4×400. Marasyn Wittrock, Averi Burke, Katleyn Aden and Marie Dea ran a 4:09.21.
Dea wrapped up her amazing night with a 2nd place finish in the 400 Meters.  Emma Kuhlmann was 3rd for the Tigers in the Shot Put, Shay Sinnard added a 3rd in the 100 Meters. Carroll was 3rd in the 4×100 with  Brenna Goins, Madison Tunning, Libby Perkins and Shay Sinnard. The Distance Medley team of Marasyn Wittrock, Madison Tunning, Averi Burke and Katelyn Aden.
Carroll results are below.
Team Standings
ADM 170
North Polk 115.33
Carroll 110
Carlisle 72.83
Ballard 70.33
Gilbert 70
Winterset 53
Bondurant Farrar 40.50
Boone 39
Carroll Results 
Discus 
1st Olivia Rowedder          111-08
Shot Put  
3rd Emma Kuhlmann      35-00.50
Long Jump
1st Shay Sinnard                18-01.50
Sprint Medley
1st Carroll                           1:51.54    New School Record
Brenna Goins, Libby Perkins, Madison Tunning, Marie Dea
3000 Meters
8th Julia Kanne             12:51.07
4×800
8th Carroll                      13:46.05
Tahlia Hahn, Kiya Wittrock, Paige Sargent, Alexandria Meiers
Shuttle Hurdle
6th Carroll                        1:14.14
Sadie Kelly, Katelyn Aden, Alexis Esquivel, Autumn Fortner
100 Meters
3rd Shay Sinnard           12.96
Distance Medley
3rd Carroll                         4:31.56
Marasyn Wittrock, Madison Tunning, Averi Burke, Katelyn Aden
400 Meters
2nd Marie Dea                59.40
7th Emily Puck               1:04.70
4×200
7th Carroll                     1:50.84
Brenna Goins, Marasyn Wittrock, Libby Perkins, Shay Sinnard
100 Hurdles
1st Madison Tunning       15.56
5th Autumn Fortner         16.41
800 Meters
1st Marie Dea                      2:20.43
400 Hurdles
4th Autumn Fortner          1:11.88
4×100
3rd Carroll                            50.71
Brenna Goins, Madison Tunning, Libby Perkins, Shay Sinnard
4×400
1st Carroll                           4:09.21
Marasyn Wittrock, Averi Burke, Katelyn Aden, Marie Dea