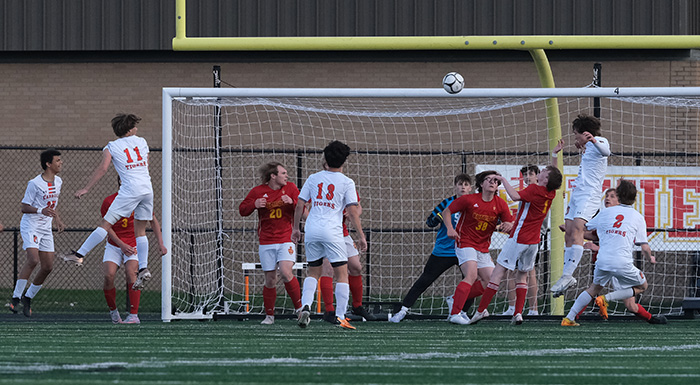 Boys Soccer Results for Monday, April 24th, 2023
Carroll vs Kuemper Boys
Kuemper 3
Carroll 2
Carroll had a chance late to tie up their match against Kuemper, but time was on the Knights side on Monday. 
Carroll coming into this match was looking to break their three-game losing streak while Kuemper was looking to continue their recent success by winning three in a row. The Knights scored early in the first half thanks to two goals from Tommy Fitzsimmons to give them the 2-0 lead. Carroll had opportunities in the first half to score, but Kuemper was controlling the middle of the pitch and took away Carroll's scoring opportunities. Michael Kasperbauer was back on the defensive end for Kuemper and Ethan Fitzsenry told Carroll Broadcasting after the match that it felt great to have him back. The Knights held on to their 2-0 lead going into halftime.
Fitzsenry would get his first goal of the season when he scored early in the second half to make it a 3-0 lead for Kuemper. The match would progressively get more and more aggressive from both ends, but that was enough for Carroll to clear their minds and score off a penalty kick. Markus Wagner did the honors and gave Carroll their first goal of the night to cut down the Kuemper lead to 3-1 with 20:31 left to play. Kuemper again kept controlling the pace of the game until Carroll came close to scoring again if it wasn't for Matthew Borkowski. Kasperbauer was trying to defend a shot when he was too far outside the goal and when Carroll tried to score, Borkowski was there to block the shot with his body, saving a would-be shot. Carroll got another chance at 5:22 and didn't let it slip by this time. Camron Schweers was able to get a goal over the head of Kasperbauer to get the Tigers within a goal down 3-2. Time ultimately was not on Carroll's side as they had one last good look with 30 seconds left in the game that was taken away by Kasperbauer to give the Knights the 3-2 win and avenge last year's loss to the Tigers. 
The Knights have now won their last three games to improve their record to 3-6 while the Tigers fall to 2-6. The Knights are at home again on Tuesday, April 25th as they host Glenwood at the fieldhouse. Carroll is also at home as they play host to Boone on Tuesday. 
Kuemper Stats
Tommy Fitzsimmons: 2 Goals, 5 Shots on Goal
Ethan Fitzsenry: 1 Goal, 1 Shot on Goal
Michael Kasperbauer: 5 Saves
Carson Kanne: 4 Shots on Goal
Fletch Badding: 3 Shots on Goal
Emiliano Nava: 2 Shots on Goal
Charlie Mayhall: 2 Shots on Goal
Carroll Stats
Markus Wagner: 1 PK Goal, 2 Shots on Goal
Camron Schweers: 1 Goal, 1 Shot on Goal
Tanner Heithoff: 14 Saves
Jameson Polking: 2 Shots on Goal
Elias Villanueva: 1 Shot on Goal
Landon Petersen: 1 Shot on Goal
Chase Ragaller: 1 Shot on Goal