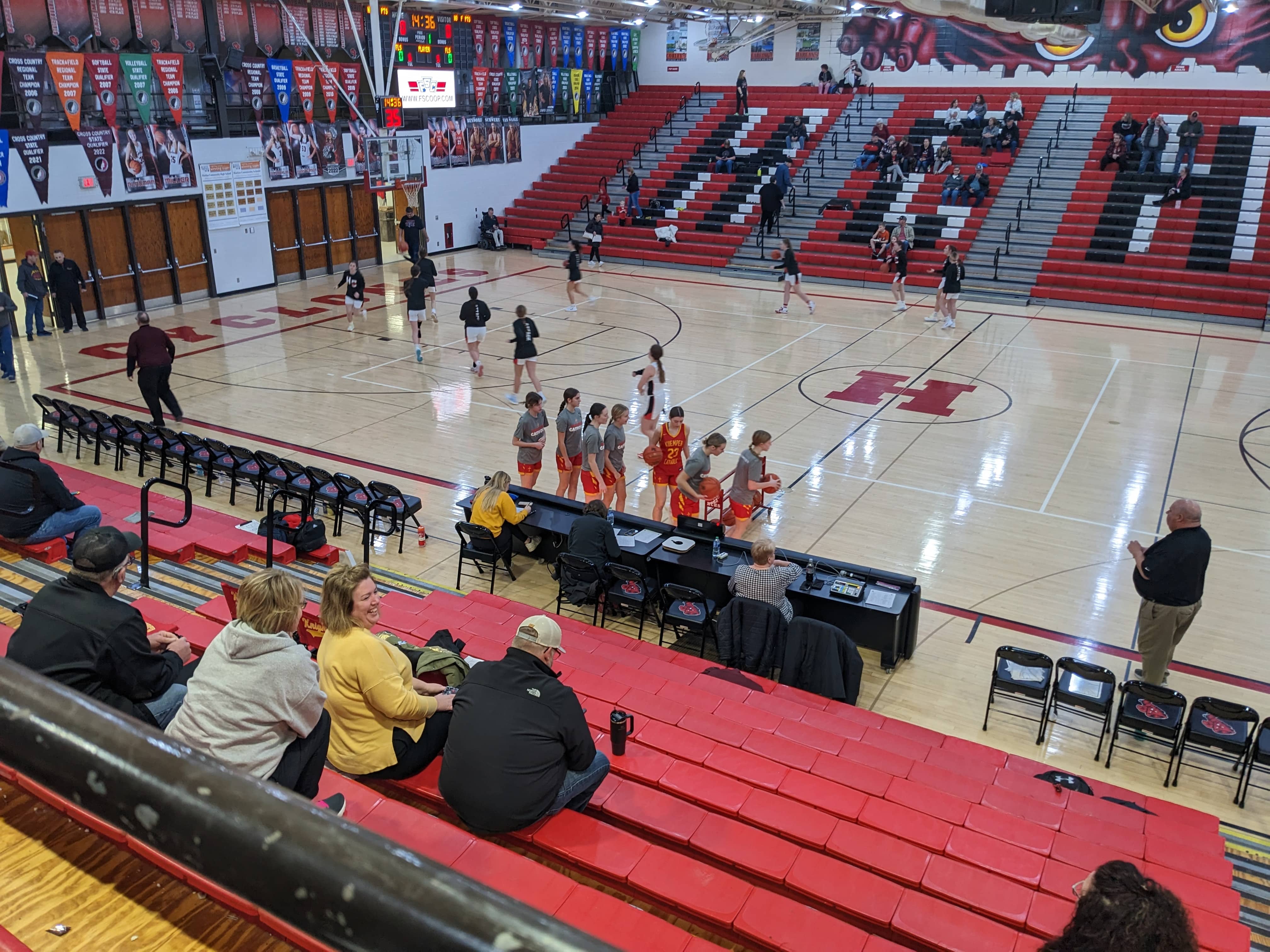 Girls Basketball Results Monday, January 16th
Kuemper At Harlan 
Kuemper 69
Harlan 61
Kuemper picked up their second huge win in 4 days against a team in the top three in the Hawkeye 10 Conference. This time they knocked off 15th ranked Harlan on the road. Kuemper had their best shooting night, scoring as many points in the 2nd half as they were averaging per game, along with forcing Harlan out of their defensive game plan twice. Every Kuemper player hit a clutch shot or made a big stop defensively, or grabbed a key rebound during the game. Kuemper trailed early but never let Harlan lead by more than 6. Kuemper finished the game 17-34 from inside the arc and hit 7-17 from beyond the arc with five girls hitting a three.
Harlan was quick to establish their presence inside, scoring the first 4-points of the game at the rim. The Knights called a quick timeout to fix a communication issue. Elsa Tiefenthaler scored 5 straight for the Knights out of the timeout pulling Kuemper within 7-5. Aubrey Heuton made a nice pull jump shot from the right side, pulling Kuemper within 8-7. Tiefenthaler kept them close with 3 straight free throws but Harlan scored 5 straight to take their largest lead at 16-10. Catherine Mayhall drained a 3 to pull the Knights within 16-13 at the end of the 1st quarter. Mayhall scored to start the 2nd quarter and Kuemper was down 1. Harlan went back up 5 but Karsyn Overmohle scored 4 straight and Kuemper was within 1. Catherine Mayhall kept Kuemper within 1 at 22-21, then grabbed a defensive rebound and found Elsa Tiefenthaler streaking down the floor for a layup and Kuemper took their first lead at 23-22. Tiefenthaler drained a 3 on their next possession and Kuemper took control. Lauren Boell extended the Kuemper lead to 28-22. Harlan pulled within 4 at half with Kuemper up 30-26.
Luaren Boell started the 2nd half with a bucket and Kuemper led by 6. Aubrey Heuton extended the lead to 7 with a 3, making it 35-28. Harlan responded with a 7-0 run to tie the game at 35, but Kuemper didn't back away and quieted the crowd with a bucket from Karsyn Overmohle, a Kaci Peter jumper, a three from Overmohle and a three from Peter, putting Kuemper up 45-35. Aubrey Heuton added a three late in the quarter and Kuemper held a 48-39 lead heading to the 4th. Frannie Glynn who had a great defensive game and was strong on the boards scored back-to-back baskets for Kuemper early in the 4th, keeping the Knights up 52-43. Harlan cut it to 52-48, Catherine Mayhall answered with a pair of free throws. Harlan again charged back, pulling within 54-53 but Mayhall found another answer with 4 straight and a 58-53 lead. Lauren Boell extended it to 60-53 and the Knights were in business. The Cyclones weren't going to quit and pulled within 4 at 63-59 and 65-61 but Mayhll hit a pair of free throws twice, extending the lead to 6 both times. Kuemper salted the game away at the free throw line to win their 8th game this season.
Catherine Mayhall had team highs with 18 points, 5 assists and 4 steals. Elsa Tiefenthaler scored 13 points, all coming in the 1st half, keeping Kuemper in the game. Frannie Glynn ripped down 10 rebounds, including one late that helped clinch the Knights victory. She added 7 points. Karsyn Overmohle had 9 points and Aubrey Heuton hscored 8 points while Kaci Peter and Lauren Boell scored 7 points each. Heuton added 6 rebounds and Boell had 3 assists.
Kuemper moved to 8-7 overall and 3-3 in the Hawkeye 10 Conference. They will host Clarinda on Tuesday.
Kuemper Stats
Catherine Mayhall 18 Points, 3 Rebounds, 5 Assists, 4 Steals
Elsa Tiefenthaler 13 Points, 2 Assists
Karsyn Overmohle 9 Points, 2 Rebounds
Kaci Peter 7 Points, 2 Rebounds, Assist
Aubrey Heuton 8 Points, 6 Rebounds, 2 Assists, Steal
Lauren Boell 7 Points, 4 Rebounds, 3 Assists, Steal
Frannie Glynn 7 Points, 10 Rebounds, Steal
Box Score
Teams       1      2     3    4      Final 
Kuemper    13    17    18   21       69
Harlan        16    10    13   22      61
Ogden at Glidden Ralston
Glidden Ralston 57
Ogden 37
The Glidden Ralston Wildcats get back in the win column as they snap a two game win streak with a dominant win over Ogden Monday night.
The Wildcats fell in two straight games, including against a ranked Westwood team on Saturday while Ogden were losers of three straight coming into this game. Ogden started off playing like they wanted to badly break that losing streak as they'd get up 5-0 against the Wildcats in the first quarter. Glidden Ralston was able to tie up the game at 5-5 and never looked back. They went on a 20-0 to end the first quarter and led 20-5. That success continued in the second quarter for the Wildcats, at one point getting up 27-10 and leading 34-14 going into halftime. Paige Klocke's season continues to be written with great performance after great performance, and again she put up 20+ points with 29 in this game. 
Ogden had a nice start to the second half trying to crawl out of a 20 point deficit. They'd go on a 12-2 run to cut down the Wildcat lead to 36-26. The Wildcats weren't phased as they were able to close out the quarter with a scoring run of their own, going 12-0 and leading 48-28 going into the fourth quarter. The Bulldogs were unable to find ways for a late game comeback as the Wildcats cruised in the final eight minutes to a 57-37 win. 
The win elevated the Wildcats to 7-6 overall on the season. Glidden Ralston is off until Friday, January 20th when they travel to take on Boyer Valley. 
Glidden Ralston Stats
Vanessa Koehler: 7 Points
Tiela Janssen: 11 Points
Paige Klocke: 29 Points
Ashlyn Klocke: 2 Points
Kassidy Wenck: 8 Points
Teams        1     2     3     4      FINAL
OGD            5     9     12      9    |   37
GR              20   14    14      9    |   57
Paton Churdan at Ar-We-Va
Ar-We-Va 62
Paton Churdan 39
The Ar-We-Va Rockets snap a two game losing streak as they get past a slow start to defeat Paton Churdan Monday night.
Paton Chrudan held their own well in the first half and took advantage of Ar-We-Va's slow start. Ar-We-Va held on to the slight two point lead heading to the second quarter at 8-6. The game was all tied up when Paton Churdan made it 10-10 before Ar-We-Va went on a 7-0 scoring run to lead 17-10. Paton Churdan would get back on track and keep the game competitive as they trailed Ar-We-Va 24-18 at halftime. Maggie Ragaller had another solid scoring performance with 22 points for Ar-We-Va while Becca Anderson nearly matched that with 17 points for Paton Churdan. 
Ar-We-Va started to distance themselves from Paton Churdan in the second half, starting with a 7-2 scoring run to lead 31-20. They'd extend that lead to 42-28 with the fourth quarter only to play. Ar-We-Va Head Coach Jeremy Smith said Emma Leiting and Amber Ragaller provided the spark the Rockets needed in the third quarter. Leiting specifically had 12 points off the bench. Ar-We-Va was able to cruise in the final eight minutes and come away with the 62-39 win.
Maggie Ragaller ended the night with 22 points, six rebounds, six assists, and four steals. Kora Obrecht ended up with 10 rebounds. Ar-We-Va improves 5-6 overall on the season and 4-6 in the Rolling Valley Conference while Paton Churdan falls to 0-13 overall and 0-9 in the conference. Ar-We-Va is at home on Tuesday, January 17th when they host Exira-EHK while Paton Churdan is also home on the same day when they host CAM Anita. 
Paton Churdan Stats
Emma Stream: 11 Points
Becca Anderson: 17 Points
Calleigh Fitzpatrick: 8 Points
Grace Cullum: 1 Point
Ava Minnehan: 2 Points
Ar-We-Va Stats
Maggie Ragaller: 22 Points, 6 Rebounds, 6 Assists, 4 Steals, 
Jamie Hausman: 9 Points, 6 Rebounds, 4 Steals, 1 Block
Delaney Schurke: 5 Points, 1 Rebound, 2 Steals
Kora Obrecht: 4 Points, 10 Rebounds, 1 Assist, 1 Steal
Kallie Bromert: 3 Points, 1 Block
Sammy Hinners: 3 Points
Amber Ragaller: 1 Rebound
Emma Leiting: 12 Points, 2 Rebounds
Azaya Martinez: 1 Rebound, 1 Assist
Jazmine Molina: 1 Point, 1 Rebound
Teams        1     2     3     4      FINAL
PC                 6   12     10    11    |    39
AWV            8   16     18    20    |   62