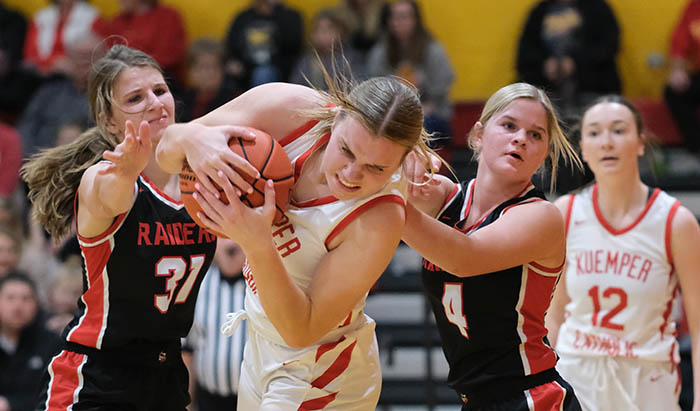 Girls Basketball Results Saturday, January 7th 
East Sac At Kuemper
Kuemper 62
East Sac 36
Kuemper jumped out to a quick 6-0 lead and didn't look back, though East Sac fought all game long, outscoring the Knights in the 2nd half. After a tough shooting game on Friday, the Knights bounced back, hitting 51% from inside the arc and 28.6% from beyond the arc. Kuemper only took seven-threes, as they pounded the ball inside to Frannie Glynn or took the ball to the hole with dribble penetration. East Sac was able to get good looks, but struggled from the field, hitting 29.2%, going 14-53 from the field. The Raiders only turned the ball over 15 times and had 11 assists on their 15 baskets.
Lauren Boell put Kuemper ahead 2-0. The lead grew to 6-0 after a bucket from Frannie Glynn and a pair of free throws from Catherine Mayhall. Jen Aschinger put East Sac on the board with a bucket but Mayahll scored again, followed by another rebound and put back by Glynn. A Makenna Steiger basket cut the deficit for East  Sac to 10-4, Sarah Bontrager kept it at 6 with a bucket for the Raiders but Aubrey Heuton hit a 3, Catherine Mayhall scored, followed by a bucket from Heuton and the Knights were in charge, up 19-6. Makenna Steiger pulled East Sac within 19-9 and Mary Bontrager cut it to 21-11 early in the 2nd quarter but the Raiders never got closer. Catherine Mayhall and Aubrey Heuton scored back-to-back baskets and the Knights stretched the lead to 35-13 by half. Kuemper scored the final 10-points of the 2nd quarter.
Mary Bontrager picked up her offense in the 2nd half for East Sac, scoring all 14 of her points in the 2nd half but it wasn't enough. The Knights were able to play all 15 girls in the 2nd half with their starters not seeing the court in the 4th quarter. Kuemper's lead grew to 31 in the 2nd half.
Frannie Glynn  had a nice double-double for Kuemper with 10 points and 10 rebounds. Catherine Mayhall added a team high 16 points and 3 steals. Lauren Boell had 8 points to go with 5 rebounds and 3 steals while Aubrey Heuton and Karsyn Overmohle each had 7 points.
Mary Bontrager led the Raiders with 14 points and tied for the team lead with 6 rebounds. Kendall Quirk added 6 rebounds and Makenna Steiger had 8 points and 3 steals. Jen Aschinger also had 3 steals for the Raiders.
Kuemper improved to 6-6 overall and will host Glenwood on Friday. East Sac slipped to 0-8 overall and will travel to GTRA on Monday.
Kuemper Stats
Charlotte Hackfort 2 Rebounds
Catherine Mayhall 16 Points, 4 Rebounds, 2 Assists, 3 Steals
Elsa Tiefenthaler 4 Points, 2 Rebounds, Steal, Block
Megan Scott 1 Rebound
Caitlin Yetmar 1 Assist
Karsyn Overmohle 7 Points, 2 Rebounds, Assist, Steal
Kerrigan Irlbeck 2 Points
Kaci Peter 4 Points, Rebound, Assist, Steal
Aubrey Heuton 7 Points, 2 Rebounds, Steal
Lauren Boell 8 Points, 5 Rebounds, 2 Assists, 3 Steals
Frannie Glynn 10 Points, 10 Rebounds, Assist, Block
Alivia Schenkelberg 2 Points
Ellie Sibbel 2 Points, Rebound
Kaylie Diercksen 1 Rebound
East Sac Stats
Makenna Steiger 8 Points, 3 Rebounds, 3 Assists, Steal
Jen Aschinger 2 Points, 4 Rebounds, 3 Assists, 2 Steals
Mary Bontrager 14 Points, 6 Rebounds
Addisen Ehler 2 Points, 3 Rebounds, Steal
Kendall Quirk 4 Points, 6 Rebounds, 2 Steals
Chloe Biefet 1 Point, 5 Assists, 1 Steals
Sarah Bontrager 5 Points
Constanza Rosati 3 Rebounds
Box Score
Teams     1     2    3     4     Final
East Sac   9     4     10   13        36
Kuemper 21   14    17   10        62
South Central Calhoun At South Hamilton 
South Central Calhoun 78
South Hamilton 51
South Central Calhoun won a huge road game on Saturday, knocking off 11th ranked (class 2A) South Hamilton in dominating fashion. The Titans executed the game plan extremely well, having their best defensive game of the season. They held South Hamilton to 36.7% from the field and 28.6% from the three point line. Offensively the Titans shot 50.9% from the field with 19 assists on 27 made baskets and huge offensive games from Riley Batta and Kylee Schleisman. South Central Calhoun forced 18 turnovers with 13 via the steal. The Titans only had 9 turnovers themselves.
Riley Batta set a new single-game scoring record, pouring in 36 points for South Central Calhoun, hitting 69% from the field. She added 14 rebounds for a double-double, to go with 4 steals. Kylee Schleisman was outstanding as well, scoring 33 points on 67% shooting. Schleisman added 11 assists and 4 steals. Brenna McAlister pulled down 8 rebounds and Olivia Toms finished with 2 steals.
The Titans improved to 8-1 overall and will host Humboldt on Tuesday.
South Central Calhoun Stats
Sophie McKinney 3 Points
Riley Batta 36 Points, 14 Rebounds, 3 Assists, 4 Steals, Block
Brenna McAlister 5 Points, 8 Rebounds, Assist, Steal
Kylee Schleisman 33 Points, 4 Rebounds, 11 Assists, 4 Steals
Breanne Patterson 4 Rebounds, 2 Assists
Morgan McChesney 2 Rebounds
Olivia Toms 1 Rebound, 2 Assists, 2 Steals
Adlen Wheelock 1 Steal
Claire Riat 1 Steal
Mia Babcock 1 Point, Rebound
Box Score
Teams     1    2     3     4   Final
SCC           14  21    29   14     78
So Ham    10   18   15    8      51