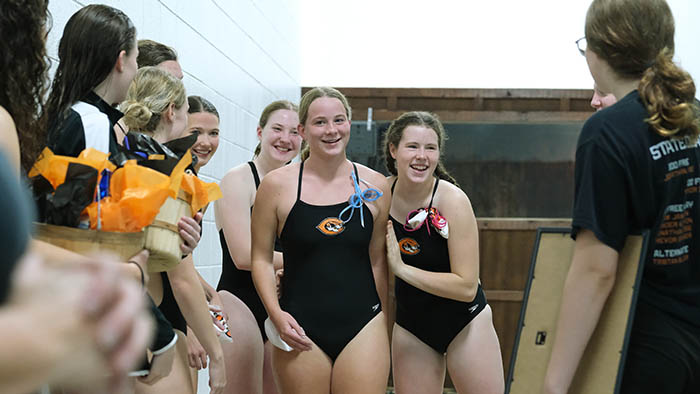 Girls Swimming Results Tuesday, October 25th 
Algona and Perry At Carroll
Team Scores
Carroll 61 Perry 43
Carroll 72 Algona 36
Perry 54 Algona 52
Carroll girls wrapped up the regular season, hosting Algona and Perry on senior night, celebrating their lone senior Keziah Janssen. The Tigers swam well, topping both teams. They beat Perry 61-43 and had a couple really good races against the Blue Jays. They doubled up Algona winning 72-36. The Tigers won a pair of relays and had two more teams finish in the top 3 in relays. They won 4 individual championships and finished in the top 3 with 5 other individuals.
Emma Myers continued her great season, qualifying for the State Meet in the 100 Breast, taking 1st place in 1:08.31. Meyer also won the 200 IM and helped the 200 Medley(2:00.89) and 200 Free Relay(1:48.32) teams take 1st place. Joining her in the 200 Medley Relay was Hailey Burns, Amelia Holt and Ella Perry. Hailey Burns, Natalie Kent and Amelia Holt swam in the 200 Free Relay. Amelia Holt took 2nd in the 200 Free and won the 500 Free in 6:08.72. Hailey Burns added a championship in the 100 Free in 58.98 and the 100 Back in 1:10.59. Carroll was 2nd in the 400 Free Relay with Keziah Janssen, Ella Perry, Claudia Cidoncha and Natalie Kent.
Keziah Janssen dropped 4 seconds off her best time in the 500 free.
Carroll heads to Fort Dodge on Saturday, November 5th for the State Qualifying Meet.
Carroll Results 
200 Medley Relay 
1st Carroll 2:00.89
Hailey Burns, Emma Myers, Amelia Holt, Ella Perry
3rd Carroll 2:25.08
Samantha Potts, Leah Nystrom, Lydia Dose, Claudia Cidoncha
200 Free
2nd Amelia Holt 2:15.42
5th Keziah Janssen 2:28.98
200 IM
1st Emma Myers 2:19.16
3rd Claudia Cidoncha 2:45.07
50 Free
3rd Natalie Kent  28.15
4th Ella Perry 29.69
100 Fly 
3rd Ella Perry 1:28.85
4th Lydia Dose 1:32.39
100 Free
1st Hailey Burns 59.98
4th Natalie Kent 1:04.22
500 Free
1st Amelia Holt 6:08.72
4th Keziah Janssen 6:41.94
200 Free Relay
1st Carroll 1:48.32
Emma Myers, Hailey Burns, Natalie Kent, Amelia Holt
4th Carroll 2:10.13
Lydia Dose, Leah Nystrom, Samantha Potts, Keziah Janssen
100 Back 
1st Hailey Burns 1:10.59
4th Samantha Potts 1:27.71
100 Breast 
1st Emma Myers 1:08.31
3rd Claudia Cidoncha 1:22.27
400 Free Relay 
2nd Carroll 4:31.73
Keziah Janssen, Ella Perry, Claudia Cidoncha, Natalie Kent