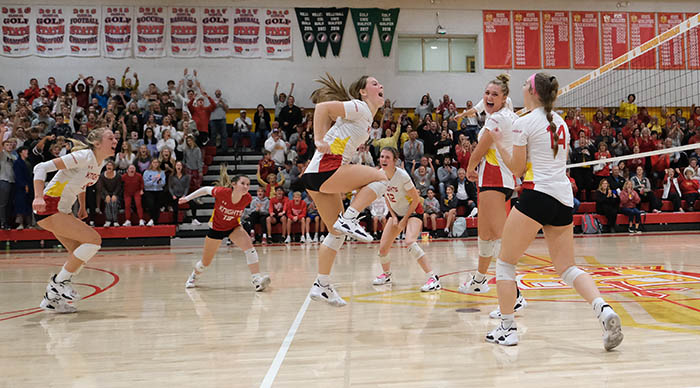 Treynor At Kuemper- Class 2A Regional 3
Kuemper 3
Treynor 0
25-18, 25-11, 25-20
Kuemper moved into a regional final for the second season in a row. It started as a struggle with the Knights coming out slow, falling behind 11-3. They called timeout down 8-2, but gave up three more points before Aubrey Heuton finished a kill from the outside. That was followed by a block from Frannie Glynn and the Knights gained some momentum. Treynor scored, making it 12-5, then went up 13-6 but Kuemper scored and Ashlyn Badding got them on a run. Badding served a 6-0 run, pulling Kuemper within 13-12. Treynor held off the Knights for a few points, but couldn't stop the landslide. The Knights tied the set at 16 and took their first lead with Macy Simons at the service line. Kuemper built a 23-17 lead and won the  first set 25-18, closing the set on a 22-7 run after falling behind 11-3. Frannie Glynn had a kill from the outside to end the set. Ashlyn Badding got the Knights off to a good start in set two. The Knights jumped out 6-1 and never really looked back. They led 11-4 before Treynor settled in a little, keeping within striking distance, down five to seven points until the Knights heated up late. Kuemper led 16-10, extending it to 22-10 on their way to a 25-11 win. Kaci Peter closed out the set with a kill. The third set was close, featuring 10 ties and 6 lead changes. Kuemper went up 1-0, but Treynor responded with 2 straight points, to lead 2-1. They held the lead until Kuemper went back up 9-8, though the set was tied at 4 and 8. Treynor gained the lead again at 11-10 but Kuemper responded with 2 straight points to lead 12-11. Treynor tied the set at 14 and 15, then took a 16-15 lead but Kuemper responded again to lead 17-16. Treynor again tied it at 17 and 18 but the Knights took the lead for good at 19-18. They built a 21-18 lead, then pulled away to lead 24-20. Sophie Badding finished the match with a kill.
Sophie Badding led a balanced Kuemper attack with 12 kills along with a team high 3 blocks. Kaci Peter added 8 kills, Aubrey Heuton, Lauren Boell, Frannie Glynn and Brianna Wittrock all had 6 kills. Ashlyn Badding and Macy Simons both had good nights setting the ball with Badding finishing with 18 assists and Simons with 15 assists. Kaylie Simons finished with a team high 14 digs and had a nifty dig for a kill, where she dove out of bounds on a block, getting the ball up with one arm and it dropped across the net for a kill. Frannie Glynn  and Brianna Wittrock both had 2 blocks and Glynn came up big in the 3rd set when  her team needed to get their aggressiveness back. Ashlyn Badding led the Knights with 2 aces.
Kuemper improved to 37-4 overall and will meet Missouri Valley on Wednesday in Harlan. The Big Red swept Southwest Valley on Monday to improve to 34-6. The match will be broadcast on 93.7 KKRL.
Kuemper Stats
Sophie Badding 12 Kills, Assist, 3 Blocks
Aubrey Heuton 6 Kills, 3 Digs, Block, Ace
Lauren Boell 6 Kills, Block, Ace
Kaci Peter 8 Kills
Frannie Glynn 6 Kills, Assist,  2 Blocks
Brianna Wittrock 6 Kills, Assist, 8 Digs, 2 Blocks, Ace
Kaylie Simons 1 Kill, Assist, 14 Digs
Ashlyn Badding 18 Assists, 5 Digs, 2 Aces
Macy Simons 15 Assists, 3 Digs
Brooke Rohe 4 Digs
South Central Calhoun at Ridge View – Class 2A Region 2 Semifinals
Ridge View  3
South Central Calhoun 0
26-24, 25-19, 25-21
The South Central Calhoun Titans played three electric sets against Ridge View Monday night, but came up short of a regional final appearance. 
The Raptors were looking to get back to a regional final in back-to-back years while the Titans were vying for their first appearance since 2017. Set one went mostly in South Central Calhouns' favor. After six ties up until 11-11, the Titans started to pull away and led 18-14 at one point. The Raptors, just like they did last Wednesday against East Sac, started to swing well in the front row with Rowen Jensen and tied the set up at 22-22. Ridge View had set point at 24-22, but gave up two kill errors to tie up the set again at 24-24. South Central Calhoun saw some errors on their part two that unfortunately led to the Raptors taking set one at 26-24. 
Ridge View was playing out in front for most of set two. After a short back and forth with South Central Calhoun, They'd get out for good at 15-10 and later 20-12. The Titans were able to break their silence with a nice 4-0 scoring run to get down 20-16, but the Raptors continued to battle hard late in the set and walked away with a 25-19 set two win. In the final set, South Central Calhoun started to get their groove back. Hammen and McAlister were getting nice swings, the team overall was communicating better, and they made the set entertaining to watch. They'd have to battle in the beginning parts of the set down 13-9 and eventually tied it at 14-14 with a 5-1 scoring run. Ridge View started to get back into their game and got back up 20-16 with South Central Calhoun getting back as well to make it a 22-20 game late. Despite the efforts late, one final attack in the net is what sealed the win for Ridge View at 25-21. 
Brenna McAlister led the team with 11 kills on the night, Kylee Schliesman was great in the back row with 22 digs and Jayci Graeve played well and ended up with 29 assists. Mollie Monahan and Keira Hammen both had three blocks to lead the team. The Titans' season comes to an end with a final season record of 34-9. 
South Central Calhoun Stats
Mollie Monahan: 3 Blocks
Riley Batta: 9 Kills, 10 Digs, 1 Block
Brenna McAlister: 11 Kills, 1 Assist, 9 Digs
Alexa Holm: 6 Digs, 1 Ace
Jayci Graeve: 1 Kill, 29 Assists, 11 Digs
Keira Hammen: 10 Kills, 1 Dig, 3 Blocks
Kylee Schleisman: 1 Assist, 22 Digs
Addy Geno: 1 Block
Glidden Ralston At AGWSR- Class 1A Regional 3
AGWSR 3
Glidden Ralston 0
25-13, 25-13, 25-10
Glidden Ralston had their season come to an end in the Class 1A Regional Semifinals, falling 3-0 to the 2nd seed in the region on the road. The Wildcats finished the season 24-6, having won the Rolling Valley Conference regular season. They struggled to get things going on Monday against the Cougars falling 25-13 in each of the first two sets, then losing 25-10 in set three.
Lauren Hulsing had a team high 9 kills, Addy Boell had a nice all-around game with 10 assists, 10 digs and 4 kills. Summer Toms finished with 11 digs and Tiela Janssen added 10 digs and 3 assists. Vanessa Koehler had 4 kills.
Glidden Ralston Stats
Addy Boell 4 Kills, 10 Assists, 10 Digs
Kassidy Wenck 1 Kill
Lauren Hulsing 9 Kills, Dig
Paige Klocke 2 Kills, 4 Digs, Ace
Summer Toms 1 Kill, 11 Digs, Ace
Vanessa Koehler 4 Kills
Ashlynn Tigges 1 Assist, 14 Digs
Tiela Janssen 3 Assists, 10 Digs, Ace
Amelia Garrett 1 Assist