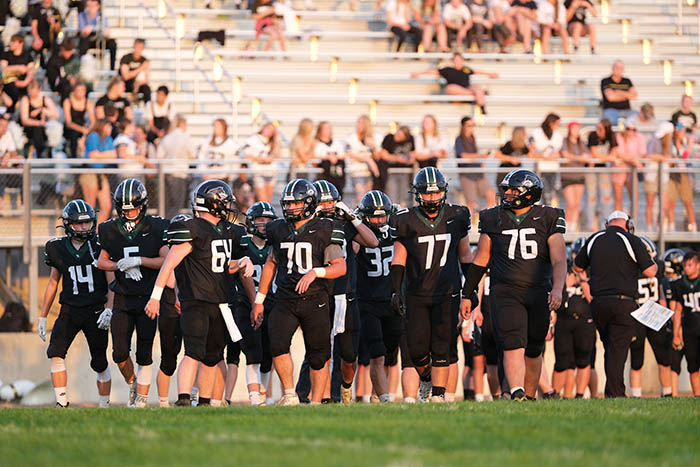 Ogden at IKM-Manning
Ogden 39
IKM-Manning 20
The IKM-Manning Wolves closed out their final home game of the season with a close game with Ogden Friday. 
The Wolves up until the fourth quarter held on to the lead and saw plenty of success running the football. They started off in the first quarter with a 58-yard touchdown run from Cooper Irlmeier to get them up 7-0. IKM-Manning followed that touchdown drive up with another one with 7:33 left in the quarter. Their defense came up with an interception, giving Ben Langel the opportunity to run in an eight-yard touchdown and increase the Wolves' lead to 12-0. Ogden was able to respond with 5:29 left in the quarter to enter the second quarter down 12-7. The lone score of the second quarter would come from Ogden off a touchdown pass from Colby Rohe to Jack Christensen to get the Bulldogs ahead of the Wolves 13-12 going into halftime.
Irlmeier continued to be a nice running back for the Wolves, rushing for 92 yards in this contest. Ben Ramsey also had a big game defensively with seven total tackles, four solo tackles, a sack and three tackles for loss. IKM-Manning got their lead back in the early parts of the third quarter when Ross Kusel found Lane Sams in the end zone for a 37-yard touchdown to lead 20-13. Ogden too was able to find the endzone off a short run, but with a blocked PAT, the Wolves kept a 20-19 steady going into the fourth quarter. With a flip of a switch, the Bulldogs went from trailing to leading up by 19 in the fourth quarter. They ended up with another touchdown pass from Rohe, a two-yard plunge into the end zone, and a pick six that gave the Bulldogs all the momentum they needed to come away with a 39-20 victory. 
The IKM-Manning Wolves will play a week nine game as they travel to take on St. Albert Thursday night. 
IKM-Manning Stat Leaders
Ross Kusel: 6/12, 68 Yards, 1 TD, 1 INT
Cooper Irlmeier: 12 Carries, 92 Yards, 1 TD
Lane Sams: 1 Rec, 37 Yards, 1 TD
Ben Ramsey: 7 Total Tackles, 4 Solo Tackles, 1 Sack, 3 TFL
Cooper Perdew: 1 Fumble Recovery, INT
Box Score
Teams      1        2        3       4         Final
OGD          7        6        6      20     |     39
IKMM     12        0        8        0     |     20