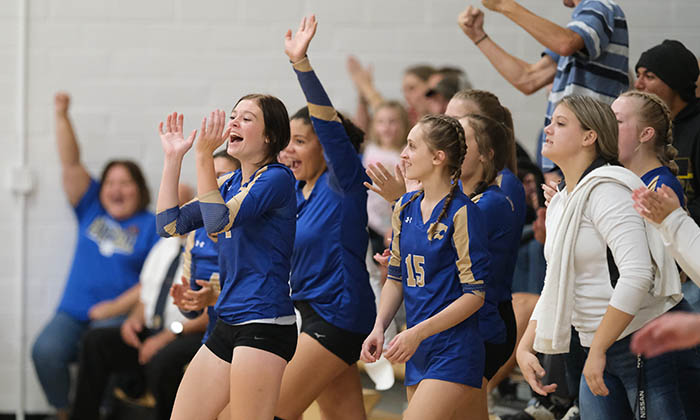 Volleyball Results for Tuesday, October 11th 
Carroll At ADM 
ADM 3
Carroll 0
25-15, 25-17, 25-19
Carroll played well in every set on Tuesday night against one of the top teams in the Raccoon River Conference, but continues to search for consistency as they fall in three sets. The match saw 8 ties and 5 lead changes, with Carroll leading in every set. The Tigers made nice adjustments, forcing ADM to change up how they were attacking. That helped them stay close to the middle of each set. Carroll hit .036 at the net, finishing with 22 kills. They did a nice job defensively at the net, with 9 blocks, having 5 different players having at least one block. Carroll served 98.1% with 4 aces, matching ADM. ADM hit the ball very well, especially in set one and early part of set two, finishing the night with a .339 kill efficiency with 36 kills.
Carroll took a 1-0 lead in set one, then fell behind 7-1. They took a timeout and settled in, pulling within 7-5 on a kill from Madison Thornock and an ace serve from Shay Sinnard. ADM went back up by 5 and kept the lead around 2 to 5 points until Carroll trailed 15-13. ADM closed out set one with a 10-2 run, taking set one 25-15. Carroll fell down 2-0 in set two, but quickly responded, taking a 5-4 lead. They held the lead until ADM took it back for good at 8-7. ADM used a 8-0 run to build the lead to 14-7. Carroll called a timeout and rallied out of the break, pulling within 14-10 but again ADM responded extending it to 16-10. Olivia Rowedder pulled Carroll within 3 with a kill, making it 17-14. ADM outscored Carroll 8-3 the rest of the way to lead 2-0 with a 25-17 win. Carroll showed great character in set three, battling until late. They went ahead 2-1 and built their biggest lead of the night at 13-8. ADM called a timeout, then rallied for a 14-13 lead. Carroll tied the set at 14, then ADM went on a 6-1 run, making it 20-15. Carroll fought back to 22-19, and nearly cut it to 22-20 but ADM just caught the back line on an attack and led 23-19. They finished the match off with an ace for a 3-0 win.
Camryn Schable paced Carroll at the net with 7 kills, Madison Thornock added 5 kills and Olivia Rowedder and Katelyn Aden each had 3 kills. Riley Nagl had a team high 10 assists, Kaitlyn Tigges finished with 8 assists. Shay Sinnard had a team high 10 digs and tied for the team lead with 3 blocks. Olivia Rowedder also had 3 blocks. Madison Tunning added 8 digs, Ava Gross had 7 digs and Kaitlyn Tigges and Katelyn Aden both had 5 digs.
Carroll finishes the regular season 9-22 overall and 1-7 in the conference. They host Storm Lake on Tuesday in Regionals.
Carroll Stats
Shay Sinnard 2 Kills, 10 Digs, 3 Blocks, Ace
Madison Tunning 1 Kill, Assist, 8 Digs, Ace
Riley Nagl 10 Assists, 4 Digs
Olivia Rowedder 3 Kills, Dig, 3 Blocks
Kaitlyn Tigges 8 Assists, 5 Digs
Madison Thornock 5 Kills, 3 Digs, Block, Ace
Katelyn Aden 3 Kills, 5 Digs
Shayne Aschinger 1 Kill, 2 Digs, Block
Camryn Schable 7 Kills, Dig, Block, Ace
Andrea Sander 1 Dig
Ava Gross 7 Digs
CAM Anita At Glidden Ralston 
Glidden Ralston 3
CAM Anita 2
25-16, 23-25, 21-25, 25-22, 15-13
Glidden Ralston clinched the Rolling Valley Conference championship, winning their tenth straight match, rallying for a 3-2 win over CAM Anita. The Wildcats controlled set one, winning 25-16. They had a nice rally in set two, trailing 10-3 early, they tied the set at 14 but CAM Anita was able to tie the match at 1-1. The Wildcats played well but made a few service errors and struggled in serve receive in set three, dropping the set, 25-23. They turned things around in set four, evening the set with a 25-22 win. They came out quick in set five, building a 7-3 lead, CAM Anita rallied, pulling within 12-11, then tied the set at 13. Glidden Ralston showed great resolve, scoring the final two points to clinch the title.
Vanessa Koehler and Lauren Hulsing were strong in the middle with Koehler having a team high 18 kills, Hulsing added 14 kills. Paige Klocke gave Glidden Ralston a weapon on the outside, with 16 kills with Summer Toms added 7 kills. Addy Boell had 48 assists and was also important in the back row with 29 digs. Tiela Janssen kept the Wildcats sharp in the back row with 59 digs, Ashlynn Tigges added 27 digs, Summer Toms 19 digs and Paige Klocke had 16 digs. Paige Klocke and Summer Toms each had 2 aces.
Glidden Ralston improves to 19-4 overall and 8-0 in the Rolling Valley Conference. They head to the conference tournament on Saturday at West Harrison.
Glidden Ralston Stats
Addy Boell 2 Kills, 48 Assists, 29 Digs, 2 Blocks, Ace
Lauren Hulsing 14 Kills, 9 Digs, 2 Blocks
Paige Klocke 16 Kills, 16 Digs, 2 Aces
Summer Toms 7 Kills, 19 Digs, 2 Aces
Vanessa Koehler 18 Kills, 6 Digs, Block
Ashlynn Tigges 2 Assists, 27 Digs, Ace
Tiela Janssen 3 Assists, 59 Digs, Ace
Harlan At Kuemper
Kuemper 3
Harlan 0
25-12, 25-15, 25-13
Kuemper clinched the outright Hawkeye 10 Conference championship with a dominant win over Harlan at home on Tuesday. The Knights came out sharp, hitting well, blocking well and keeping Harlan from being aggressive. The Knights cruised to a 25-12 win, then didn't slow down the rest of the Knight. They were sharp in nearly every aspect of the match, holding Harlan to 15 or fewer points in all three sets.
Sophie Badding had a team high 9 kills and tied with Frannie Glynn for the team lead with 4 blocks each. Aubrey Heuton ended with 8 kills and a pair of blocks. Frannie Glynn added 5 kills  and Brianna Wittrock had 5 kills and a pair of blocks. Ashlyn Badding had 17 assists, Macy Simons added 11 assists. Kaylie Simons had a team high 7 digs. Melinda Schaefer and Lauren Boell had 2 aces each.
The Knights moved to 34-4 on the season and finished the Hawkeye 10 Conference at 10-0. They host Sergeant Bluff Luton on Thursday.
Kuemper Stats
Sophie Badding 9 Kills, 4 Blocks
Aubrey Heuton 8 Kills, 2 Digs, 2 Blocks, Ace
Lauren Boell 3 Kills, Block, 2 Aces
Kaci Peter 4 Kills, 2 Digs, Block
Frannie Glynn 5 Kills, 4 Blocks
Brianna Wittrock 5 Kills, 4 Digs, 2 Blocks, Ace
Ashlyn Badding 17 Assists, 3 Digs
Macy Simons 11 Assists, 5 Digs, Ace
Kaylie Simons 2 Assists, 7 Digs
Melinda Schaefer 2 Digs, 2 Aces
Brooke Rohe 3 Digs
Sada Gehling 3 Digs
West Harrison At Paton Churdan 
Paton Churdan 3
West Harrison 0
25-18, 25-17, 25-19
Paton Churdan played their best match of the season, picking up their first win of the season. The Rockets improved to 1-17 on the season and 1-7 in the Rolling Valley Conference. They were in control of all three sets, winning by a minimum of 6 points.
Paige Teeples and Becca Anderson each had 8 kills, Teeples added 11 digs and Anderson added a pair of blocks. Bailey Anderson finished with 11 assists and Mia Russell had 2 blocks.
The Rockets play at Eagle Grove on Thursday.
Paton Churdan Stats
Bailey Anderson 11 Assists
Paige Teeples 8 Kills, 11 Digs
Becca Anderson 8 Kills, 2 Blocks
Mia Russell 2 Blocks
Coon Rapids Bayard at Ar-We-Va 
Coon Rapids Bayard 3
Ar-We-Va 1
25-20, 27-25, 20-25, 25-18
The Coon Rapids Bayard Crusaders played four very close matches Tuesday night against the Ar-We-Va Rockets on Parents/Pink Out Night. 
Straight out of the gate both teams were going back and forth with ties and lead changes. All together in set one, there were 11 ties and the Crusaders came out on top in the end. Ar-We-Va held an 11-8 lead in the early part of the set until Coon Rapids Bayard came along and were able to lead late at 20-19 and eventually take set one 25-20. The Crusaders were without their main setter Gracy Johnson so Mya Downing and Ella Heithoff took her place and did well. Downing had nine assists on the night and Heithoff ended with 10. Set two went back and forth for a large amount of time. Ar-We-Va held the 7-4 lead and Coon Rapids Bayard came back and had a 16-14 lead. The set featured 13 ties and a late rally by the Rockets. The Crusaders led 24-21 until the Rockets put up a 4-0 run to recapture the lead at 25-24. After a lucky roll off the tape for Aubrey Hofbauer and a free ball that landed in from Ana Hart, the Crusaders closed out the set winning 27-25. 
Ar-We-Va started to turn their luck around in set three and got off to a good start. They'd lead 14-9 early and eventually got up 20-12. Coon Rapids Bayard took advantage of some mistakes from the Rockets and got back in the game down 24-19. Luckily, Ar-We-Va was able to set up Maggie Ragaller for the set winning kill forcing a set four with a 25-20 set win. Ragaller had a solid night in the front row with 11 kills. Jamie Hausman and Kora Obrecht were also swinging well with 10 and nine kills each. Hausman and Obrecht also had solid nights at the serving line with five and six aces each. 
In set four, Ar-We-Va still held on well but Coon Rapids Bayard had a big momentum swing in the middle of the set. After being tied at 7-7, the Crusaders started to play well together and got up 15-11 at one point and later at 23-14. Ar-We-Va had a bit more gas in the tank and went 4-1 in the next five volleys and were down 24-18. Coon Rapids Bayard got one last point to go their way and were able to leave Westside with a 3-1 match win. 
The loss drops the Rockets to 4-15 overall on the season while Coon Rapids Bayard improves to 7-18 overall. Both teams are in action on Saturday, October 15th when they compete in the Rolling Valley Conference tournament at West Harrison High School. 
Coon Rapids Bayard Stats
Mya Downing: 9 Assists, 3 Digs, 2 Blocks
Anna Hart: 2 Kills, 16 Digs, 1 Block
Ella Heithoff: 10 Assists, 2 Digs, 2 Aces
Violet Johnson: 2 Assists, 9 Digs
Aubrey Hofbauer: 11 Kills, 1 Dig, 3 Blocks
Lydia Hofbauer: 6 Kills, 15 Digs, 1 Block, 1 Ace
Lacie Davis: 1 Kill, 32 Digs, 2 Aces
Shelbi Wiskus: 2 Kill, 4 Digs
Malia Clayburg 9 Kills, Dig, 6 Blocks, 2 Aces
Ar-We-Va Stats
Delaney Schurke: 2 Kills, 2 Aces
Trista Reis: 2 Aces
Amber Ragaller: 1 Kill
Elizabeth Brunner: 1 Ace
Maggie Ragaller: 11 Kills
Jamie Hausman: 10 Kills, 5 Aces
Makayla Schrad: 1 Kill
Sammie Hinners: 1 Kill, 1 Block
Kora Obrecht: 9 Kills, 6 Aces