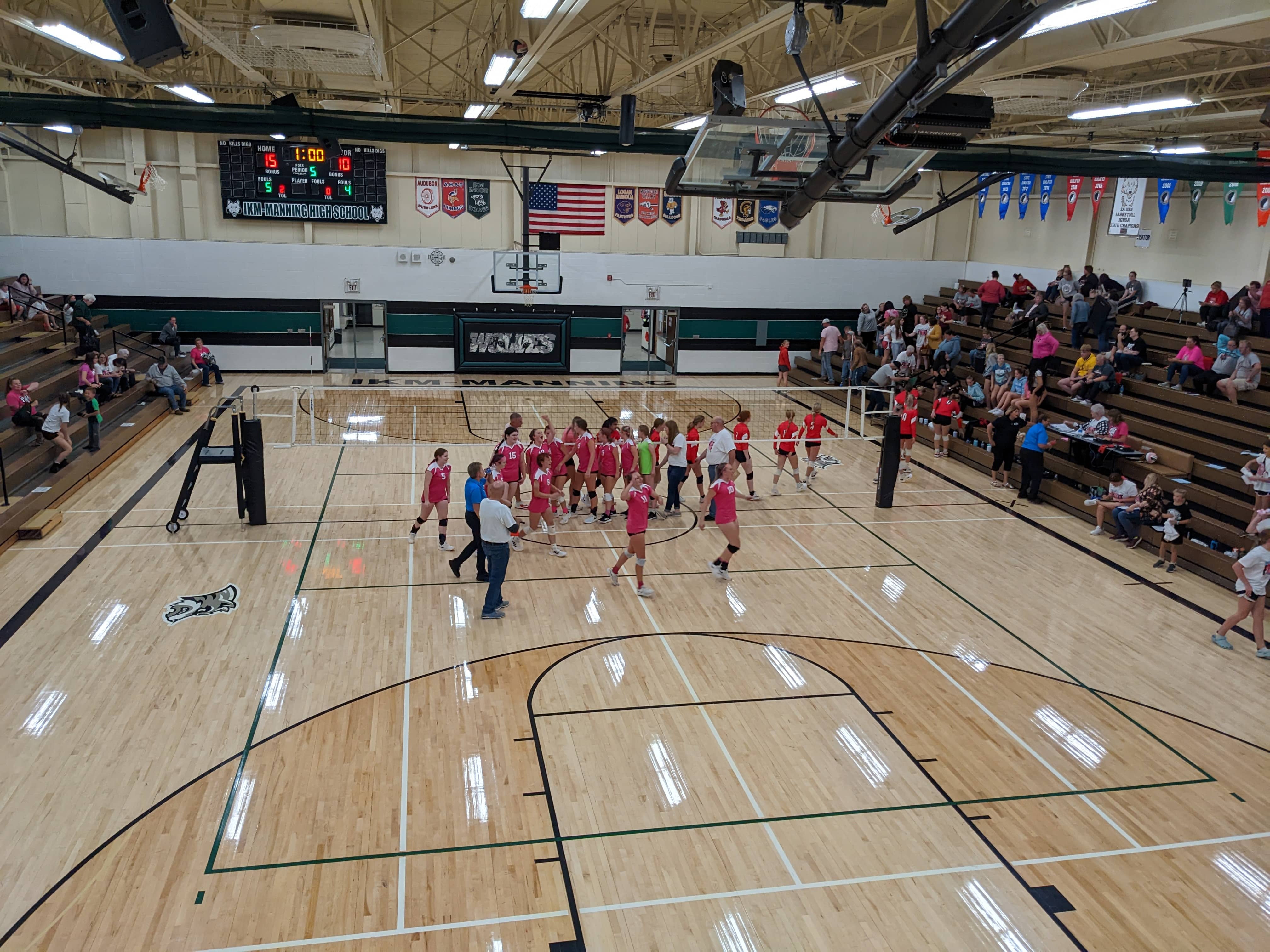 Volleyball Results Monday, October 3rd 
Ar-We-Va At IKM-Manning
IKM-Manning 3
Ar-We-Va 2
25-22, 23-25, 14-25, 25-18, 15-10
IKM-Manning was able to rally from down two sets to one to pick up their second win of the season, while Ar-We-Va let an early lead slip in set four before losing sets four and five. IKM-Manning jumped out early in set one, then held off Ar-We-Va who made it close late, tying the set at 22. IKM-Manning held on and led one sets to none. Ar-We-Va rallied in set two, after trailing early, and held off a late rally by IKM-Manning, tying the match at one set apiece. The Rockets dominated set three and appeared to have swung the momentum as IKM-Manning struggled in serve receive, helping the Rockets pull away to lead two sets to one. The serve receive issue swung over to Ar-We-Va in set four and the Wolves took advantage to build a comfortable lead. Ar-We-Va put a run together and pulled within 3, but IKM-Manning responded with a run to ty the match at two. The Wolves again used a service run in the fifth set to pick up the win.
Laura McCarville and Mabel Langel had good hitting nights on the outside for IKM-Manning, both finished with 8 kills, Kylie Powers finished with 6 kills and Karlee Arp had some timely kills from the right side, ending with 5 kills and Megan Williams also had 5 kills. Amber Halbur had 26 assists. Laura McCarville had a good night serving with 7 aces, Emmie Ring added 4 aces and Kylie Powers had a team high 4 blocks.
Delaney Schurke finished with 21 assists for Ar-We-Va, feeding Maggie Ragaller and Kora Obrecht, as they finished with 8 kills and 6 kills respectively. Samantha Hinners added 4 kills. Elizabeth Brunner and Delaney Schurke both had 4 aces to lead the Rockets.
IKM-Manning improved to 2-16 on the season and will host LoMa on Tuesday. Ar-We-Va falls to 3-10 and travels to CAM Anita on Tuesday.
IKM-Manning Stats
Laura McCarville 8 Kills, 2 Digs, 7 Aces
Mabel Langel 8 Kills, Dig
Kylie Powers 6 Kills, 3 Digs,  4 Blocks
Karlee Arp 5 Kills, 2 Digs, Block, Ace
Megan Williams 5 Kills, 2 Digs, 2 Blocks
Amber Halbur 1 Kill, 26 Assists, 5 Digs, 2 Aces
Anna Stangl 5 Digs, 3 Aces
Ella Richards 4 Digs, Ace
Emmie Ring 2 Digs, 4 Aces
Eryn Ramsey 1 Dig
Ar-We-Va Stats
Jamie Hausman 3 Kills, Ace
Delaney Schurke 21 Assists, 4 Aces
Kora Obrecht 6 Kills
Maggie Ragaller 8 Kills, Ace
Trista Reis 1 Ace
Elizabeth Brunner 4 Aces
Samantha Hinners 4 Kills
Glidden Ralston and South Hamilton At Ogden 
Glidden Ralston Vs South Hamilton 
Glidden Ralston 2
South Hamilton 1
13-21, 21-16, 15-11
Glidden Ralston battled back after a rough start, dropping set one 21-13 to win the last two sets and pick up a big win. The Wildcats played well in the back row, finishing with 57 digs. That allowed them to keep being aggressive at the net, where they had 22 kills.
Vanessa Koehler paced the attack at the net with 8 kills, Lauren Hulsing and Paige Klocke both had 5 kills. Addy Boell had 14 assists and 16 digs, Tiela Janssen finished with 21 digs and 5 assists. Ashlynn Tigges added 9 digs. Paige Klocke had a team high 2 aces.
Glidden Ralston Stats
Addy Boell 1 Kill, 14 Assists, 16 Digs
Lauren Hulsing 5 Kills, Ace
Paige Klocke 5 Kills,  3 Digs, 2 Aces
Summer Toms 3 Kills, 5 Digs
Vanessa Koehler 8 Kills,  2 Digs, Block
Tiela Janssen 5 Assists, 21 Digs
Ashlynn Tigges 9 Digs
Breanna Schon 1 Dig
Madiana Diaz 1 Ace
Glidden Ralston Vs Ogden 
Glidden Ralston 2
Ogden 0
21-14, 21-5
Glidden Ralston finished the night 2-0 with a win over the host school Ogden. The Wildcats played well in set one, winning 21-14, then dominated the second set, winning 21-5. They improved to 16-4 on the season, winning their 7th straight match.
Addy Boell finished a strong night with 10 assists and 6 digs. Vanessa Koehler had a team high 5 kills, Lauren Hulsing added 4 kills. Tiela Janssen finished the match with 10 digs and 2 aces. Summer Toms added 6 digs and 3 aces.
The Wildcats head back to Rolling Valley Conference action on Tuesday at West Harrison.
Glidden Ralston Stats
Addy Boell 2 Kills, 10 Assists, 6 Digs
Lauren Hulsing 4 Kills, 3 Aces
Paige Klocke 2 Kills, 4 Digs, Ace
Vanessa Koehler 5 Kills
Morgan Tuel 1 Kill, Dig
Ashlynn Tigges 3 Digs, Ace
Summer Toms 6 Digs, 3 Aces
Tiela Janssen 10 Digs, 2 Aces