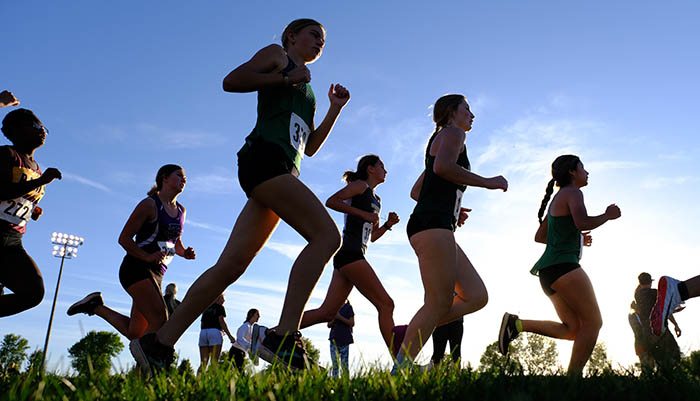 Girls Cross Country Results Thursday, September 29th 
East Sac, Audubon and South Central Calhoun At IKM-Manning Invite
IKM-Manning hosted their invite on Thursday with three other area teams also competing but not having enough runners to qualify for a team score. The Wolves ran well, with four runners in the top 25, with three of them in the top 15. Audubon ran two girls with a top 5 finish while East Sac and South Central Calhoun each had 3 teams compete. The Titans are battling through injuries and hope to be back to full strength this weekend.
Stefi Beisswenger was the top local finisher, taking 5th for Audubon in 20:52.31. IKM-Manning had three runners finish in a row with Taylor Beckendorf leading the group in 10th place in 21:58.39. She was followed by Emily Albertsen in 11th and Raegan Garrison in 12th place. Adlen Wheelock took 36th to lead the Titans and Cora Mahler paced East Sac, finishing in 45th.
Full results for the local teams are below.
Team Scores
LoMa 28
Denison Schleswig 76
IKM-Manning 83
Woodbine 83
AHSTW 98
Boyer Valley 118
East Sac No Team Score
South Central Calhoun No Team Score
Audubon No Team Score
IKM-Manning Results
10th Taylor Beckendorf  21:58.39
11th Emily Albertsen  22:04.73
12th Raegan Garrison 22:25.60
24th Julianna Stribe  23:51.54
33rd Kaitlyn Spoelstra  25:04.89
37th Lauren Irlbeck   25:54.53
Audubon Results
5th Stefi Beisswenger   20:52.31
55th Madison Burr   33:43.61
South Central Calhoun Results
36th Adlen Wheelock  25:52.57
49th Claire Riat  28:35.12
52nd McKinley Janssen 30:10.20
East Sac Results 
45th Cora Mahler   27:52.14
46th Kortni Thomsen  27:58.27
54th Rachel King 33:09.96