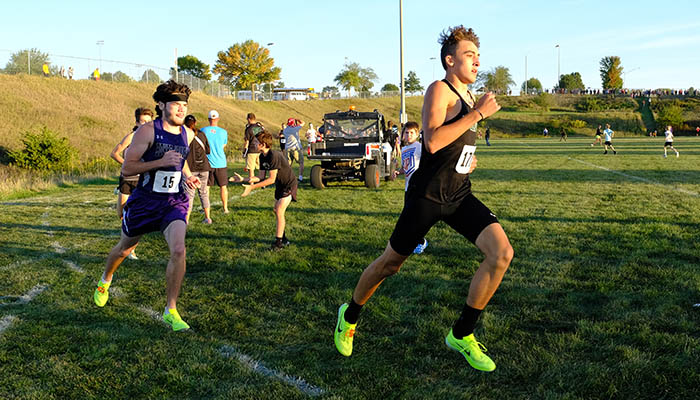 Boys Cross Country Results for Tuesday, September 27th
Kuemper, South Central Calhoun, and IKM-Manning at Denison Schleswig
Kuemper, South Central Calhoun, and IKM-Manning were in action Tuesday when they ran at Denison Schleswig. All three teams saw some good times with IKM-Manning running well as a team. The Wolves finished in second place, just behind meet winners Woodbine, with a team score of 80. Kuemper finished fourth with a score of 101 and South Central Calhoun finished 12th with a score of 301. 
IKM-Manning saw the biggest performances at the meet with Caden Keller finishing the best among our area athletes in second place with a time of 16:26.91. Lane Sams and Reed Hinners finished close to each other. Sams finished in 15th with a time of 18:21.88 and Hinners was in 16th with a time of 18:22.04. Nathan Johnson had a nice meet as well finishing 18:43.41 in 21st place. Kasche Huehn rounded out a solid showing for the Wolves with a 30th place finish in a time of 19:10.37. Wolves Head Coach Robert Cast says Caden Keller broke the IKM-Manning record for this course and says it proves how well he's been racing this season. 
Kuemper had some solid finishes as well. Ryan North finished just outside the top five in seventh place with a final time of 17:45.37. Jacob Greving was able to snag a ninth-place finish with a time of 17:55.08. Fletch Badding and Thomas Pottebaum were able to stay inside the top 30 and give the Knights some nice times of 19:04.60 and 19:07.07. 
The South Central Calhoun Titans were led by Redge Potts who finished with a time of 19:27.68. Tristin Blair was around 23 seconds slower but finished well with a time of 19:50.94. Eli Wheelock finished the course with a time of 20:26.86 and Joe Thielen and Nathan Burley completed the course near each other with times of 20:49.59 and 21:45.74.
Team Standings
Woodbine

51

IKM-Manning 80

Denison Schleswig

100

Kuemper 101

Harlan

117

Council Bluffs AL

166

Storm Lake

191

MVAOCOU

205

Tri-Center

210

Ridge View

280

Missouri Valley

286

South Central Calhoun 301

Woodward Academy

303

LoMa

407
IKM-Manning Results
2nd Caden Keller 16:26.91 New School Course Record
15th Lane Sams 18:21.88
16th Reed Hinners 18:22.04
21st Nathan Johnson 18:43.41
30th Kasche Huehn 19:10.37
Kuemper Results
7th Ryan North 17:45.37
9th Jacob Greving 17:55.08
27th Fletch Badding 19:04.60
28th Thomas Pottebaum 19:07.07
35th Dayton Wiederien 19:21.07
South Central Calhoun Results
42nd Redge Potts 19:27.68
53rd Tristan Blair 19:50.94
63rd Eli Wheelock 20:26.86
71st Joe Thielen 20:49.59
77th Nathan Burley 21:45.74
Coon Rapids Bayard at Ogden
Landon Cook and Logan Kenyon represented Coon Rapids Bayard well at the Ogden meet Tuesday afternoon. With only two runners, the Crusaders did not have a team score. Ogden was the eventual meet winner with 47 team points. Cook was able to finish in the top 25 with a 21st place finish with a time of 19:11.81. Kenyon finished the course in a time of 26:20.10. Cook and Kenyon will be running again on Thursday, September 29th when they will race at the IKM-Manning Invitational. 
Team Standings
Ogden

47

Madrid

65

Collins Maxwell

101

Grandview Christian

106

Boone

111

Ankeny Christian

121

Woodward Granger

125

Coon Rapids Bayard No Team Score
Coon Rapids Bayard Results
21st Landon Cook 19:11. 81
90th Logan Kenyon 26:20.10