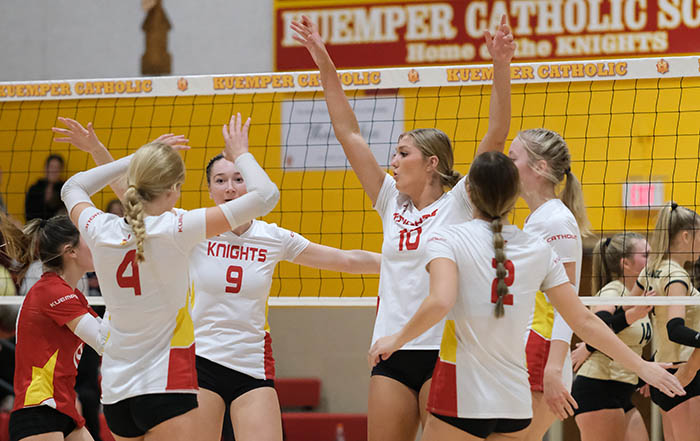 Volleyball Results Tuesday, September 27th 
Glenwood At Kuemper
Kuemper 3
Glenwood 2
22-25, 21-25, 27-25, 25-11, 15-8
Kuemper kept their hopes of an outright Hawkeye 10 Conference title alive, but it wasn't easy as the Knights had to rally from down 2-0. The match started well for Kuemper, building an 11-3 led, but they were outscored 34-14 through the rest of set one and into set two. Glenwood was the aggressor, diving for balls, getting blocks and confusing the Knights on where to hit the ball. After those quick 11 points in set one, Kuemper hit the ball long most of the time, trying to roll it over the Rams block which was doing a nice job getting blocks and touches. Kuemper struggled to keep their setters near the net, impacting their ability to get good sets to their hitters. Glenwood was playing with a lot of confidence, serving well, swinging aggressively at the net. They took set one 25-22, then jumped ahead 12-3 and 14-5 in set two. Kuemper made a run in set two, cutting the deficit to 17-15 . The Rams got Kuemper out of system on the serve and finished the set, outscoring the Knights 8-6 to win 25-21 and lead 2-0.
Glenwood scored the first point of set three, but Kuemper settled in and went on a service run by Ashlyn Badding. They took a 3-2 lead, building the led to 16-11. The Rams wouldn't go away in set three and kept hanging around but the Knights were doing a much better job using the Rams hands, scoring on their attacks and not hitting the ball long. The back row adjusted to the Rams serve and put Macy Simons and Ashlyn Badding in better shape. Glenwood rallied, tying the third set at 17 and taking their first lead 20-19. Kuemper grabbed the lead back 22-21 and held off the Rams who tied it at 23, 24 and 25 but never took the lead. Brianna Wittrock ended the third set with an ace to give Kuemper a 27-25 win. Kuemper fell down 1-0 in set four but never looked back after that, going up 6-1 as Kaci Peter continued to swing very well. The lead eventually grew to 23-8 before the Rams scored 3 straight but Kuemper squashed their momentum, getting a kill from Frannie Glynn to end the set 25-11. Kuemper never trailed in set five and was only tied at 1. They went ahead 4-1 but again the Rams wouldn't go away. They pulled within 7-6 but the Knights had too much momentum, pulling away for a 13-7 lead. Brianna Wittrock put the match away with a kill.
Kaci Peter had a big all-around night, leading Kuemper with 14 kills to go with 7 blocks and 7 digs. Sophie Badding who was quiet early, came on strong in the final few sets, finishing with 11 kills and 9 blocks (where she made her biggest impact). Aubrey Heuton and Lauren Boell both had 9 kills and Frannie Glynn added 7 kills. Brianna Wittrock had a solid all-around game with 6 kills, 13 digs and 4 blocks. Ashlyn Badding had 29 assists and 13 digs while Macy Simons added 25 assists. Kaylie Simons finished with 12 digs and Allison Ostrander came off the bench, playing well, finishing with 8 digs.
Kuemper improves to 26-4 overall and 6-0 in the Hawkeye 10 Conference. They host Lewis Central who is 4-0 in the Hawkeye 10.
Kuemper Stats
Brooke Rohe 1 Kill, 5 Digs
Frannie Glynn 7 Kills, Dig, 2 Blocks
Kaci Peter 14 Kills, 7 Digs, 7 Blocks, Ace
Sophie Badding 11 Kills, Dig, 9 Blocks
Aubrey Heuton 9 Kills, 6 Digs
Lauren Boell 9 Kills, 2 Digs, 2 Blocks
Brianna Wittrock 6 Kills, 13 Digs, 4 Blocks, Ace
Ashlyn Badding 29 Assists, 13 Digs
Macy Simons 25 Assists, 3 Digs, Ace
Kaylie Simons 1 Assist, 12 Digs, Ace
Allison Ostrander 8 Digs
Glidden Ralston at Exira-EHK
Glidden Ralston 3
Exira-EHK 0
25-10, 25-23, 25-13
The Glidden Ralston Wildcats keep their winning streak alive and survive a close set two against Exira-EHK Tuesday night. 
The Wildcats got out quickly in set one that set the pace early. The Spartans couldn't find many answers for them as Glidden Ralston sailed to a 25-10 win. The response from Exira-EHK came in the second set where they hung on well. Glidden Ralston was taken aback by the response but was able to close out the set with a 25-23 win. Vanessa Koehler continues to play well this season as she led the Wildcats with 11 kills on the night and was aided by Lauren Hulsing who put up nine kills. Tiela Janssen also showed off her skills defensively with 17 digs. Glidden Ralston got the momentum back for good in the third set as they were easily able to get past the Spartans 25-13 and won the match 3-0 in sets.
The Wildcats extend their current winning streak to five games and are now 14-4 overall on the season and 5-0 in the Rolling Valley Conference. The Wildcats have a quadrangular at Ogden on Monday, October 3rd. 
Glidden Ralston Stats
Addy Boell: 2 Kills, 25 Assists, 6 Digs, 2 Block, 1 Ace
Kassidy Wenck: 2 Kills, 1Dig
Lauren Hulsing: 9 Kills, 2 Digs, 4 Blocks, 2 Ace
Paige Klocke: 7 Kills, 4 Digs, 1 Block, 1 Ace,
Vanessa Koehler: 11 Kills, 3 Digs, 3 Blocks
Ashlynn Tigges: 6 Digs, 3 Blocks, 1 Ace
Lauren Klocke: 2 Digs
Summer Toms: 4 Digs, 1 Ace
Tiela Janssen: 17 Digs, 1 Ace
Ar-We-Va at Paton Churdan
Ar-We-Va 3
Paton Churdan 1
25-21, 25-15, 15-25, 25-9
The Ar-We-Va Rockets battled well on the road as they picked up win number three on the season against Paton Churdan Tuesday night.
Paton Chrudan got their rhythm going to start the first half and led by five points early on before Ar-We-Va got going. The Ar-We-Va Rockets were able to swing the momentum to their side and ended up winning set one 25-21. Paton Churdan slipped a bit in set two where Ar-We-Va was able to cruise to a 25-15 win. Kora Obrecht and Maggie Ragaller were offensive machines in this match with 13 and 14 kills respectively. Despite the dip, Paton Churdan found ways to play well in set three and won by a margin of 25-15. Paige Teeples led the Paton Chrudan Rockets offensively with seven kills, eight digs, and three aces. In the fourth and final set, Ar-We-Va kicked their game into high gear and won in dominant fashion at 25-9 and won the match 3-1 in sets. 
Ar-We-Va improves to 3-2 in the Rolling Valley Conference and 3-9 overall on the season. Paton Chrudan falls to 0-11 on the season and 0-4 in the conference. Ar-We-Va gets a non-conference game Monday, October 3rd when they take on IKM-Manning on the road. Paton Churdan gets another Rolling Valley Conference match when they host Woodbine on Tuesday, October 4th. 
Ar-We-Va Stats
Delaney Schurke: 2 Kills, 32 Assists, 6 Digs, 3 Aces
Trista Reis: 1 Assist, 2 Digs, Ace 
Amber Ragaller 2 Digs
Elizabeth Brunner: 1 Assist, 6 Digs, 3 Aces
Maggie Ragaller: 14 Kills, 10 Digs,  4 Blocks, 3 Aces
Jamie Hausman: 1 Kill, 13 Digs, 2 Blocks, 4 Aces
Makayla Schrad 1 Assist, 2 Blocks
Samantha Hinners: 7 Kills, 2 Blocks
Kora Obrecht: 13 Kills, 8 Digs, 3 Blocks, 1 Ace
Paton Chrudan Stats
Paige Teeples: 7 Kills, 8 Digs, 3 Aces
Bailey Anderson: 6 Assists, 2 Blocks
Emma Stream: 6 Assists
Carroll at Boone
Boone 3
Carroll 1
21-25, 25-14, 25-14, 25-17
The Carroll Tigers had a conference road game Tuesday night against Boone that challenged them in a tough loss. 
The Tigers would start out the match with a nice pace. The Boone Toreadors were close to winning the set but the Tigers held on to win 25-21. Sets two and three didn't go quite the way Carroll wanted with Boone keeping their pace and winning 25-14 in both sets. In this match, the Tigers had some solid blocks at the net with Shay Sinnard and Olivia Rowedder forming that wall with three blocks each. Sinnard also led the Tigers with nine kills overall. Set four saw a bit of a resurgence from the Tigers where they were close to victory but fell just short by a score of 25-17. Boone was victorious 3-1 in sets. 
Other stat leaders for Carroll include Riley Nagl who was their main setter with 25 assists and Madison Tunning who had a nice defensive game with 22 digs. The Tigers fall to 7-18 overall on the season and 1-5 in the Raccoon River Conference. They are in Jefferson on Saturday, October 1st when they compete in the Greene County Tournament. 
Carroll Stats
Shay Sinnard: 9 Kills, 9 Digs, 3 Blocks, 1 Ace
Madison Tunning: 2 Assists, 22 Digs
Riley Nagl: 1 Kill, 25 Assists, 15 Digs
Olivia Rowedder: 3 Kills, 3 Digs, 3 Blocks
Madison Thornock: 2 Kills, 1 Dig, 1 Block
Katelyn Aden: 5 Kills, 3 Digs, 1 Block
Shayne Aschinger: 2 Kills, 2 Digs, 1 Block
Camryn Schable: 6 Kills, 2 Digs, 2 Blocks, 2 Aces
Andrea Sander: 1 Kill
Marasyn Wittrock: 1 Assist, 5 Digs
Ava Gross: 11 Digs
Treynor at Audubon
Treynor         3
Audubon 0
25-22, 25-16, 25-15
The Audubon Wheelers did a nice job in set one against one of the toughest teams in the Western Iowa Conference Treynor, but the Wheelers would fall short of the match win. 
Audubon stuck close to Treynor in set one with a defense that was on point. As a team, the Wheelers put up 17 blocks with Mattie Nielsen and Harlow Miller recording five blocks each. While Audubon kept the Cardinals on their toes, they fell short by a score of 25-22. Treynor kept up that momentum into set two where they'd win 25-16. Audubon's offense did have some bright spots with Nielsen leading the team with eight kills and Addie Hocker having a nice night from the serving line with four aces. The Wheelers fell short again in the third and final set by a score of 25-15, giving Treynor the 3-0 match win.
The loss drops the Wheelers to 9-11 overall on the season and 1-5 in the Western Iowa Conference. They are back on the court on Saturday, October 1st when they compete in the Madrid Tournament. 
Audubon Stats
Madison Steckler: 3 Kills, 2 Blocks
Kylee Hartl: 5 Digs
Anna Larsen: 1 Ace
Addie Hocker: 1 Kills, 13 Assists, 6 Digs, 1 Block, 4 Aces
Audrey Jensen: 1 Assist, 4 Digs, 2 Aces
Mattie Nielsen: 8 Kills, 9 Digs, 5 Blocks, 1 Ace
Kali Irlmeier: 1 Kill, 1 Dig, 4 Blocks
Sienna Albertsen: 1 Kill
Harlow Miller: 3 Kills, 2 Digs, 5 Blocks, 2 Aces
Rylee Brittan: 1 Dig
SE Valley at East Sac
East Sac         3
SE Valley 0
25-21, 25-18, 29-27
The East Sac Raiders were able to add another game to their latest win streak and notch another conference win as they got past SE Valley in three sets Tuesday night.
The Raiders were met with a lot of resistance in the first set from the Jaguars who made it an entertaining set. East Sac, though, was able to close out the set winning by four points at 25-21. Kenna Meyer had another standout match leading the Raiders in both kills and digs at 10 and 14 respectively. Set two went a bit smoother for East Sac but they still had to battle for their 25-18 set two win. Set three saw the Jaguars take advantage of a slow start from the Raiders. East Sac Head Coach Brenda Olerich says her team let their guard down in the beginning parts of the third set and struggled to find their momentum. After sending the set to extra points, the Raiders were able to hold on for the 29-27 set three win and the 3-0 match win. 
Other stat leaders for the Raiders include Mary Bontrager who had 11 assists and also led the team in aces with two. The Raiders improve to 13-12 overall on the season and 3-3 in the Twin Lakes Conference. They have another conference match when they host Sioux Central on Thursday, September 29th. 
East Sac Stats
Ella Lynch: 1 Dig
Jen Aschinger: 8 Assists, 2 Digs
Mary Bontrager: 1 Kill, 11 Assists, 2 Digs, 1 Block, 2 Aces
Kenna Meyer: 10 Kills, 14 Digs, 1 Block
Kate Vondrak: 9 Kills, 3 Digs, 3 Blocks, 1 Ace
Kierstin Carroll: 4 Kills, 2 Digs, 2 Blocks, 1 Ace
Tristin Ludwing: 4 Digs
Kamryn Ross: 3 Kills, 1 Dig
Greeley Schlepp: 2 Digs, 1 Ace
Addisen Ehler: 4 Kills, 1 Dig
Katelyn Schmitt: 1 Kill, 1 Dig