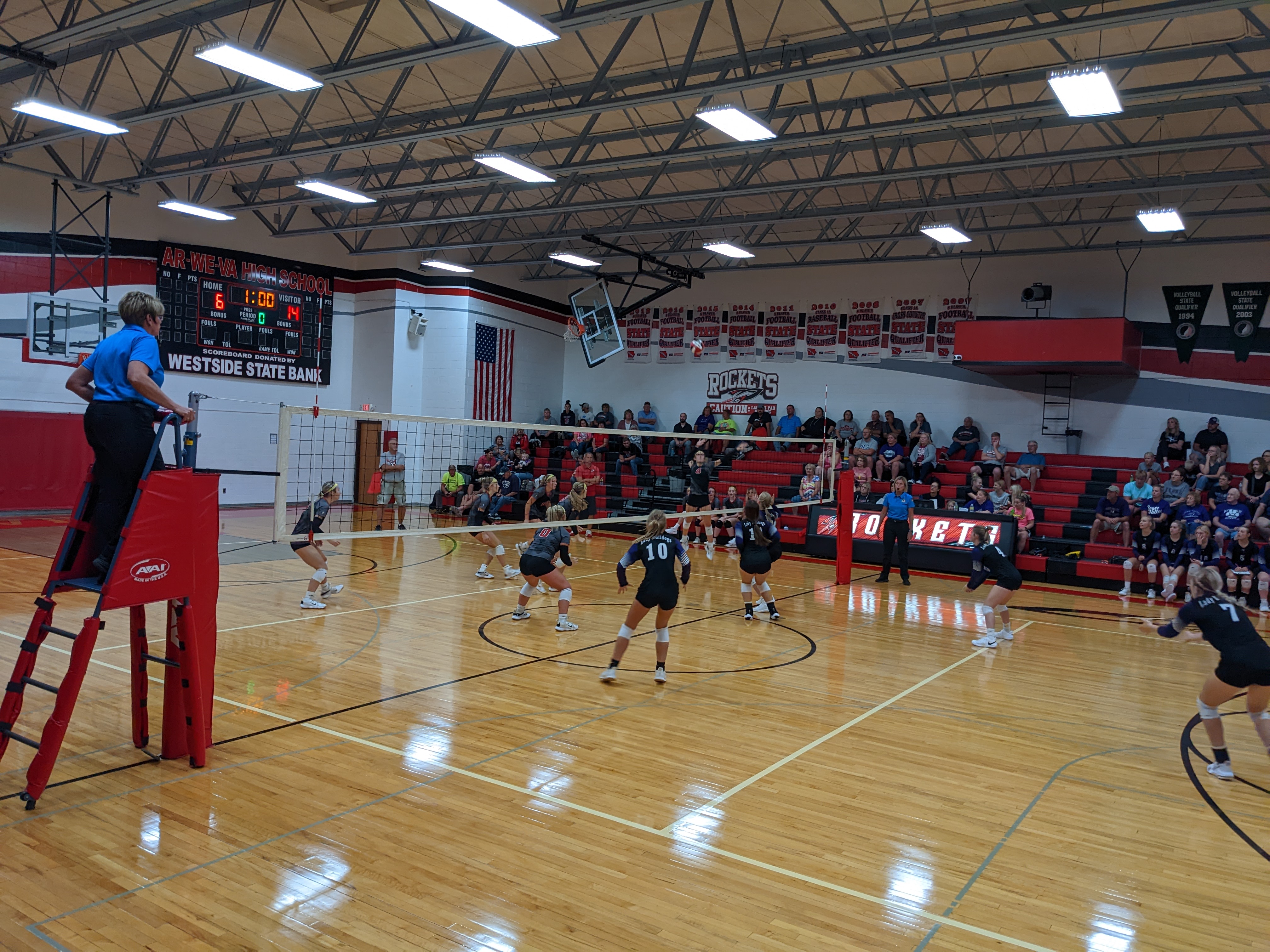 Volleyball Results Monday, September 19th 
Boyer Valley At Ar-We-Va 
Boyer Valley 3
Ar-We-Va 1
24-26, 25-16, 25-16, 25-16
Both teams played well on Monday in a Rolling Valley Conference match. The Rockets battled hard in a first set that changed leads three times and was tied six times, rallying back for a win. They fell down in set 2 but battled back from down 9 to pull within 5 only to see the set slip away. The Rockets took an early lead in set 3 but fell behind 6-5 as Boyer Valley slowly pulled away to win by 9. The fourth set started slowly for Ar-We-Va and they weren't able to recover.
Boyer Valley took an early 3-0 lead in set one but Ar-We-Va fought back with Maggie Ragaller cutting it to 3-2 on a kill. A Bulldog error tied the game at 3, but they went on a 5-0 run to lead the Rockets 8-3. Trista Reis served well for Ar-We-Va and they picked up a kill from Maggie Ragaller and a block from Makayla Schrad to pull within 8-7. Kora Obrecht kept the Rockets close with a kill, making it 10-8 Boyer Valley. The Bulldogs extended the lead to 13-8 but Maggie Ragaller stopped the run with a kill. Jamie Hausman had a kill, pulling Ar-We-Va within 16-12. Ar-We-Va went on another run with Delaney Schurke at the service line. Her ace serve followed a kill by Ragaller and the Rockets were back in it down, 17-16. A Ragaller kill tied the set at 18. Kora Obrecht tied it at 19 with a kill, then gave the Rockets their first lead with a block, making it 20-19. Boyer Valley scored two striaght and led 21-20, but Ar-We-Va tied it at 22. Boyer Valley nearly won, up 24-22 but a  net violation on an over pass made it 24-23. The Rockets tied it at 24, then got back to back errors from Boyer Valley to win the first set 26-24.
Boyer Valley took the lead early in set 2, but Delaney Schurke served an ace, cutting it to 3-2. The Bulldogs repsonded with a 6-1 run and lead 9-3. They extended the lead to 13-4 but back-to-back kills by Kora Obrecht and Jamie Hausman pulled the Rockets within 14-7. Samantha Hinners had a block to make it 16-10 and Ar-We-Va would pull within 16-11 but Boyer Valley pulled away to win 25-16.
Jamie Hausman had an ace to start the third set but Ar-We-Va lost the lead at 6-5 and never lead or tied the set again. Kora Obrecht had a kill, cutting the deficit to 9-6 and her ace serve pulled them within 15-11. The Rockets trailed by as many as 6 but back-to-back aces from Delaney Schurke cut the Bulldog lead to 20-16. Boyer Valley closed the set with a 5-0 run, to win 25-16.
Boyer Valley put set four away early with a 6-1 start. Samantha Hinners had a block, Kora Obrecht added a kill and a block and Jamie Hausman had a kill to keep the Rockets in striking distance, down 9-5. Boyer Valley sealed the match with a 7-0 run to lead 16-6. Maggie Ragaller had a kill and Trista Reis added an ace but Ar-We-Va was not able to cut into the deficit until late and fell for the third straight set 25-16.
The loss drops Ar-We-Va to 1-9 overall and 1-2 in the Rolling Valley Conference. They will host Exira-EHK on Tuesday.
Ar-We-Va Stats
Jamie Hausman 3 Kills, 8 Digs, Ace
Delaney Schurke 27 Assists, 4 Digs, 3 Aces
Kora Obrecht 10 Kills, 4 Digs, Ace
Maggie Ragaller 7 Kills, 2 Digs
Trista Reis 3 Digs, 3 Aces
Samantha Hinners 1 Kill