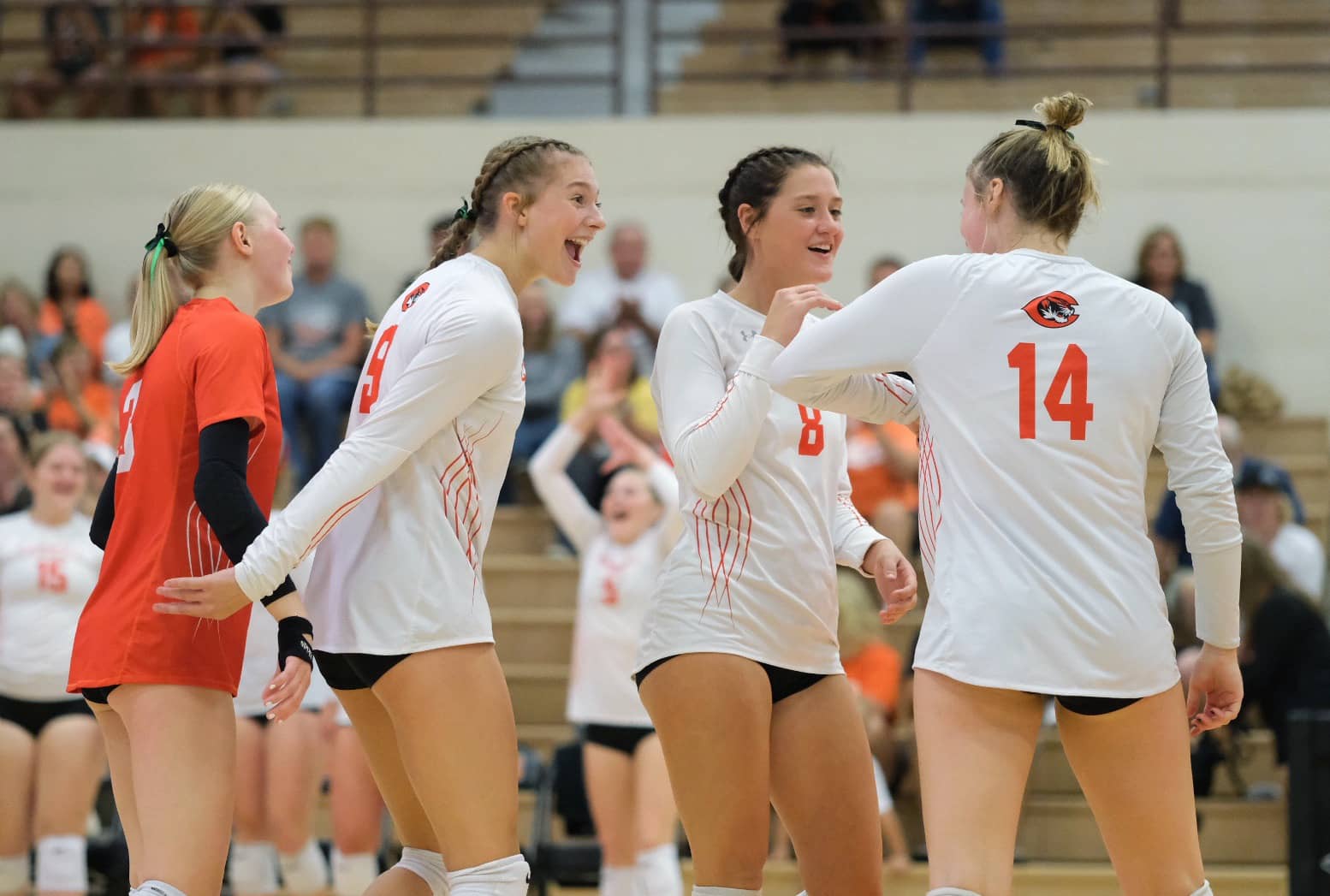 Volleyball Results Thursday, September 14th 
Winterset At Carroll 
Winterset 3
Carroll 0
25-19, 25-23, 25-20
Carroll played well at times on Thursday as they still try to find consistency, dropping a Raccoon River Conference match. The Tigers hit .040 on the night with 32 kills, having six players with at least kills, led by Katelyn Aden with 10 kills, Shay Sinnard added 8 kills while Olivia Rowedder, Madison Thornock and Camryn Schable all had 4 kills. Schable and Rowedder hit a team high .167 while Aden added a .133. Kaitlyn Tigges had a team high 19 assists and Riley Nagl dished out 9 assists.
The Tigers averaged 20.7 digs per set, with 62 total digs, led by Madison Tunning. The libero finished with 19, Kaitlyn Tigges added 9, Shay Sinnard had 8 and Madison Thornock added 7. Carroll finished with 7 blocks, with Olivia Rowedder, Shay Sinnard and Camryn Schable all having 2. The Tigers served at an 87.1% clip with 2 aces on the night. Ava Gross and Marasyn Wittrock each had one ace.
Carroll hung tough in all 3 sets with their best set being the second set. They fell 25-23. Carroll falls to 5-10 overall and 0-3 in the Raccoon River Conference. They host their tournament on Saturday.
Carroll Stats
Shay Sinnard 8 Kills, 8 Digs, 2 Blocks
Olivia Rowedder 4 Kills, Dig, 2 Blocks
Madison Thornock 4 Kills, 7 Digs
Katelyn Aden 10 Kills, 4 Digs, Block
Shayne Aschinger 2 Kills, 3 Digs
Camryn Schable 4 Kills, 2 Assists, 2 Blocks
Madison Tunning 1 Assist, 19 Digs
Riley Nagl 9 Assists, 4 Digs
Kaitlyn Tigges 19 Assists, 9 Digs
Ava Gross 1 Assist, 6 Digs, Ace
Marasyn Wittrock 1 Dig, Ace
Boyer Valley At Glidden Ralston 
Glidden Ralston 3
Boyer Valley 1
19-25, 25-17, 25-21, 25-15
It took a while for the Wildcats to get in their rhythm but they did early in set 2. They never trailed in the 2nd set, building a early led that grew to 9 late in the set. The Wildcats wouldn't trail in set three and led by as many as 7. The 4th set was a little tougher early as Boyer Valley came out and took the lead at 5-4 but the Wildcats rallied with back to back kills from Vanessa Koehler to take the lead, before Addy Boell extended the lead with an ace serve. Glidden Ralston pulled away down the stretch and ended the match on a ace from Summer Toms.
The Wildcats did a very nice job all night, finding the holes in the Bulldogs defense. Glidden Ralston worked the middle well with Lauren Hulsing, who played outstanding in sets 2 and 3 and Vanessa Koehler who was big in set 2 and then again in set 4. Koehler ended set 2 with a kill while Hulsing finished set 3 with a block. Both were outstanding on overpass attacks. Those two weren't the only hitters that were sharp. Paige Klocke was really strong in sets 1, 2 and 4, hitting both cross and line. Summer Toms gave the Wildcats another hitter, picking up several big kills while doing a nice job of using the blockers hands. Addy Boell moved the ball around very nicely. The back row was sharp, communicating well with their hitters.
Paige Klocke led a balanced attack at the net with 13 kills, followed by Lauren Hulsing and Vanessa Koehler each with 10 kills. Addy Boell had 28 assists to go with 14 digs. Tiela Janssen paced the back row with 42 digs and added 3 aces. Summer Toms had 14 digs and 3 aces and Paige Klocke added 3 aces. Ashlynn Tigges finished with 14 digs.
The Wildcats improve to 8-3 overall and 3-0 in the Rolling Valley Conference, remaining in first place. They travel to the AC-GC tournament on Saturday.
Glidden Ralston Stats
Ashlynn Tigges 1 Kill, 14 Digs, Ace
Lauren Hulsing 10 Kills, 7 Digs, 4 Blocks, Ace
Paige Klocke 13 Kills, 6 Digs, Block, 3 Aces
Summer Toms 4 Kills, 14 Digs, 3 Aces
Vanessa Koehler 10 Kills, Dig, 2 Blocks
Tiela Janssen 2 Assists, 42 Digs, 3 Aces
Addy Boell 28 Assists, 14 Digs
Audubon at Tri-Center
Tri-Center 3
Audubon 2
26-28, 25-21, 25-18, 22-25, 15-13
The Audubon Wheelers were in a five-set battle against Tri-Center Thursday almost coming out victorious, but were just a few points shy. 
Set one set the tone for the entire match as it went into extra points. Tri-Center held the early 4-2 lead until Audubon tied up the set at 5 points. The Wheelers were able to flip the script in their favor, holding a 17-13 lead until Tri-Center bounced back and tied up the set again at 20-20. Both teams went back and forth with the lead until Audubon was finally able to break a 26 all tie and win set one 28-26. Mattie Nielsen and Harlow Miller were two frontrunners for the Audubon offense with six and three kills respectively. Audubon spent the majority of set two behind Tri-Center as the Trojans got out to a 6-1 lead and kept their pace. It took Audubon nearly the entire set to get down one point at 20-21. Anna Larsen was a big help in that resurgence with five back-to-back ace serves. Tri-Center was able to use their height in the front row to their advantage and closed out set two with the 25-21 win. 
The biggest set back Audubon had in this game was serve receiving, with plenty of them being over-passed and Tri-Center getting points off tips at the net. Set three was another victory for Tri-Center and they kept their distance well. They got off to a 5-1 lead to start the set and led by as much as six points throughout the set and eventually came away with the 25-18 set win to be up 2-1 in sets. Audubon needed set four to go their way to force a fifth set and they got the start they needed. They led by as much as 10-2 in the beginning parts of the set until Tri-Center got the scoring run they needed to tie up the set at 12-12. The Wheelers and Trojans bounced the lead back and forth for the remainder of the set until Audubon broke the cycle and took a 22-20 lead and eventually won 25-22 and forced a fifth set. 
Addie Hocker in this contest did a good job of being in position to set the ball, coming away with 39 assists in the contest. Miller was able to come away with a solid game and 11 kills with Kylee Hartl led the team with 12 digs. In set five, both teams exhausted what energy they had left in another close set. Tri-Center got up 7-4 before Audubon bounced back and tied the set up at 8-8. Like in the previous set, both teams took time to tie up the set and take the lead. Tri-Center made some costly mistakes late that gave Audubon two points and some hope down 14-13. The Trojans got one final tip at the net that they needed to win the set 15-13 and win 3-2 in sets. 
The loss drops Audubon to 6-7 overall on the season. They are in action this weekend on Saturday, September 17th when they compete in the Carroll tournament. 
Audubon Stats
Madison Steckler: 8 Kills, 2 Digs
Kylee Hartl: 12 Digs, 1 Ace
Anna Larsen: 5 Digs, 5 Aces
Addie Hocker: 2 Kills, 39 Assists, 3 Digs, 4 Aces
Audrey Jensen: 9 Digs, 2 Aces
Mattie Nielsen: 20 Kills, 1 Assist, 10 Digs 
Kali Irlmeier: 4 Kills, 2 Digs
Sienna Albertsen: 1 Kill, 3 Digs
Harlow Miller: 11 Kills, 3 Digs, 3 Aces
Underwood At IKM-Manning 
Underwood 3
IKM-Manning 0
25-19, 25-13, 25-13
IKM-Manning battled well against one of the conference favorites to start the season, playing some of their best volleyball of the season. The Wolves fell in three sets but were in striking distance in the 1st set before falling 25-19. They dropped sets 2 and 3 25-13. Kylie Powers had a team high 6 kills, hitting .167. Amber Halbur continues to battle at setter, finishing with 10 assists on the Wolves 14 team kills. IKM-Manning had six different players finish with a kill. The Wolves were able to get touches at the net, leading to 7 blocks as a team with Kylie Powers leading the way with 4 blocks. The back row averaged 9.3 digs per set, finishing with 28, led by Anna Stangl with 9 and Amber Halbur with 8. Emmie Ring added 5 digs and an ace. Anna Stangl had a very good night serving, hitting on all 17 of her serves with 5 aces. The Wolves served at an 88.4% clip.
IKM-Manning falls to 1-5 overall and 0-3 in the Western Iowa Conference. They travel to the Carroll Tournament on Saturday.
IKM-Manning Stats
Amber Halbur 1 Kill, 10 Assists, 8 Digs, Ace
Laura McCarville 1 Kill, 2 Digs, Block
Megan Williams 1 Kill, Block
Mabel Langel 3 Kills
Kylie Powers 6 Kills,  2 Digs, 4 Blocks
Karlee Arp 2 Kills, Block
Ella Richards 2 Assists, Dig
Anna Stangl 9 Digs, 5 Aces
Eryn Ramsey 1 Dig
Emmie Ring 5 Digs, Ace
South Central Calhoun and West Bend Mallard At Emmetsburg 
South Central Calhoun Vs Emmetsburg 
South Central Calhoun 3
Emmetsburg 0
25-21, 26-24, 25-19
The Titans were in for a battle but eventually wore down the E-Hawks and picked up a sweep on the road in the Twin Lakes Conference. All three sets were tight with the Titans, taking command in the 2nd set with a hard fought 26-24 win to put themselves up 2-0. The Titans hit .220 as a team with 35 kills, spread out between six players. Riley Batta and Keira Hammen continue to swing well, with both having 12 kills. Hammen hit .550 and Batta swung at .310. Brenna McAlister added 7 kills. Jayci Graeve continues her breakout sophomore season, dishing out 29 assists to go with 8 digs. The Titans averaged 12. 7 digs per set, led by Kylee Schleisman 9 digs. South Central Calhoun was strong on defense at the net. Mollie Monohan and Riley Batta each had 3 blocks as the Titans finished with 8 blocks. Batta added a team high 3 aces as the Titans served 83.8% while having 6 aces.
South Central Calhoun Stats
Mollie Monahan 2 Kills, Dig, 3 Blocks
Riley Batta 12 Kills, 5 Digs, 3 Blocks, 3 Aces
Brenna McAlister 7 Kills, 3 Digs, Block, Ace
Norah Riedesel 1 Kill, 4 Digs, Ace
Addy Geno 1 Kill, 3 Digs
Keira Hammen 12 Kills, Dig, Block
Alexa Holm 1 Assist, 3 Digs
Jayci Graeve 29 Assists, 8 Digs
Elysia Smith 1 Dig, Ace
Kylee Schleisman 9 Digs
South Central Calhoun At West Bend Mallard
South Central Calhoun 3
West Bend Mallard 0
25-10, 25-17, 25-20
The Titans went 2-0 in matches and 6-0 in sets with a sweep of West Bend Mallard. South Central Calhoun rolled to an easy win in set 1, then picked up a comfortable win in set 2 before having to battle to complete the sweep, winning set 3 25-20. They hit the ball well again, killing .247 with 40 kills as a team. Riley Batta led two hitters in double figures with 15 kills while Keira Hammen finished with 10 kills. Brenna McAlister had 8 kills. Batta ended the match with a .333 kill efficiency while Hammen hit .304. Jayci Graeve found five hitters, finishing with 28 assists while Norah Riedesel added 7 assists. South Central Calhoun had 39 digs with Riley Batta having 10, Kylee Schleisman and Jayci Graeve each with 6 and Elysia Smith with 5. Batta added a team high 3 blocks while Mollie Monahan and Keira Hammen each had 2. Brenna McAlister and Norah Riedesel both had 2 aces as the Titans served at 86.4%.
The wins improved the Titans to 22-4 overall and 5-0 in the Twin Lakes Conference. They head to the Carroll Tournament on Saturday.
South Central Calhoun Stats
Mollie Monahan 5 Kills, 2 Blocks
Riley Batta 15 Kills, 10 Digs, 3 Blocks
Brenna McAlister 8 Kills, 4 Digs, 2 Aces
Addy Geno 2 Kills
Keira Hammen 10 Kills, Dig, 2 Blocks
Jaycie Graeve 28 Assists, 6 Digs, Ace
Norah Riedesel 7 Assists, 4 Digs, 2 Aces
Kylee Schleisman 2 Assists, 6 Digs
Alexa Holm 2 Digs
Sam Stuart 1 Dig
Elysia Smith 5 Digs
Coon Rapids Bayard at West Harrison
Coon Rapids Bayard 3
West Harrison 1
25-17, 21-25, 25-18, 27-25
The Coon Rapids Bayard Crusaders got back into the win column as they were able to win in four sets over West Harrison Thursday night.
Set one is where the Crusaders were able to get their pacing down and got off to a nice start. West Harrison battled well, but the Crusaders pulled out the 25-17 set one win. The Hawkeyes played even better in set two where they were able to win it 25-21 and tie up the match at one set apiece. Coon Rapids Bayard Head Coach Marissa Dembinski says her girls were all over the floor in this game making sure nothing hit the ground and felt they have been growing as a team in the early parts of the season. The Crusaders got back on track in set three, but still saw resistance from the Hawkeyes. Coon Rapids Bayard got ahead in the match by winning set three 25-18. Four Crusaders in this game got double digit digs, those being Lydia Hofbauer with 15, Anna Hart with 16, Gracy Johnson with 18, and Lacie Davis who led the team with 21. Malia Clayburg was also strong from the serving line, recording six aces. In the fourth and final set, West Harrison held the advantage late. The Hawkeyes were two points away from victory at 23-17, but the Crusaders found a way to force the set into extra points and win it 27-25 and won the match 3-1 in sets. 
The win elevates Coon Rapids Bayard to 4-11 overall on the season and 2-1 in the Rolling Valley Conference. They will be on the road on Saturday, September 17th when they compete in the OABCIG tournament. 
Coon Rapids Bayard Stats
Gracy Johnson: 5 Kills, 14 Assists, 18 Digs, 3 Aces
Anna Hart: 1 Kill, 1 Assist, 16 Digs, 3 Aces
Malia Clayburg: 6 Kills, 1 Assist, 7 Digs, 1 Block, 6 Aces
Violet Johnson: 5 Digs
Lydia Hofbauer: 5 Kills, 1 Assist, 15 Digs, 2 Aces
Shelbi Wiskus: 3 Kills, 1 Dig
Lacie Davis: 1 Kill, 2 Assists, 21 Digs, 2 Aces
Aubrey Hofbauer: 1 Kill, 3 Digs, 2 Aces
Ar-We-Va At Woodbine
Woodbine 3
Ar-We-Va 0
25-11, 25-14, 25-12
The Rockets struggled on the road Thursday, falling in 3 sets to Woodbine. The finished with 13 assists on 15 kills with 4 aces in the match.
The loss drops them to 1-5 overall and 1-1 in the Rolling Valley Conference. Ar-We-Va heads to the Carroll Tournament on Saturday.
Ar-We-Va Stats
Team totals
Kills 15
Assists 13
Aces 4
East Sac and Manson NW Webster at Storm Lake St. Mary's
East Sac vs Manson NW Webster
Manson NW Webster 3
East Sac 2
22-25, 25-17, 19-25, 25-12, 15-12
The East Sac Raiders were able to split a triangular Thursday night, defeating Storm Lake St. Mary's and losing to Manson NW Webster
In their match against Manson NW Webster, the Raiders took the Cougars all the way to five sets, and fell just short of victory. East Sac was able to keep their momentum up in set one and came away with a close 25-22 win. Manson NW Webster bounced back and set two and kept their pace up to a 25-17 win. Kate Vondrak and Kenna Meyer were two reasons this East Sac team went the distance. Meyer ended up with 15 kills and Vondrak led the team with 25 kills. East Sac once again came back with an answer in set three by winning 25-19, leading 2-1 in sets. The Cougars had their biggest set yet in set four and dominated by winning 25-12. In the fifth and final set, East Sac was able to snap out of their set four loss and went toe-to-toe with the Cougars. Ultimately, Manson NW Webster had a little bit left in the tank to get the job done and win 15-12 in the fifth set and win 3-2 in sets. 
Other notable stats from this match includes Mary Bontrager who was great from the serving line with five aces. She also led the team in assists with 18. Meyer was also strong defensively as she led the team with 17 digs. 
East Sac Stats
Jen Aschinger: 9 Assists, 13 Digs, 1 Ace
Mary Bontrager: 2 Kills, 18 Assists, 10 Digs, 2 Blocks, 5 Aces
Kenna Meyer: 15 Kills, 17 Digs, 1 Ace
Kendall Quirk: 2 Kills, 8 Assists, 3 Blocks
Sidney Bieret: 1 Dig
Kate Vondrak: 25 Kills, 11 Digs, 3 Blocks
Kierstin Carroll: 2 Kills, 7 Digs, 1 Ace
Tristin Ludwig: 7 Digs, 1 Ace
Greeley Schlepp: 11 Digs, 1 Ace
Addisen Ehler: 12 Kills, 3 Digs, 3 Blocks, 1 Ace
East Sac Vs Storm Lake St. Mary's
East Sac 3
Storm Lake St. Mary's 1
15-25, 25-6, 25-16, 25-17
In match two for East Sac, they were able to get out ahead of Storm Lake St. Mary's past a set one loss. 
The Panthers were able to establish their pace in set one and took it to the Raiders 25-15. East Sac quickly got back on track in set two with a dominant 25-6 win. Kate Vondrak kept swinging in this match, putting up a team high 10 kills. Storm Lake St. Mary's was able to keep pace a bit better in set three, but the Raiders kept their offense sharp and got a 25-16 set win. In the fourth set, East Sac saw some more resistance from the Panthers, but they got the job done by winning 25-17 and winning the match 3-1 in sets. 
Kenna Meyer was one again the leader in digs with 19, but aces were the highlight of the match for her. She ended up with 11 aces against the Panthers. As a team, East Sac had 24 ace serves. The win and loss brings East Sac's record to 11-12 overall on the season and  3-3 in the Twin Lakes Conference. The Raiders are back in action on Thursday, September 22nd when they host Emmetsburg. 
East Sac Stats
Jen Aschinger: 1 Kill, 5 Assists, 5 Digs, 5 Ace
Mary Bontrager: 12 Assists, 10 Digs, 2 Ace
Kenna Meyer: 7 Kills, 19 Digs, 1 Block, 11 Aces
Jamie Pierce: 2 Kills
Sidney Bieret: 5 Assists, 1 Dig
Kate Vondrak: 10 Kills, 9 Digs, 2 Blocks, 2 Aces
Ella Wilson: 2 Assists, 2 Digs
Tristin Ludwig: 3 Digs
Kamryn Ross: 8 Kills, 6 Digs, 1 Block
Greeley Schlepp: 1 Kill, 7 Digs, 4 Aces
Addisen Ehler: 6 Kills, 2 Digs