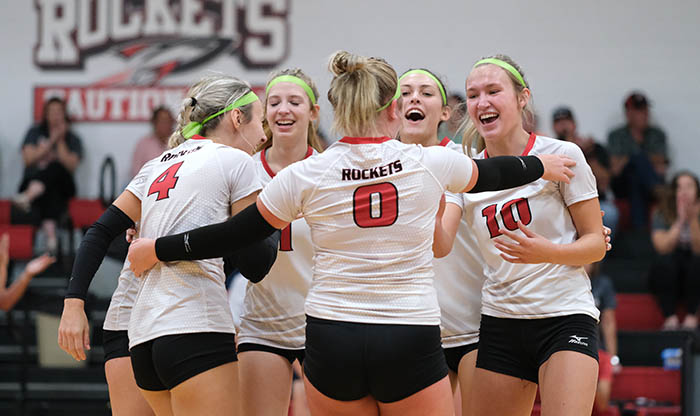 Volleyball Results Tuesday, September 13th 
Carroll At Denison Schleswig 
Carroll 3
Denison Schleswig 1
22-25, 25-19, 25-18, 25-22
Carroll won their second straight match, improving to 5-9 on the season. They rallied after dropping the first set to win the next three. The Tigers held Denison Schleswig to a -.027 hitting percentage while swinging at a .133 clip themselves. Six different players finished with a kill for Carroll with the team having 46 kills to 20 for the Monarchs. Carroll also won the service battle, picking up 10 aces while serving 89.6% while Denison Schleswig finished with an 88% service efficiency along with 4 aces.
Carroll dropped the first set by 3 points, then rolled in sets 2 and 3, winning by 6 and 7 points. The 4th set was tight and Carroll was able to make plays late in the set to win 25-22.
Shay Sinnard paced the Tigers with 14 kills, Madison Thornock ended with 9 kills and Katelyn Aden and Camryn Schable both had 8 kills. Kaitlyn Tigges passed out 22 assists while Riley Nagl added 18 assists. Madison Tunning had a team high 13 digs with Shay Sinnard adding 10 digs, Ava Gross had 8 digs and Kaitlyn Tigges finished with 7 digs. Camryn Schable and Katelyn Aden each had 3 blocks for Carroll while Olivia Rowedder had 2. Madison Tunning and Riley Nagl led the attack at the service line with 3 aces each.
Carroll will host Winterset on Thursday.
Carroll Stats
Shay Sinnard 14 Kills, Assist, 10 Digs, Block, Ace
Madison Tunning 1 Assist, 13 Digs, 3 Aces
Riley Nagl 18 Assists, 6 Digs, 3 Aces
Olivia Rowedder 5 Kills, Dig, 2 Blocks
Kaitlyn Tigges 22 Assists, 7 Digs, Ace
Madison Thornock 9 Kills, 6 Digs
Katelyn Aden 8 Kills, 3 Digs, 3 Blocks
Shayne Aschinger 2 Kills, Dig
Camryn Schable 8 Kills, Assist,  4 Digs, 3 Blocks
Marasyn Wittrock 3 Digs, Ace
Ava Gross 8 Digs, Ace
Kuemper and St Albert At Red Oak 
Kuemper Vs St Albert 
Kuemper 3
St Albert 0
25-11, 25-19, 25-15
Kuemper came out sharp against St Albert and never really looked back. A dominant win in set 1, set the tempo for the Knights, who picked up a sweep in Hawkeye 10 Conference play. The Knights had to battle in set 2 but won 25-19, then controlled set 3 on their way to the sweep with a 25-15 win.
Lauren Boell had the best overall match of her young varsity career. She was strong in several aspects of the game, finishing with 12 kills, 3 blocks and 4 aces. Sophie Badding continued the strong start to her season with 10 kills and a team high 4 blocks. Aubrey Heuton added 7 kills and Frannie Glynn finished with 6 kills and 3 blocks. Ashlyn Badding led the setters with 23 assists while adding 3 aces. Macy Simons pitched in 14 assists. Kaylie Simons led the back row with 9 digs and Brooke Rohe finished with 6 digs.
Kuemper Stats
Sophie Badding 10 Kills, 4 Blocks
Frannie Glynn 6 Kills, 3 Blocks
Kaci Peter 3 Kills
Brianna Wittrock 2 Kills, Ace
Lauren Boell 12 Kills, 3 Digs, 3 Blocks, 4 Aces
Aubrey Heuton 7 Kills
Ashlyn Badding 23 Assists, 4 Digs, 3 Aces
Macy Simons 14 Assists, Ace
Elsa Tiefenthaler 2 Assists
Kaylie Simons 1 Assist, 9 Digs, Ace
Brooke Rohe 6 Digs
Karsyn Overmohle 1 Ace
Kuemper Vs Red Oak 
Kuemper 3
Red Oak 0
25-23, 25-14, 25-21
Kuemper began their night with a hard fought win over one of the traditional powers in the Hawkeye 10. The Knights pulled out a hard fought 25-23 win in set 1, then cruised in set 2, rolling to a 25-14 win giving them the momentum they needed to sweep the Tigers. Kuemper held on for a 4 point win in set 3.
Sophie Badding led a strong attack with 14 kills to go with 5 blocks. Frannie Glynn was strong as well with 9 kills and 3 blocks. Lauren Boell added 7 kills and 4 blocks while Aubrey Heuton added 5 kills. Ashlyn Badding ended her match with 23 assists, Macy Simons added 15 assists. Kaylie Simons had a team high 7 digs, Brooke Rohe added 6 digs.
The pair of wins improves Kuemper to 16-3 overall and 5-0 in the Conference. They head to Heelan on Sunday for the CYO Tournament.
Kuemper Stats
Sophie Badding 14 Kills, 5 Blocks
Frannie Glynn 9 Kills, Ace, 3 Blocks
Kaci Peter 3 Kills
Brianna Wittrock 1 Kill, 2 Digs
Lauren Boell 7 Kills, 4 Blocks
Aubrey Heuton 5 Kills
Ashlyn Badding 23 Assists, 4 Digs, Ace
Macy Simons 15 Assists, 3 Digs
Kaylie Simons 7 Digs, Ace
Brooke Rohe 6 Digs
Glidden Ralston At Woodbine 
Glidden Ralston 3
Woodbine 1
26-24, 25-19, 11-25, 25-15
Glidden Ralston got a huge conference road win on Tuesday, picking up their fourth win in a row overall. They battled hard in the 1st set, falling behind 8-3 early but fighting back to tie it at 9. After falling behind by 3 again, they fought back with Ashlynn Tigges picking up back-to-back aces, tying the set at 15. Tigges served another tough serve, getting the Tigers out of system and Glidden Ralston took their first lead at 16-15. They fell behind again, trailing 23-20. Addy Boell tied the set at 23, then Vanessa Koehler tied it at 24 with a kill. The Wildcats scored the next two points on hustle plays and won the 1st set by 2. The first set was tied 10 times, with the lead changing 6 times. Set 2was tied 3 times and the lead only changed twice as Glidden Ralston got a nice service run by Paige Klocke, highlighted by kills from Vanessa Koehler and Summer Toms. They built an 11 point lead before Woodbine began to cut into it. They closed within 23-19 before the Wildcats scored the last 2 points with Lauren Hulsing hitting the set ending kill. Woodbine trailed 2-1 in set 3 before rolling, leading by as many as 14. The Wildcats struggled to stay in system and fell 25-11. The early part of set 4 was tight but Glidden Ralston grabbed the lead last at 4-3, extending the lead to 7-3. A Woodbine timeout didn't slow the run but Glidden Ralston as they stretched the lead to 15-7. Woodbine wasn't going away easy, pulling within 15-11 and 17-12 but Glidden Ralston took advantage of every Tiger miscue and Vanessa Koehler picked up the match ending kill.
Vanessa Koehler led a balanced Wildcats attack at the net with 12 kills and 8 digs, Paige Klocke added 6 kills and 4 aces. Summer Toms and Lauren Hulsing both had 5 kills while Hulsing had 4 aces, Toms had 20 digs. Tiela Janssen led the back row with 46 digs and Ashlynn Tigges finished with 22 digs.
The Wildcats improve to 7-3 overall and 2-0 in the Rolling Valley Conference. They host Boyer Valley on Thursday on KIKD 106.7.
Glidden Ralston Stats
Addy Boell 1 Kill, 22 Assists, 18 Digs, 2 Aces
Lauren Hulsing 5 Kills, 6 Digs, 4 Aces
Paige Klocke 6 Kills, 10 Digs, 4 Aces
Summer Toms 5 Kills, 20 Digs, Ace
Vanessa Koehler 12 Kills, 8 Digs
Tiela Janssen 1 Assist, 46 Digs
Ashlynn Tigges 22 Digs, Ace
Paton Churdan At Boyer Valley 
Boyer Valley 3
Paton Churdan 0
25-8, 25-14, 25-19
Paton Churdan made a long road trip for a second night in a row, falling short in a Rolling Valley Conference match. The Rockets started slowly but improved in each of the three sets, dropping set 3, 25-19. They struggled to get things going at the net with Paige Teeples  and Calleigh Fitzpatrick each with 2 kills. Bailey Anderson led the team with 3 assists. Paige Teeples had 8 digs while Emma Stream and Bailey Anderson each had 3 digs. Becca Anderson had a team high 2 aces.
The Rockets fell to 0-9 overall and 0-2 in the Rolling Valley Conference. They travel to CAM Anita on Tuesday.
Paton Churdan Stats
Bailey Anderson 3 Assists, 3 Digs, Block, Ace
Tarynn Fisher 5 Digs, Block
Emma Stream 1 Kill, Assist, 3 Digs, Ace
Paige Teeples 2 Kills, 8 Digs, Ace
Becca Anderson 1 Kill, 3 Digs, Block, 2 Aces
Calleigh Fitzpatrick 2 Kills
Mia Russell 1 Dig
West Harrison at Ar-We-Va
Ar-We-Va 3
West Harrison 0
25-17, 25-17, 25-12
The Ar-We-Va Rockets picked up their first win of the season as they swept the West Harrison Hawkeyes Tuesday night.
The Rockets were going back and forth with the lead with West Harrison in the first set, being tied at 7-7 at one point. Ar-We-Va started to eventually take over the set with nice sets from Delaney Schurke and strong swings from Jamie Hausman and Maggie Ragaller. West Harrison climbed back in the game and was down one point at 15-14, but Ar-We-Va closed out the set going on a 10-3 scoring run to win 25-17. The Rockets in this game was led offensively by Maggie Ragaller who finished with a team high 14 kills. In set two, the Rockets were out ahead by 10 or more points for the large majority of the set. West Harrison, down 20-11, got on a stretch of scoring, going 6-1 to get down 22-17. The Rockets kept swinging away at the net and ended up with another 25-17 set win.
Set three is where the Rockets started to take advantage of West Harrison's tough night of serve receiving. Trista Ries in this set had four consecutive aces for the Rockets and kept their momentum going. In total, the Rockets had 17 Aces against the Hawkeyes, with Schurke leading the team with five total. Ar-We-Va closed out set three in dominant fashion with a 25-12 win to pick up their first win of the season.
The win elevates the Rockets to 1-4 overall on the season. They will be on the road Thursday when they take on Woodbine. 
Ar-We-Va Stats
Jamie Hausman: 9 Kills, 2 Aces
Delaney Schurke: 2 Kills, 28 Assists, 4 Aces
Trista Ries: 4 Aces
Kora Obrecht: 6 Kills, 1 Assist, 1 Block, 2 Aces
Maggie Ragaller: 14 Kills, 1 Block, 2 Aces
Sammie Hinners: 1 Kills, 2 Blocks
Amber Ragaller: 2 Kills, 1 Block
Elizabeth Brunner: 2 Aces
IKM-Manning at Tri-Center
Tri-Center 3
IKM-Manning 0
25-17, 25-14, 25-15
The IKM-Manning Wolves were able to keep up with Tri-Center at times in their match Tuesday, but they ultimately fell to the Trojans. 
IKM-Manning had a solid start in the first set and were able to put up 17 points. They had a tough match against Missouri Valley that prepared them for some strong offenses this season. Tri-Center was able to stay ahead and picked up the 25-17 set one win. Mabel Langel led the offense with four kills total and was backed up by Magen Williams and a returning Laura McCarville who both had three kills. Tri-Center saw their best set in set two where they got past IKM-Manning 25-14. In set three the Wolves were trying to get back to form and stick with the Trojans. Tri-Center were ultimately able to finish out the match with a 25-15 win over IKM-Manning and won 3-0 in sets. 
Other notable stats from this game includes Williams who had two blocks and Amber Halbur and Ella Richards who shared the assist duties with seven each. The Wolves close out their week of competition with a home game against Underwood on Thursday, September 15th. 
IKM-Manning Stats
Megan Williams: 3 Kills, 2 Blocks
Mabel Langel: 4 Kills
Laura McCarville: 3 Kills, 1 Ace
Kylie Powers: 2 Kills, 2 Blocks, 1 Ace
Karlee Arp: 2 Kills, 1 Assist
Amber Halbur: 7 Assists
Ella Richards: 7 Assists, 3 Digs, 1 Ace
Anna Stangl: 4 Digs, 2 Ace
Eryn Ramsey: 3 Digs
Emmie Ring: 3 Digs
Audubon at Missouri Valley
Missouri Valley 3
Audubon 0
25-15, 25-8, 25-16
The Audubon Wheelers had a tough road game Tuesday night as they took on Western Iowa Conference leaders Missouri Valley. 
The Wheelers in set one held on for a while with the Lady Reds until Missouri Valley took over and took set one 25-15. Mattie Nielsen continues to gain confidence on the volleyball court after an injury sidelined her last season. She put up 10 kills and four digs in this game. Missouri Valley kept the pressure on in set two and didn't give Audubon time to get into a rhythm. The Lady Reds came away with set two by a score of 25-8. Audubon's best set was in the final set when they gained some momentum back. The Lady Reds were still able to keep their offense fed and came away with the three set sweep with a 25-16 set three win.
Some other notable performances from Audubon were Audrey Jensen being a solid support defensively leading the team with six digs and Anna Larsen gave the Wheelers some points from the serving line with two aces. The loss drops the Wheelers to 6-6 overall on the season. They are in action Thursday when they travel to take on Tri-Center. Tyler Brunner will broadcast that game on 93.7 KKRL starting around 7 PM. 
Audubon Stats
Madison Steckler: 2 Kills
Kylee Hartl: 5 Digs
Anna Larsen: 3 Digs, 2 Ace
Audrey Jensen: 6 Digs
Mattie Nielsen: 10 Kills, 4 Digs
Sienna Albertsen: 1 Kill, 2 Digs
Harlow Miller: 2 Kills, 1 Block
Addie Hocker: 15 Assists, 1 Block
Rylee Brittain: 2 Digs, 1 Block