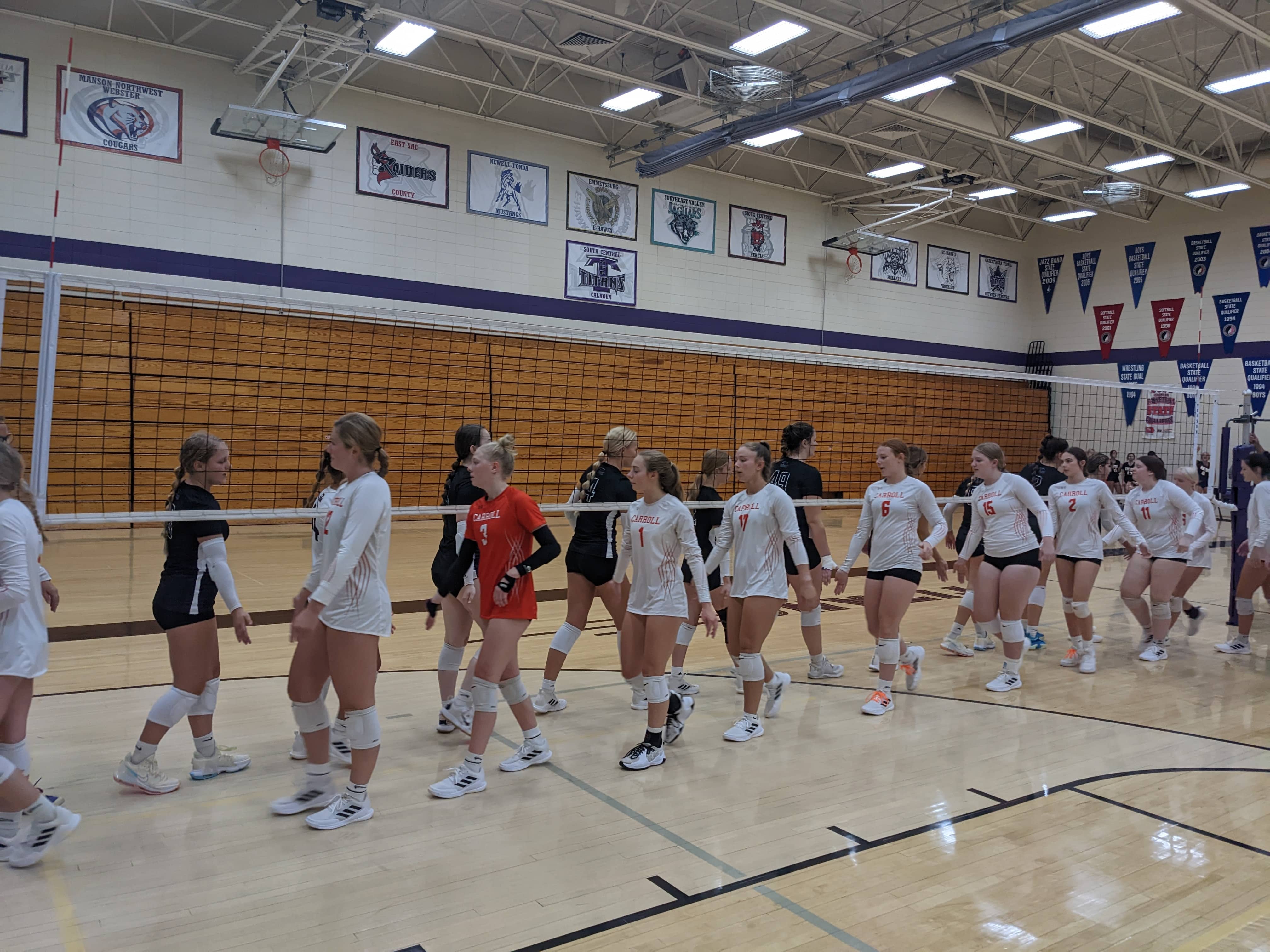 Volleyball Results Saturday, September 10th 
Carroll, East Sac and Kuemper At South Central Calhoun Tournament 
South Central Calhoun won a tournament for a second straight Saturday, only dropping 1 set the entire day. They finished 6-0 in matches and 12-1 in sets, avenging an early season loss to Ridge View, winning 2-1. Kuemper finished 2nd overall, going 5-1 in matches and 10-5 in sets, falling to South Central Calhoun in 2 sets. The Titans had beaten Kuemper at the Humboldt Tournament on the opening Saturday of the season. The Knights dropped a set to East Sac and Kingsley Pierson for their other set losses. East Sac was 5th on Saturday. The Raiders started slowly, dropping their first couple matches, finishing the day 2-4 in matches and 7-9 in sets. They beat Carroll and Kingsley Pierson while dropping 3 set matches to Kuemper, Winterset and Ridge View. Carroll was 6th Saturday, going 1-5 in matches and 4-11 in sets. The Tigers beat Kingsley Pierson in 3 sets and had tough 3 set losses to East Sac and Winterset. Their loss to East Sac in set 5 was 15-12. Ridge View went 4-2 on the day, taking 3rd place, Winterset was 2-4 and Kingsley Pierson ended up 7th with a 1-5 match record.
Keira Hammen, Riley Batta and Brenna McAlister all had good days swinging for the Titans with Hammen leading the attack with 38 kills, Batta had 34 kills and McAlister added 24 kills. Jayci Graeve kept them all getting sets with 101 assists. The Titans were solid in the back row with Kylee Schleisman leading the way with 44 digs, Alexa Holm added 34 digs, Riley Batta had 25 digs, Brenna McAlister 17 digs and Jayci Graeve with 16 digs. Mollie Monahan was very strong at the net defensively with a team high 13 blocks, followed by Keira Hammen with 7, Brenna McAlister with 6 and Riley Batta with 4. Batta had a team high 11 aces, Jayci Graeve and Norah Riedesel each had 6 aces and Sam Stuart added 4 aces.
Sophie Badding led Kuemper with 30 kills while Kaci Peter added 27 kills, Frannie Glynn had 22 kills and Aubrey Heuton added 18 kills. Ashlyn Badding and Macy Simons both had a good day setting with Badding dishing out 65 assists and Simons 52. Kaylie Simons paced the back row with 58 digs, followed by Brooke Rohe had 23 digs and Brianna Wittrock finished with 16 digs. Sophie Badding had a team high 20 blocks with Brianna Wittrock with 12 and Frannie Glynn 10. Macy Simons led the Knights with 6 aces with Aubrey Heuton adding 3.
East Sac had three girls with 30 or more kills, led by Kate Vondrak with 33, Kenna Meyer 32 and Addisen Ehler 30. Mary Bontrager had a team high 58 assists, Kendal Quirk added 27 and Jen Aschinger added 25 assists. Kenna Meyer paced the back row with 52 digs, Mary Bontrager had 39 digs, Kate Vondrak 36 digs and Addisen Ehler added 20 digs. Vondrak was outstanding defensively at the net with 23 blocks. Mary Bontrager led the servers with 7 aces followed by Kenna Meyer and Greeley Schlepp with 3 each.
Shay Sinnard and Katelyn Aden both had a 18 kills and Olivia Rowedder had 13 kills for a balanced Carroll attack at the net. Shayne Aschinger and Camryn Schable each had 12 kills. Kaitlyn Tigges led the Tigers with 42 assists and Riley Nagl added 30 assists. Madison Tunning led the back row with 51 digs, Ava Gross had 26 digs, and Shay Sinnard and Kaitlyn Tigges both had 23 digs. Camryn Schable paced the defensive at the net with 5 blocks and Olivia Rowedder added 4 blocks. Kaitlyn Tigges led the attack at the servive line with 4 aces, Olivia Rowedder each had 3 aces and Shay Sinnard and Mackenzie Johnson each had 2 aces.
South Central Calhoun heads to Emmetsburg with West Bend Mallard for a triangular on Thursday. Kuemper and St Albert head to Red Oak for a triangular on Tuesday. East Sac and Manson NW Webster go to Storm Lake St Mary's on Thursday. Carroll High hosts Denison Schleswig on Tuesday.
Full match scores and stats for all 4 teams are below.
Match Scores
South Central Calhoun 2
East Sac 0
21-9, 21-16
Kuemper 2
East Sac 1
21-14, 16-21, 15-12
South Central Calhoun 2
Winterset 0
21-11, 21-12
South Central Calhoun 2
Kingsley Pierson 0
21-17, 21-12
Kuemper 2
Winterset 1
21-6, 12-21, 15-7
Kuemper 2
Ridge View 0
21-14, 21-19
South Central Calhoun 2
Ridge View 1
21-14, 16-21, 17-15
Kuemper 2
Kingsley Pierson 1
21-9, 16-21, 15-5
South Central Calhoun 2
Kuemper 0
22-20, 21-17
Carroll 2
Kingsley Pierson 1
21-17, 12-21, 15-8
Ridge View 2
Carroll 0
21-13, 21-16
Kuemper 2
Carroll 0
21-17, 21-17
Ridge View 2
East Sac 1
19-21, 21-9, 15-12
South Central Calhoun 2
Carroll 0
21-11, 21-17
East Sac 2
Kingsley Pierson 0
21-15, 21-17
Winterset 2
Carroll 1
21-12, 14-21, 15-10
East Sac 2
Carroll 1
21-10, 17-21, 15-12
Winterset 2
East Sac 1
17-21, 21-7, 16-14
South Central Calhoun Stats
Mollie Monahan 5 Kills, 13 Blocks
Riley Batta 34 Kills, Assist, 25 Digs, 4 Blocks, 11 Aces
Brenna McAlister 24 Kills, Assist, 17 Digs, 6 Blocks, 3 Aces
Alexa Holm 34 Digs, 2 Aces
Jayci Graeve 2 Kills, 101 Assists, 16 Digs, 2 Blocks, 6 Aces
Sam Stuart 7 Digs, 4 Aces
Norah Riedesel 3 Digs, 6 Aces
Addy Geno 9 Kills, Dig
Kylee Schleisman 2 Assists, 44 Digs
Keira Hammen 38 Kills, 2 Assists, 7 Blocks
Kuemper Stats
Ashlyn Badding 65 Assists, 10 Digs, Ace
Macy Simons 52 Assists, 7 Digs, 6 Aces
Kaylie Simons 4 Assists, 58 Digs, Ace
Brianna Wittrock 12 Kills, 2 Assists, 16 Digs, 12 Blocks, 2 Aces
Sophie Badding 30 Kills, 20 Blocks
Frannie Glynn 22 Kills, Assist, 10 Blocks
Aubrey Heuton 18 Kills, 4 Digs, 4 Blocks, 3 Aces
Brooke Rohe 1 Assist, 23 Digs
Kaci Peter 27 Kills, 3 Blocks, Ace
Lauren Boell 15 Kills, 6 Blocks
Elsa Tiefenthaler 1 Kill, Assist
Allison Ostrander 1 Ace
East Sac Stats
Jen Aschinger 1 Kill, 25 Assists, 13 Digs, Ace
Mary Bontrager 2 Kills, 58 Assists, 39 Digs, 4 Blocks, 7 Aces
Kenna Meyer 32 Kills, 2 Assists, 52 Digs, Block, 3 Aces
Kendal Quirk 1 Kill, 27 Assists, 2 Digs, 2 Blocks
Kate Vondrak 33 Kills, 36 Digs, 23 Blocks, Aces
Kiersten Carroll 4 Kills, 10 Digs
Tristin Ludwig 11 Digs, Ace
Greeley Schlepp 3 Kills, 13 Digs, 3 Aces
Addisen Ehler 30 Kills, Assist, 20 Digs, 2 Blocks, 2 Aces
Carroll Stats 
Shay Sinnard 18 Kills, 23 Digs, Block, 2 Aces
Mackenzie Johnson 1 Kill, 2 Aces
Madison Tunnihng 8 Assists, 51 Digs, Ace
Riley Nagl 30 Assists, 17 Digs
Olivia Rowedder 13 Kills, Assist, 4 Digs, 4 Blocks, 3 Aces
Kaitlyn Tigges 1 Kill, 42 Assists, 23 Digs, 4 Aces
Madison Thornock 8 Kills, 14 Digs, 2 Blocks, Ace
Katelyn Aden 18 Kills, 4 Digs, Block
Camryn Schable 12 Kills, Assist, 2 Digs, 5 Blocks
Ava Gross 1 Kill, 26 Digs, Ace