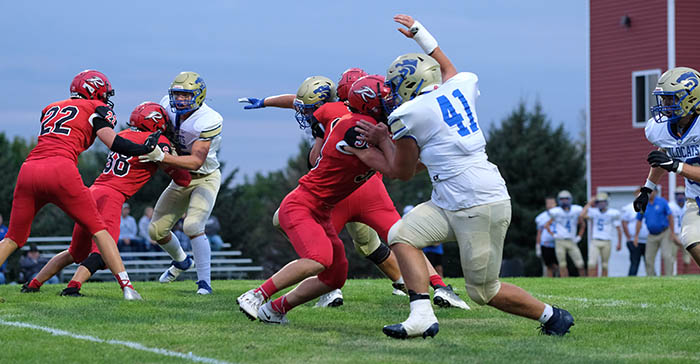 Glidden Ralston At Ar-We-Va 
Ar-We-Va 38
Glidden Ralston 28
The game had several ebbs and flows on Friday as Glidden Ralston controlled the early part of both halves but couldn't hold off the Rockets rally in each half and Ar-We-Va picked up their first win of the season as both teams sit 1-2 heading into Week 4. The Wildcats used a couple short fields on their first two possessions to build a 14-0 lead. The Wildcats nearly took the opening kick back for a touchdown, starting their first drive at the Rockets 25 yard line. It took them five plays to find pay dirt when John Whitver hit Mark Lensch for a 14-yard touchdown.  The Wildcats went for 2 and got it, leading 8-0 with 9:50 left in the 1st quarter. Ar-We-Va nearly answered, breaking off a big run on their opening possession but it was called back and they ended up punting deep in their own territory. Glidden Ralston started their next drive at the Rocket 39 yard line. This time they scored in 3 plays on a Jackson Sklenar 2-yard run. Their lead sat at 14-0 with a chance to grow. The defense forced a second straight three and out for the Rockets, but this time Ar-We-Va pinned Glidden Ralston at their own 11-yard line. Ar-We-Va  stood tall on defense, forcing a punt. They took advantage of their best field position of the game, scoring quickly when Wyatt Ragaller busted off a 34-yard touchdown run. The Rockets trailed 14-6 with 4:09 left in the 1st quarter.
Emmett Snyder gave Glidden Ralston another chance to build on their lead, recovering a fumble at the Ar-We-Va 22. Glidden Ralston had a penalty and the Rocket defense shoved them backwards, taking over on downs at their own 33 yard line. Ar-We-Va put together their best drive of the game, tying it at 14 when Blayne Smith hit Wade Ragaller for a 27 yard touchdown with 9:29 left in the half. The Wildcats started their next drive at their own 33 but were forced to punt. Ar-We-Va punted it right back, pinning the Wildcats at their own 2 yard line. The change in field position helped Ar-We-Va start their next drive at the Glidden Ralston 28. Wyatt Ragaller scored his second rushing touchdown of the game, this time from 2-yards out with 2:53 left in the half. They added another score just before half when Blayne Smith found a wide open Harley Molina down the middle for a 28-yard touchdown with 0:28 left in the half. Ar-We-Va rallied from down 14-0 to lead 26-14 at half.
Emmett Snyder came up with his second turnover of the game for the Wildcats, picking off a pass at the Rockets 15 yard line. Ethan Olberding scored on the next play, scampering 15-yards for the touchdown. The Wildcats defense forced a quick 3 and out and the Wildcats were in business again at the Rocket 38 yard line. John Whitver finished off the drive with a 20-yard touchdown pass to Jackson Sklenar. Glidden Ralston led 28-26 with 3:38 left in the 3rd quarter. Ar-We-Va exploded right back into the game, scoring in 2 plays, on a touchdown catch from Wade Ragaller, his second touchdown catch of the game. Ar-We-Va jumped ahead 32-28. Glidden Ralston established their ground game, methodically moving the gall down the field. They looked like they would punch it into the end zone, facing 3rd and 2 at the Rockets 5-yard line. Wade Ragaller blew through the line of scrimmage and made a tackle in the backfield, forcing the Wildcats into a 4th and 6. Glidden Ralston tried to go to the air to score but Wyatt Ragaller jumped the passing lane and caught an underthrown ball, racing 77-yards for a touchdown, putting the Rockets up 38-28 with 9:45 left. Glidden Ralston turned it over on downs on their next possession, but got the ball back. Their final drive started on their own 1-yard line with 1:47 left. They weren't able to score and the loss dropped them to 1-2 on the season.
Ar-We-Va fan for 124 yards on 29 carries with Wyatt Ragaller leading the way with 88 yards on 17 carries and Wade Ragaller finishing with 35 yards on 10 carries. Blayne Smith threw for 130 yards, going 13-24 with 3 touchdowns and 1 interception. Wyatt and Wade Ragaller each had 5 catches with Wyatt picking up 34 yards and Wade 73 yards and 2 touchdowns. Harley Molinda had 3 catches for 23 yards and a touchdown. Wade Ragaller paced the defense with 14 tackles and 3.5 for a loss. Wyatt Ragaller had 10 tackles and an interception he returned 77 yards for a touchdown. Tyson Von Glan and Devon Ehlers both at 6.5 tackles with Ehlers having 2.5 for a loss. Jonathan Riesselman recovered a fumble. Wyatt punted five times for 36.6 yards per punt.
Glidden Ralston ran for 199 yards with Emmett Snyder rushing for 112 yards on 13 carries, Ethan Olberding ran for 61 yards on 14 carries and Jackson Sklenar finished with 20 yards. John Whitver threw for 100 yards with a pair of touchdowns with an interception. Jackson Sklenar was their top receiver with 5 catches for 86 yards and a touchdown. Mark Lensch had one catch for 14 yards and touchdown. Ethan Olberding and Alex Daniel both had 7 tackles to lead the Wildcats. Jackson Sklenar added 5.5 tackles. Emmett Snyder had an interception and a fumble recovery. Lucas Christian returned 3 kickoffs for 50 yards.
Ar-We-Va hosts River Valley (0-3) on Friday night while Glidden Ralston entertains 0-3 Siouxland Christian.
Box Score
Teams      1       2       3      4     Final
GR              14      0       14     0         28
AWV            6     20      6      6          38