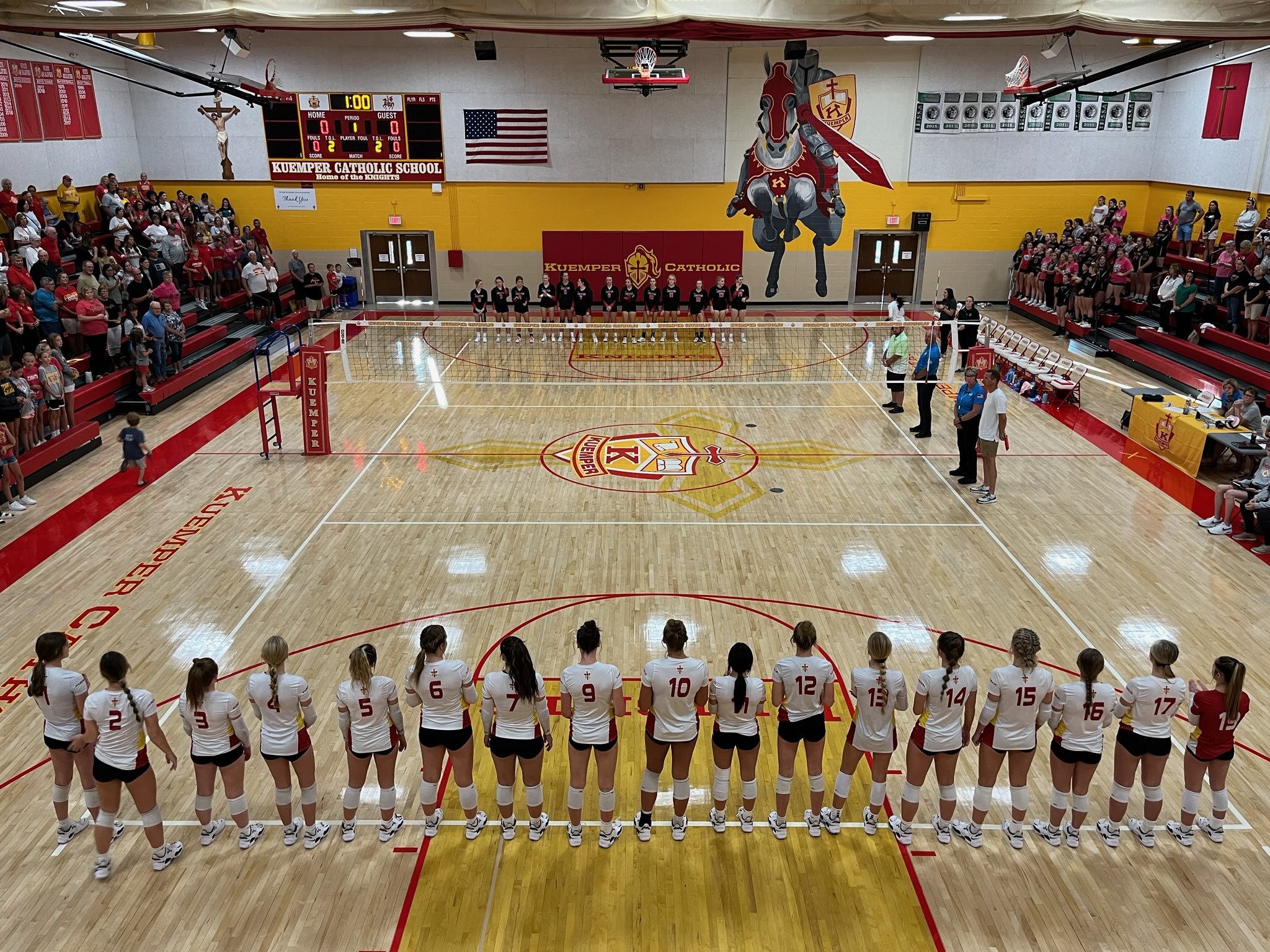 Volleyball Results Tuesday, August 30th 
Creston At Kuemper 
Kuemper 3
Creston 0
25-15, 25-10, 25-16
Kuemper got through the jitters quickly in the first set in their home opener and cruised to their 7th win of the season and a 1-0 start in the Hawkeye 10. Serving, serve receive and dominance swinging at the net were the differences as the Knights were never really pushed after the middle part of set 1.
Lauren Boell tied the first set at 1 and Aubrey Heuton helped Kuemper go on a run from the service line as the Knights went up 5-1. Creston battled back, pulling within 7-6 but Brianna Wittrock had 2 aces as Kuemper answered with a 6-0 run with her at the service line. Sada Gehling came in to serve, picking up an ace and the Knights led 15-7. The Panthers responded, pulling within 16-14 but Sophie Badding was too much in the middle as the Panthers didn't have an answer for her. Sophie and Ashlyn Badding found a rhythm early, with Ashlyn feeding Sophie helping the Knights close out the 1st set, 25-15.
PHOTOS – Kuemper Catholic Volleyball host Creston Panthers 8-30-22
The Knights built a 3-0 lead in set 2, never trailed and only allowed Creston to pull within w at 4-2 once all set. They put the set away, going up 14-3 and never looking back. Creston answered early in set 3 but Coach Rusty Wintermote says they talked in the huddle between sets that the Knights would have to match Creston energy early in set 3 and take it a notch higher. They did that, after falling behind 2-1 then built a 13-2 lead behind the serving of Lauren Boell and Sada Gehling. Both had an ace during the run. The Knights dominated at the net and were really good in the back row most of the match.
Sophie Badding led a balanced attack at the net with 11 kills, Aubrey Heuton, Brianna Wittrock and Lauren Boell all had 5 kills and Kaci Peter finished with 4 kills. Ashlyn Badding had a team high 12 assists and Macy Simons finished with 8 assists. Kaylie Simons continues to grow in the libero role, finishing with 10 digs, Brooke Rohe added 6 digs and Ashlyn Badding added 5 digs. Sophie Badding led the team with 3 blocks and Lauren Boell added 2 blocks.
The Knights sit 7-2 overall and 1-0 in the Hawkeye 10. They head to a triangular with Clarinda At Denison Schleswig next Tuesday.
Kuemper Stats
Sophie Badding 11 Kills, Dig, 3 Blocks
Aubrey Heuton 5 Kills, Dig
Frannie Glynn 2 Kills
Lauren Boell 5 Kills, 2 Digs, 2 Blocks, 2 Aces
Kaci Peter 4 Kills
Brianna Wittrock 5 Kills, 2 Digs, 3 Aces
Kaylie Simons 10 Digs
Brooke Rohe 6 Digs
Ashlyn Badding 12 Assists, 5 Digs, Ace
Macy Simons 8 Assists, 4 Digs
Ava Pedelty 1 Dig
Ella Pick 1 Dig
Sada Gehling 3 Aces
Allison Ostrander 1 Ace
Karsyn Overmohle 2 Assists
Gilbert at Carroll
Gilbert   3
Carroll    1
20-25, 25-17, 25-14, 25-18 
The Carroll Tigers battled hard in sets two and four, but ultimately fell in four sets to Gilbert Tuesday night. 
Gilbert held their own for a large portion of the first set, but Carroll hung on throughout. Carroll tied up the game at 6-6, 7-7, and clawed back down 17-12 to tie up the set at 20-20. Following a timeout by Gilbert, the Carroll Tigers put up five consecutive points to win the set 25-20. Carroll was playing against a talented Gilbert front row, which included 6'2" senior Johnna Rotto, and did a fairly good job of getting past the blocks. Set two was a big back and forth between both teams that featured five ties in the early parts. Gilbert got up 10-9 and never looked back, being able to keep their lead and eventually win 25-17. Madison Tunning of Carroll comments after the game that when the team as a whole got down, she tried to lift their spirits to get focused for the next volley. 
PHOTOS – Carroll Volleyball host Gilbert Tigers 8-30-22
Set three was the toughest set for the Carroll Tigers. Carroll kept tying up the set early, but again Gilbert kept getting strong blocks and played off some of the frustration of Carroll to win set two 25-14. Despite some early season jitters, Carroll does have some strong players on their team, including Shay Sinnard who led the team in this game with seven kills and Tunning who played the Labero spot well with 30 digs on the night. Set four was the closest set for Carroll since the first and they kept up well until the end. After being down 10-6, Carroll tied the set up at 10-10, until Gilbert roared back with a 10-1 scoring stretch that got them up 20-11. Carroll focused back up and had a nice scoring streak of their own, going 5-0 to cut down the Gilbert lead to 20-16. Gilbert kept attacking the ball well in the final moments of the set, eventually coming away with a 25-18 set win and the match with three sets to one. 
The loss drops the Carroll Tigers to 3-4 overall on the season and 0-1 in the Raccoon River Conference. They are off until next Tuesday, September 6th when they travel to take on North Polk. 
Carroll Stats
Shay Sinnard: 7 Kills, 1 Block, 16 Digs, 2 Ace
Madison Tunning: 3 Assists, 30 Digs
Riley Nagl: 10 Assists, 6 Digs, 1 Ace
Olivia Rowedder: 4 Kills, 3 Blocks, 1 Dig
Kaitlyn Tigges: 1 Kills, 10 Assists, 7 Digs, 1 Ace
Madison Thornock: 3 Kills, 1 Block, 1 Dig
Katelyn Aden: 1 Assist, 3 Kills, 1 Block, 3 Digs
Shayne Aschinger: 2 Kills, 2 Digs
Camryn Schable: 4 Kills, 1 Block, 4 Digs, 2 Ace
Ava Gross: 8 Digs, 1 Ace
Paton Churdan At Orient Macksburg 
Orient Macksburg 3
Paton Churdan 1
22-25, 25-23, 25-13, 25-21
A young Paton Churdan team showed some good signs in their season opener, taking the first set on the road, before falling in four sets. The Rockets were right there in two of the three sets they lost, losing 25-23 in set 2 and 25-21 in the 4th set. Paton Churdan finished with eight players picking up at least one kill and two players with 6 or more kills. Paige Teeples led the attack with 11 kills, Becca Anderson added 6 kills fellow freshman Calleigh Fitzpatrick and Mia Russsell each had 3 kills. Emma Stream had a team high 6 assists and Bailey Anderson added 5 assists. Stream paced the servers with 5 aces while Grace Cullum added 3 aces. Taryn Fisher led the back row with 5 digs and Grace Cullum had 4 digs.
The Rockets head to the Coon Rapids Bayard Tournament on Saturday.
Paton Churdan Stats
Bailey Anderson 2 Kills, 5 assists, 2 Digs, Ace
Tarynn Fisher 2 Kills, 5 Digs, Ace
Emma Stream 3 Kills, 6 Assists, Dig, Block, 5 Aces
Paige Teeples 11 Kills, Dig, Block, 2 Aces
Grace Cullum 4 Digs, 3 Aces
Lily Richards 1 Kill
Becca Anderson 6 Kills, Assist, 3 Digs, Ace
Calleigh Fitzpatrick 3 Kills
Mia Russell 3 Kills
South Central Calhoun and Greene County at Panorama
South Central Calhoun vs Panorama
South Central Calhoun  2
Panorama                        0
25-10, 25-3
The South Central Calhoun Titans went 1-1 in a triangular against Greene County and Panorama Tuesday night. In the match against Panorama, the Titans looked great and were dominant all around. 
The Titans let little get past their defense as they went 25-10 in set one. Kylee Schleisman was a big part of that defensive push, recording 10 digs. She had great support offensively with Sam Stuart and Keira Hammen both putting up four kills each in this game. Set two was a wash for South Central Calhoun, controlling the entire set and winning 25-3. The Win improved South Central Calhoun to 5-3 overall on the season.
South Central Calhoun Stats
Mollie Monahan: 1 Block
Nicole Meyer: 2 Kills
Riley Batta: 3 Kills, 4 Digs
Brenna McAlister: 1 Kill, 2 Digs, 1 Ace
Sam Stuart: 4 Kills, 3 Digs, 1 Ace
Addy Geno: 1 Kill
Keira Hammen: 4 Kills, 2 Blocks
Alexa Holm: 2 Digs
Jayci Graeve: 5 Assists, 1 Dig, 3 Ace
Norah Riedesel: 6 Assists, 2 Digs
Elysia Smith: 1 Dig
Kylee Schleisman: 10 Digs
Brooklyn Pruitt 2 Assists 
South Central Calhoun vs Greene County
Greene County                 2
South Central Calhoun    0
25-23, 30-28
Game two for the Titans was a grind for them as Greene County gave them a big challenge. The Rams were able to slide past South Central Calhoun by a final score of 25-23. Kylee Schleisman was once again all over the court for the Titans, putting up 30 digs while getting aid from Brenna McAlister who put up 15 digs, and Riley Batta who had 14. Batta and Keira Hammen lead the way offensively in this game and kept them in set two against the Rams. Extra points were needed to determine a winner, and once again, Greene County was able to get the slight edge over the Titans, winning set two 30-28 and the match 2-0 in sets. McAlister was the kill leader in this game, putting up nine total. Batta was second with six kills and Hammen put up five. The Titans, after this triangular, fall to 5-4 overall on the season. 
South Central Calhoun Stats
Mollie Monahan: 2 Kills, 1 Block
Riley Batta: 6 Kills, 1 Block, 14 Digs, 1 Ace
Brenna McAlister: 9 Kills, 15 Digs
Alexa Holm: 1 Kill, 12 Digs
Jayci Graeve: 22 Assists, 6 Digs
Norah Riedesel: 1 Dig
Addy Geno: 3 Digs
Kylee Schliesman: 30 Digs, 1 Ace
Keira Hammen: 5 Kills, Assist, 2 Blocks, 1 Dig