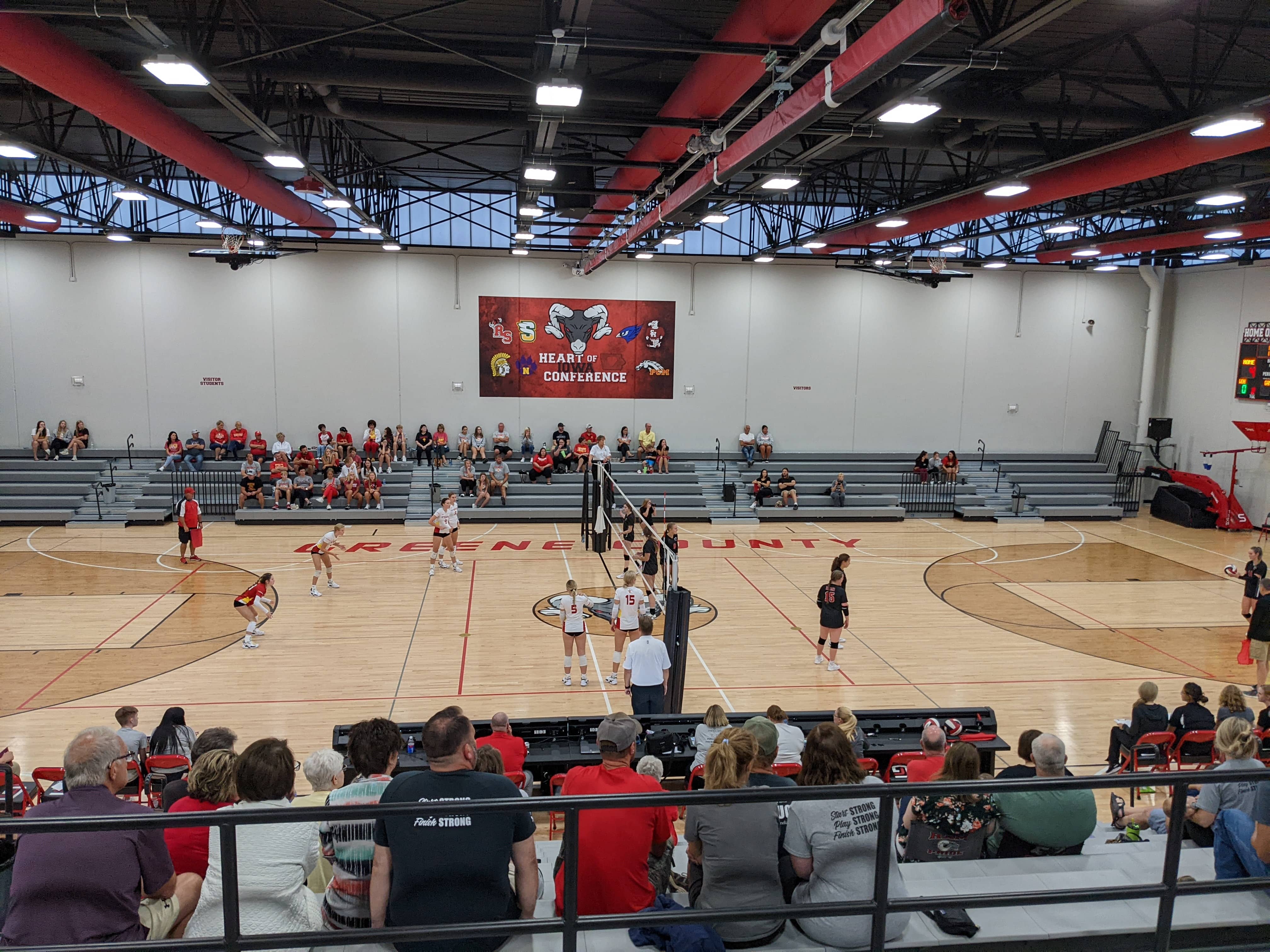 Volleyball Results Monday, August 29th 
Kuemper and Boone At Greene County 
The Knights picked up a pair of wins, topping Boone in two and Greene County in three. They trailed only once against Boone, falling down 17-16 in set one. They quickly took the lead back with Brianna Wittrock picking up an ace serve, putting them up 18-17. Wittrock helped the Knights take an early lead, after Ashlyn Badding served the first two points, Wittrock picked up a kill off a set from Ashlyn Badding, then had a block a moment later and Kuemper led 7-4. Boone trimmed the deficit to 8-6 but Aubrey Heuton took a set from Macy Simons, finishing with a kill and Kuemper went ahead 11-7. Ashlyn Badding picked up back-to-back assists to Sophie Badding and Kuemper maintained the lead at 14-11. Boone scored three straight, tying the score at 14. A Kaci Peter block put Kuemper ahead 16-14, but the Toreadors scored three straight for their only lead. Lauren Boell had a pair of blocks down the stretch with the final one giving Kuemper a 25-19 win in the 1st set.
Kuemper started fast in set two, with Ashlyn Badding setting Sophie Badding and Brianna Wittrock, putting them ahead 3-0. Macy Simons found Kaci Peter to snap a 2-0 Boone run, then found her again to put the Knights up 6-3. Simons served an ace for a 7-3 lead. Simons kept the roll going with an assist to Lauren Boell and Kuemper led 10-5. Ashlyn Badding found Sophie Badding for three kills in a four point stretch, keeping Kuemper ahead 17-12. Simons assist to Kaci Peter made it 21-14 and Kuemper went on to win 25-16.
Kuemper second match was tighter with the Knights dominating the third set for the win. Kuemper looked in control in set one with a kill by Aubrey Heuton, a Sophie Badding block and Brianna Wittrock picked up a kill as the Knights went up 6-1. Macy Simons found Kaci Peter for back-to-back kills, building the lead to 10-4. Frannie Glynn stopped a 2-0 Ram run but Greene County scored five of the next six points, tying the set at 11. The Rams took their first lead at 12-11 but Kuemper scored two in a row with Sophie Badding taking a set from Ashlyn Badding to put the Knights ahead 13-12. Greene County pulled ahead 14-13 but Badding found Sophie Badding for a kill to tie it and Aubrey Heuton served an ace and Kuemper led 15-14. Kuemper started to pull away but the Rams fought back, pulling within 19-18. Ashlyn Badding found Sophie Badding for another kill, stemming the tide for the moment. The Rams made another run, pulling within 23-22 but Macy Simons fed Frannie Glynn and Kuemper had set point, winning 25-22.
Ashlyn Badding served an ace to start set two but Kuemper never really found a rhythm, falling behind for good at 11-10. A Sophie Badding block tied it at 12 but the Knights never tied or led again. They pulled within 3 at 17-14 on a kill by Sophie Badding but the Rams pulled away for a 25-18 win.
The Knights never trailed in the third set, jumping ahead 4-1, then going up 5-4 after the Rams scored three straight. Sophie Badding took control early in set three with blocks and attacks, then Kaci Peter put it away late as the Knights rolled to a 15-6 win. Kuemper improved to 6-2 on the season. They host Creston on the season to open Hawkeye 10 on Tuesday on  93.7 KKRL.
Sophie Badding had a team  high 7 kills, Aubrey Heuton finished with 5 kills and Frannie Glynn and Kaci Peter each had 3 kills. Ashlyn Badding paced the setters with 10 assists and Macy Simons added 8 assists. Kaylie Simons led the back row with 5 digs and Brianna Wittrock and Kaci Peter each had 4 digs. Frannie Glynn, Sophie Badding and Lauren Boell all had 2 blocks as the Knights finished with 8 total blocks in the match vs Boone.
Kaci Peter had a team high 9 kills, Sophie Badding added 5  kills and Frannie Glynn each had 3 kills. Macy Simons led the setters with 12 assists and Ashlyn Badding each had 10 assists. Kaylie Simons had 8 digs to lead the team. Sophie Badding and Kaci Peter were dominant on defense at the net with Badding finishing with 5 blocks and Peter 4 blocks. Aubrey Heuton and Lauren Boell both had 2 aces against Greene County.
Kuemper Vs Boone 
Kuemper 2
Boone 0
25-19, 25-16
Kuemper Stats
Frannie Glynn 3 Kills, 2 Blocks
Kaci Peter 3 Kills, 4 Digs, Block
Sophie Badding 7 Kills, 2 Blocks
Aubrey Heuton 5 Kills, 2 Digs, Block
Lauren Boell 2 Kills, Dig,  2 Blocks
Brianna Wittrock 2 Kills, 4 Digs, Ace
Ashlyn Badding 10 Assists, Dig
Macy Simons 8 Assists,  3 Digs
Sada Gehling 1 Assist
Kaylie Simons 2 Assists, 5 Digs
Brooke Rohe 1 Assist
Ava Pedelty 2 Digs
Kuemper Vs Greene County 
Kuemper 2
Greene County 1
25-22, 18-25, 15-6
Kuemper Stats 
Frannie Glynn 3 Kills, Block
Kaci Peter 9 Kills, 4 Blocks
Sophie Badding 5 Kills, 5 Blocks
Aubrey Heuton 2 Kills, 2 Digs, 2 Aces
Brianna Wittrock 2 Kills,  2 Digs, Block
Ashlyn Badding 10 Assists, Dig, Ace
Macy Simons 12 Assists, Dig, Ace
Brooke Rohe 2 Digs
Lauren Boell 3 Digs,  2 Blocks, 2 Aces
Kaylie Simons 8 Digs