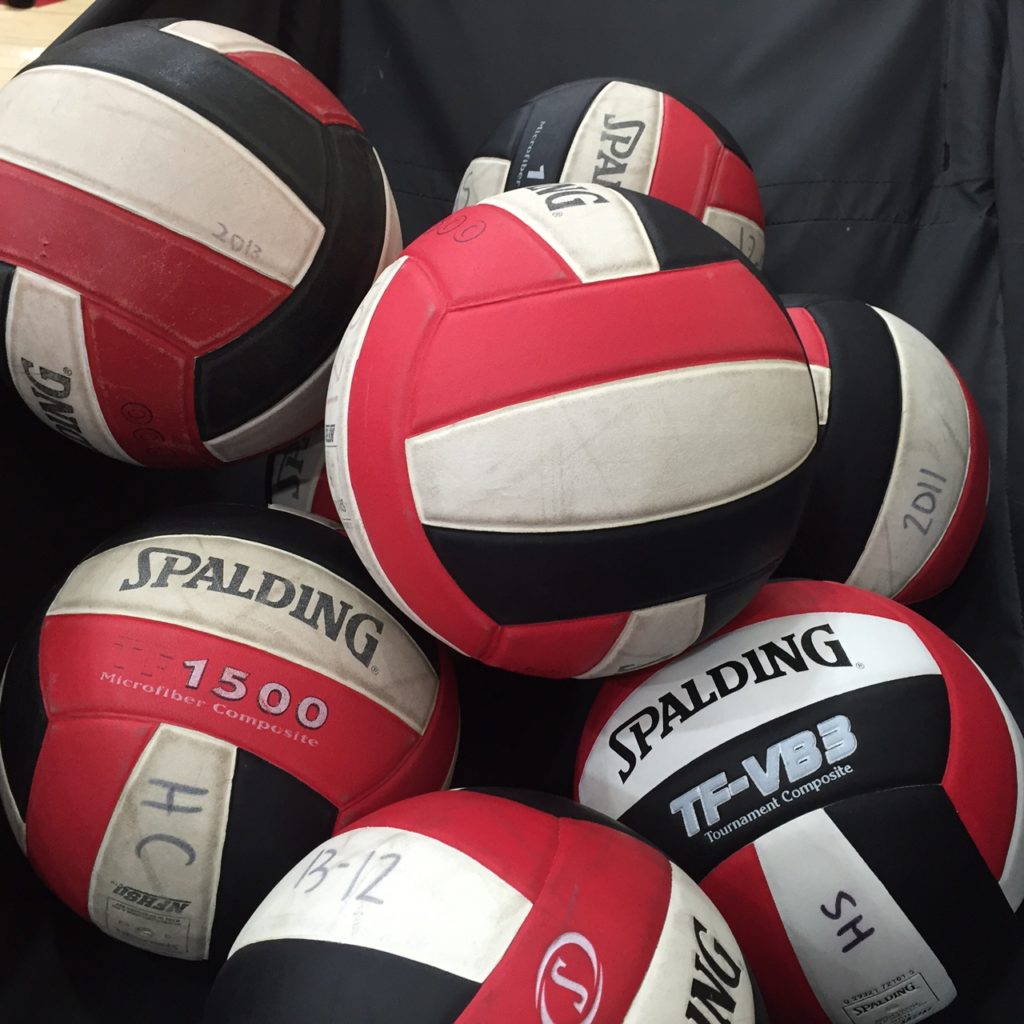 Volleyball Results Thursday, August 25th 
Audubon and Panorama at Coon Rapids Bayard
Audubon Vs Panorama 
Panorama 2
Audubon 1
26-24, 19-25, 15-13
The Wheelers started slowly in their first match of the year, falling behind with some unforced errors. They battled back nicely and gave themselves a chance to win but fell 26-24 in the 1st set. That tough loss came back later in the match to hurt them as they played well in set 2, winning 25-19. The Wheelers were in set 3 but weren't able to pull it out late, falling 15-13. They finished 4 points from sweeping their night but went 1-1.
The Wheelers had five players with kills against Panorama, led by Mattie Nielsen with 9 and Harlow Miller with 8. Audrey Jensen added 3 kills. Addie Hocker finished the two matches with 37 assists, having 20 against the Panthers. Kylee Hartl led a balanced attack in the back row with 4 digs, to go with 3 aces. Addie Hocker had a team high 4 aces and Harlow Miller led the team with 4 blocks, followed by 3 each for Kali Irlmeier and Mattie Nielsen.
Audubon Stats
Madison Steckler, 1 Kill, Dig, Bock
Kylee Hartl 4 Digs, 3 Aces
Anna Larsen 1 Assist, 3 Digs, Ace
Addie Hocker 2 Kills, 20 Assists, 2 Digs, 4 Aces, Block
Audrey Jensen 3 Kills, 2 Digs, Ace
Mattie Nielsen 9 Kills, 2 Digs, Ace, 3 Blocks
Kali Irlmeier 1 Dig, Ace, 3 Blocks
Harlow Miller 8 Kills, Ace, 4 Blocks
Audubon Vs Coon Rapids Bayard 
Audubon 2
Coon Rapids Bayard 0
25-22, 25-12
Audubon squeezed out a victory in the 1st set grabbing the momentum on their way to a victory that evened their record on the night. Both teams are young, but the Wheelers have more experience and that helped them take the first set 25-22. They jumped out early in set 2 and pulled away, winning 25-12.
The Wheelers out hit the Crusaders at the net, finishing with 23 kills to 9 for Coon Rapids Bayard. Audubon had five girls with a kill, while Coon Rapids Bayard finished with four girls with at least one kill. The back Wheelers were solid in the back row with 22 kills. The Crusaders had 12 kills but were solid at the net with 8 blocks. Audubon added 7 blocks.
Addie Hocker had a team high 17 assists for the Wheelers along with 2 blocks. She did a nice job feeding Mattie Nielsen and Harlow Miller who had 9 and 7 kills respectively. Kali Irlmeier and Miller each had 2 blocks. Anna Larsen, Hocker and Nielsen all had 2 aces. Kylee Hartl paced the back row with 11 digs.
Gracy Johnson and Lydia Hofbauer both had 3 kills to lead the Crusaders while Aubrey Hofbauer added 2 kills. Malia Clayburg finished with a team high 4 blocks. Lydia Hofbauer paced the back row with 8 digs while Gracy Johnson finished with 4 assists.
The Crusaders head to Colfax Mingo for a tournament on Saturday. Audubon is off until Saturday, September 3rd at the South Central Calhoun Tournament.
Audubon Stats
Madison Steckler 1 Dig, Block
Kylee Hartl 11 Digs
Anna Larsen 2 Digs, 2 Aces
Addie Hocker 3 Kills, 17 Assists, Dig, 2 Aces, 2 Blocks
Audrey Jensen 3 Kills, 2 Assists, Dig
Mattie Nielsen 9 Kills, 4 Digs, 2 Aces
Kali Irlmeier 1 Kill, Assist, Dig, 2 Blocks
Harlow Miller 7 Kills, Ace, 2 Blocks
Rylee Brittian 1 Dig
Coon Rapids Bayard Stats
Gracy Johnson 3 Kills, 4 Assists, Dig
Lydia Hofbauer 3 Kills, 8 Digs
Malia Clayburg 1 Kill, 4 Blocks
Anna Hart  2 Digs, Block
Lacie Davis 1 Dig
Aubrey Hofbauer 2 Kills, 2 Blocks
Maddie Mason 1 Block
Coon Rapids Bayard vs Panorama
Panorama                         2
Coon Rapids Bayard      0
25-19, 25-16
The Coon Rapids Bayard Crusaders continued to improve with a young group in a triangular Thursday night. The Crusaders were able to keep up with Panorama in set one of their first match of the night but fell short 25-19. Crusaders Head Coach Marissa Dembinski says they struggled sealing the net on blocks and generating any offense but showed glimpses of things coming together. Gracy Johnson ended this match with five kills and four assists. Lacie Davis was able to end the match with two aces and three digs. In set two, the Crusaders didn't see the productivity they had in set one and fell 25-16 and overall, 2-0 in the match to Panorama. 
Coon Rapids Bayard Stats
Gracy Johnson- 1 Ace, 5 Kills, 4 Assists
Lydia Hofbauer- 1 Aces, 4 Digs, A assist
Malia Clayburg- 2 Kills
Anna Hart- 3 Digs, 1 Block
Violet Johnson- 1 Dig
Lacie Davis- 2 Aces, 3 Digs, 1 Assist
Aubrey Hofbauer- 1 Ace, 2 Blocks
Maddie Mason- 4 Kills
Laura Anthofer- 1 Ace 
GTRA and Newell Fonda at East Sac
East Sac vs GTRA
East Sac 3
GTRA 0 
25-11, 25-17, 25-18
The East Sac Raiders got their 2022 season underway with a triangular against GTRA and Newell Fonda. In game one against GTRA, they were able to get past the Titans in three sets.
The best set for the Raiders was right out of the gate in set one, where they won 25-11. Kenna Meyer led the way for the Raiders in this match with a team high 6 kills and five digs overall. Kate Vondrak was also impressive with five kills and three blocks. Set two saw GTRA fight back a bit, but East Sac was able to grab the 25-17 victory. The Titans kept battling in the third set, putting up 18 points, but again the Raiders were victorious by a score of 25-18, winning the match 3-0. Addisen Ehler had a solid night behind the serving line, with three aces. Meyer, Vondrak, and Jamie Pierce all recorded two aces for the Raiders. 
East Sac Stats
Mary Bontrager: 1 Kill, 1 Block, 1 Dig, 14 Assists
Kenna Meyer: 6 Kills, 5 Digs, 2 Ace
Jamie Pierce: 2 Kills, 2 Ace
Kendall Quirk: 1 Kill, 2 Digs, 3 Assists
Kate Vondrak: 5 Kills, 3 Blocks, 2 Ace, 1 Assist
Ella Wilson: 1 Kill, 8 Assist
Abby Schueneman: 1 Kill
Greeley Schlepp: 2 Kills, 2 Blocks, 1 Ace
Addisen Ehler: 4 Kills, 1 Block, 3 Ace, 1 Assist
Katelyn Schmitt: 1 Kill
Sidney Bieret: 1 Assist
East Sac vs Newell Fonda
Newell Fonda 3
East Sac 1
25-10, 13-25, 25-19, 25-19
The Raiders battled hard against Newell Fonda but fell in four sets. Newell Fonda showed their might in game one, winning 25-10. East Sac was able to respond well in game two with a 25-13 win. In the overall match, Kenna Meyer and Kate Vondrak were the leaders in kills with 12 and 10 respectively, while Addisen Ehler provided great offense with eight kills. Sets two and three were close as well, with the Raiders putting up 19 points in each set. Despite the solid performances from the Raiders, Newell Fonda was victorious 25-19 in sets three and four, winning 3-1 overall in the match. 
East Sac Stats
Mary Bontrager: 10 Assists, 2 Blocks, 3 Ace
Kendall Quirk: 12 Assists, 1 Block
Ella Wilson: 3 Assists, 3 Ace
Kenna Meyer: 12 Kills, 3 Ace
Kate Vondrak: 10 Kills, 2 Blocks, 2 Ace
Greeley Schlepp: 2 Kills
Addisen Ehler: 8 Kills, 1 Block