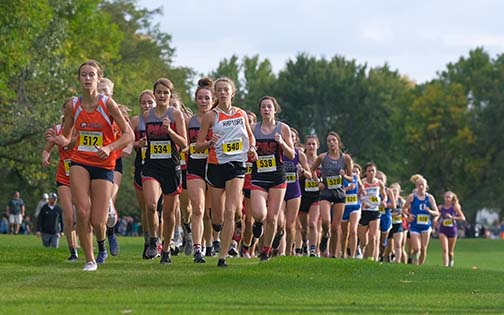 IKM-Manning Wolves
The Wolves should be very strong this season with both the boy and girls teams bringing back State Qualifiers from last season along with numerous other strong runners. The Boys will be led by Caden Keller and Lane Sams. Keller, a senior, finished 45th at State last season. Sams pushed Keller for the top spot on the team last season and should make a push to qualify for State this season. The Junior won't be the only Wolves looking to make a trip to Fort Dodge in November. Josiah Conner, a Sophomore, was strong last season, giving IKM-Manning three top flight runners. The Wolves have the depth with Kasche Huehn, Joel McLaws, Abe Polzein, Nathan Johnson, Jayden Phipps and Ryan Germer along with some strong incoming freshmen that could help the team qualify for State. 
The Wolves Girls should be strong, led by Emily Albertsen, the sophomore was 34th at State last season and looks to improve on that this season. Albertsen will be pushed, as she was last season by a host of runners including Morgan Hanson, Raegan Garrison, Kaitlynn Spoelstra, Julianna Stribe and Madelyn Snyder. Their depth will give them a chance to win most meets they compete in and could propel them to State as a team. 
Below is a list of their top returning runners. 
Girls
Emily Albertsen- Sophomore
Morgan Hanson- Senior 
Raegan Garrison- Sophomore
Kaitlynn Spoelstra- Senior
Julianna Stribe- Senior 
Olivia Robinson- Sophomore 
Madelyn Snyder- Senior 
Boys
Caden Keller- Senior
Lane Sams- Junior 
Josiah Conner- Sophomore
Kasche Huehn- Sophomore 
Joel McLaws- Senior 
Abe Polzein- Sophomore 
Zander Richards- Junior 
Nathan Johnson- Senior
Ryan Germer- Junior 
Jayden Phipps- Junior