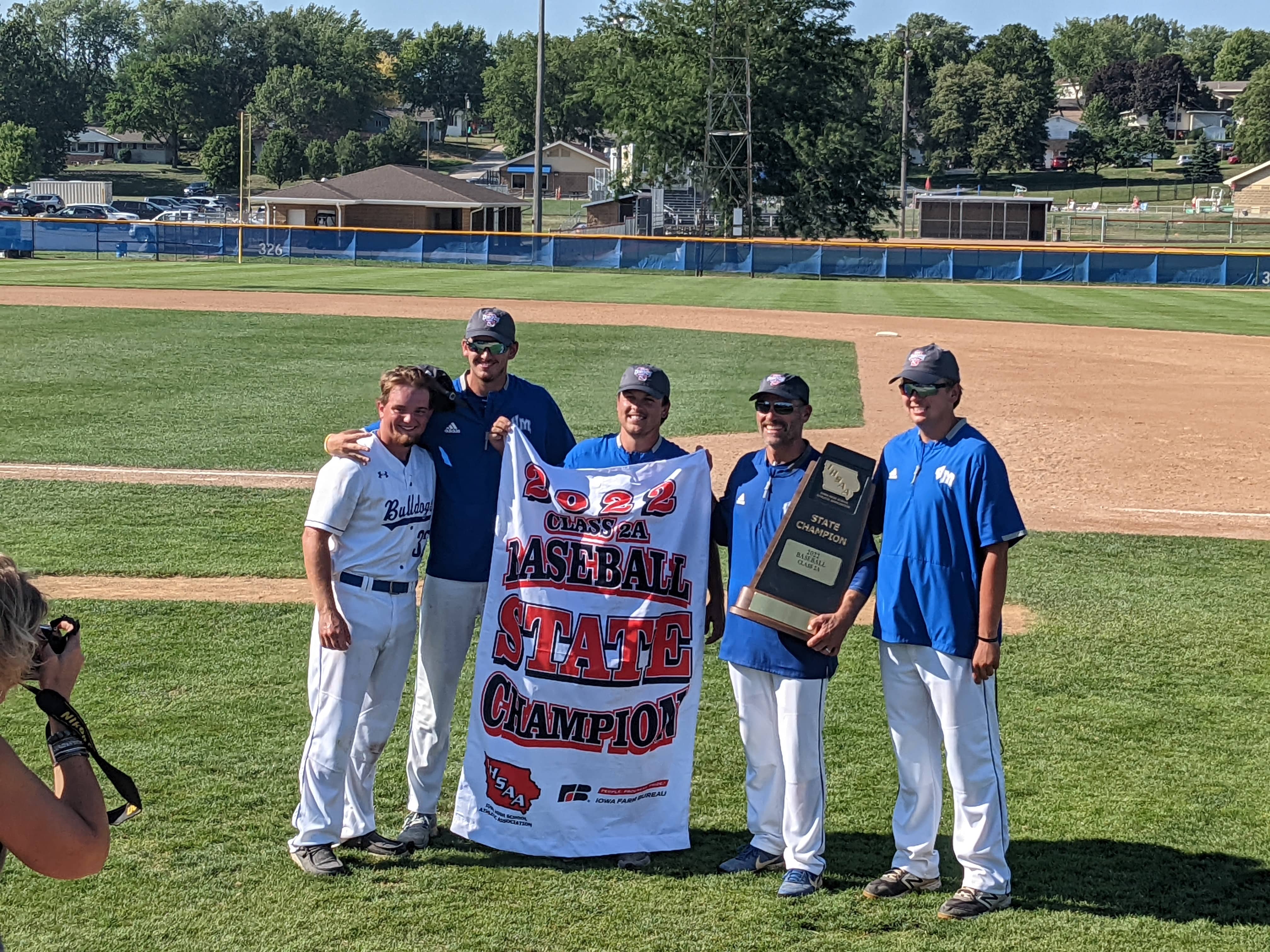 Estherville Lincoln Central Vs Van Meter- Class 2A Championship 
Van Meter  10
ELC  0    (5 Innings)
Van Meter dominated the game, winning their 4th straight State Championship and 54th straight game. They scored 3 times in the 1st, added 3 more runs in the 4th and ended the game with a 4-run 5th inning. Gannon Archer was strong on the hill, allowing 1 hit and walking 2 while striking out 9. Estherville Lincoln Central had 3 base runners and only had one runner reach 2nd base.
Van Meter started quickly, after Gannon Archer struck out all three batters in the top 1st, Jack Pettitt led off the bottom half with a single. Carter Duflinger singled to right field moving Pettitt to 3rd base and both scored on a double down the line by Gannon Archer. Archer scored one batter later when Ike Speltz singled up the middle. ELC struggled catching up with Gannon Archer in the 2nd inning, striking out the side again. Archer struck out the first 7 batters he faced before Grant Love battled for a walk in the 3rd inning. Daryl Jensen popped the ball up and Archer made a great diving catch for out 2, then got his 8th strikeout to end the top of the 3rd.  Reese Moore led off the bottom 3rd with a single by Carter Snyder, who has pitched very well since the 1st inning, made a couple of nice plays on the mound to end the threat.
Owen Larson walked to leadoff the 4th for ELC but was picked off 1st base, Blake Ingvall singled but was thrown out in a pickle between 1st and 2nd later in the inning. ELC has had 3 runners on base but only one has made it to 2nd base. Van Meter manufactured a run in the bottom 4th. Dalten Van Pelt walked, stole 2nd base and took 3rd on a balk. Jack Pettitt drove him home with a single up the middle on a 1-2 pitch. Carter Durflinger picked up his second hit of the day, singling up the middle, moving Pettitt to 3rd base. Reese Moore then drove a ball to deep center field, scoring both Petttit and Durflinger. Estherville Lincoln Central made a pitching change, replacing Carter Snyder with Ryan Schiltz. The Bulldogs blew it open the bottom 5th inning. Ike Speltz, Ben Gilliland both singled and Austin Baumhover reached on an error and Dalten Van Pelt tripled to right field, scoring 3 runs. Two of those plays were lost in the sun and were catchable balls. Casey Trudo flew out to center, scoring Van Pelt to end the game.
Dalten Van Pelt led Van Meter with 3 RBI and a triple. Jack Pettitt, Ike Speltz and Carter Durflinger all had 2 hits with Pettitt and Durflinger scoring twice each, Speltz had an RBI and scored once. Gannon Archer drove in a pair of runs and picked up the win on the hill, going 5 innings, allowing 1 hit with 9 strikeouts.
Blake Ingvall had the lone hit for Estherville Lincoln Central.
ELC ends the season 33-3 while Van Meter wins their 4th straight State Title, finishing the season 39-0.
Van Meter Stats
Jack Pettitt 2-3, RBI, 2 RS
Carter Durflinger 2-3, 2 RS
Reese Moore 2-3, 3B, 2 RBI
Ganon Archer 1-3, 2B, 2 RBI- Pitching WP, 5 IP, 1 Hit, 9 K's, 2 BB
Rylan Wiedman 1 RS
Ike Speltz 2-3, RBI, RS
Ben Gilliland 1-3, RS
Austin Baumhover 1 RS
Dalten Van Pelt 1-2, 3B, 3 RBI, 2 RS, BB
Casey Trudo 1-2, 2B, RBI
ELC Stats
Owen Larson 1 BB
Blake Ingvall 1-2
Grant Love 1 BB
Carter Snyder LP, 3 2/3 IP, 9 Hits, 6 RA, 6 ER, 5 K's, BB
Ryan Schiltz 2/3 IP, 3 Hits, 4 RA, 2 ER, K
Box Score
Teams         1    2     3     4    5      Final
ELC               0     0    0      0    0          0
Van Meter    3     0    0      3    4         10