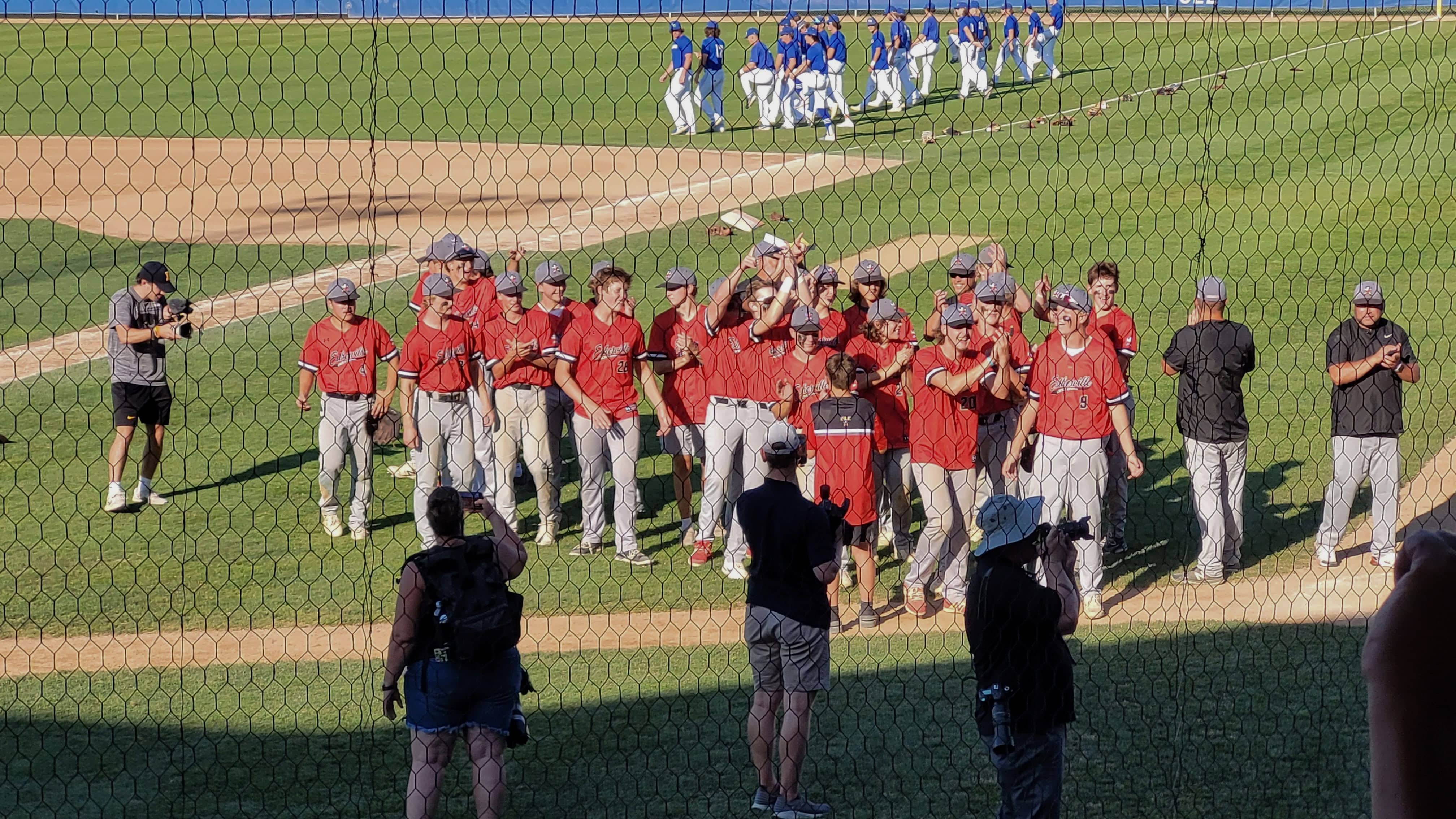 Mid-Prairie vs Estherville Lincoln Central – Class 2A Semifinals
Estherville Lincoln Central    7
Mid-Prairie                              4
Mid-Prairie and Estherville Lincoln Central (ELC) fans were treated to an entertaining Class 2A Semifinal game Thursday where ELC was able to outlast the Golden Hawks and advance to their first ever Class 2A championship game. 
Mid-Prairie was first to bat in this game and they were able to make use of a bad situation on ELC's part. With the bases loaded in the top of the second and a 2-2 count, Cain Brown hit a grounder to right field that was mishandled by Seth Busch leading to three Mid-Prairie runs. ELC redeemed themselves with an RBI double from Grant Love to cut down the Golden Hawk led to 3-2. The Midgets had runners at second and third and were on track to tie up the game, that was before Mid-Prairie got a throw down to first from the catcher Brock Harland to get the final out of the inning, keeping the Golden Hawks ahead by a run.
ELC started to change their narrative starting in the third inning where they retired the first three batters for Mid-Prairie. They'd follow that up in the fourth inning when Blake Ingvall crushed a two-run home run off the scoreboard to give the Midgets the 4-3 lead. The Mid-Prairie defense still had some gas left in the inning. Brody Weber was able to pick off Seth Busch at first and in the next pitch, struck out Blake Evans to end the inning. The offense for the Golden Hawks wasn't so lucky as they'd get runners on first and second in the top of the fourth but didn't get a run scored, stranded a runner at second in the fifth, and went three up and three down in the sixth. ELC, on the other hand, continued to bring runners home in the sixth. Carter Snyder got a two RBI single while Ingvall was brought home off an error, giving the Midgets the 7-3 lead heading into the seventh. 
Mid-Prairie had one final chance to make a dent in the ELC lead. They got a sac bunt, RBI from Karson Grout to score Brown and cut down the ELC lead to 7-4. ELC's Carter Snyder on the hill got back-to-back strikeouts to give ELC the win. Mid-Prairie's season will come to an end with a final record of 19-11. Estherville Lincoln Central moves on to the Class 2A Championship where they will take on the winner of Van Meter and New London on Friday at 2:30. 
Mid-Prairie Stats
Cain Brown: 2-4, RBI; Pitching: 2 IP, 4 Hits, 2 RA, 2 ER, HB, K
Karson Grout: 1-4, RBI
Tyler Melmuth: 1-4, 2B
Dylan Henry: BB
Collin Miller: RS, SB
Brock Harland: BB
Lukin Rediger: RS
Brady Weber: 1-3; Pitching: 3 IP, 6 Hits, 4 RA, 4 ER, BB, 3 K, LP
Will Cavanagh: 2-3, 2 RS; Pitching: 1 IP, 1 Hit, RA, ER, BB, K
Estherville Lincoln Central Stats
Ryan Schiltz: 2-4, RS, SB
Owen Larson: 1-3, 2 RS
Blake Ingvall: 2-4, 2 RS, 2 RBI, HR
Carter Snyder: 1-2, 2 RBI, BB; Pitching: 1 IP, 2 Hits, RA, ER, 2 K
Kale Shatto: RS
Seth Busch: 2-3, RS
Blake Evans: 1-3, RBI
Griffin Hoyer: 1-2, BB
Grant Love: 1-3, 2 RBI
Landon Vaske: Pitching: 6 IP, 5 Hits, 3 RA, ER, 2 BB, 4 K, WP
Box Score
Teams       1   2   3   4   5   6   7    Final
MP               0   3   0   0   0   0   1   |     4
ELC             0   2   2   0   3   0   X   |     7