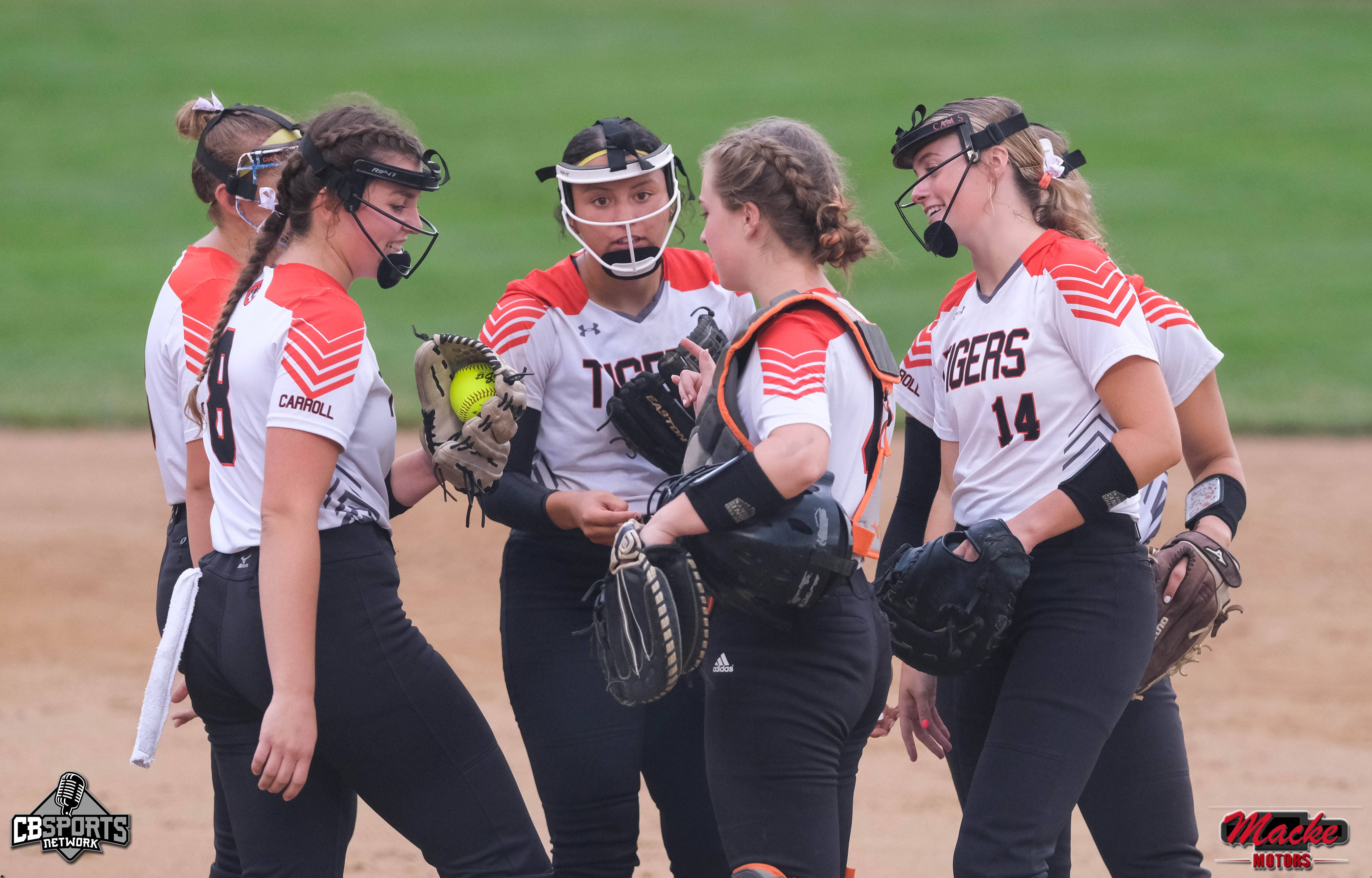 Carroll at ADM – Class 4A Region 3 Final
ADM         5
Carroll      4
The Carroll Tigers were able to mount a nice comeback against ADM as they were inches away from punching their ticket to the state softball tournament, but ADM got away with the win in the end. 
Parker Adams got the Tiger offense off to a great start as she crushed a lead-off home run to give Carroll a 1-0 lead early in the contest. The defense for Carroll wasn't so fortunate with two errors leading to ADM scoring two runs and capturing the lead at 2-1. In the second inning, Carroll quickly gained the lead back at 3-2 when Vanessa Ayala scored off a fielder's choice with Makalei Kofron's RBI bunt and Averi Burke scored from third off a passed ball, all without recording a hit. ADM's response was a two-run dinger in the bottom of the third to take the 4-3 lead that stood for a big portion of the game. Carroll went three up and three down in the fourth, was retired off a double play in the fifth, and left two stranded in the sixth. 
With a state tournament berth on the line, the Tigers came up clutch in the top of the seventh. Brielle Hinners got an RBI single that scored Brenna Goins to tie the game at 4-4 and it was ADM's turn to respond. The ADM Tigers got their leadoff hitter on base with a single; she later got to second base off a sac bunt. With one out in the bottom of the seventh and a runner at second, ADM got another successful bunt off and Carroll attempted to get the runner out at first but was unsuccessful and the winning run crossed the plate for ADM, giving them the 5-4 win. 
Carroll's season comes to a disheartening end with a final record of 16-17.
Carroll Stats
Parker Adams: 1-2, RS, HR, RBI, 2 BB
Brielle Hinners: 1-4, RBI
Ava Gross: 1-4
Vanessa Ayala: 1-3, BB
Josie Ayala: RS, 3 BB, SB
Averi Burke: RS, HBP, SB
Makalei Kofron: 1-3, RBI
Gabby Olberding: BB
Brenna Goins: RS, 2 SB
Alyssa Brant: Pitching: 6.1 IP, 7 Hits, 5 RA, 2 ER, 3 K, L
Box Score
Teams       1   2   3   4   5   6   7    Final
CARR          1   2   0   0   0   0   1    |     4
ADM           2   0   2   0   0   0   1    |     5