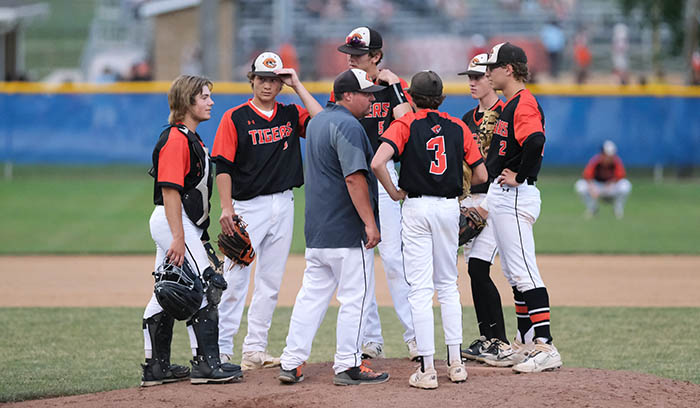 Baseball Results Thursday, June 30th 
Ballard At Carroll 
Ballard 11
Carroll 0             (6 Innings)
Carroll did a nice job of putting the ball in play, but couldn't catch a break, as they kept hitting the ball at someone. They finished with 3 hits with Evan Loew, Tate Schleisman and Ethan Loew all picking up a single. Carroll did strand 7 runners on base. The defense committed 3 errors, allowing 5 unearned runs. Ballard scored 3-runs in the 1st inning but didn't score again as Carroll played well in the 2nd and 3rd innings, but some struggles on defense helped the Bombers score 5-runs in the 4th. A 3-run 6th inning ended the game after Carroll wasn't able to score in the bottom half.
Carroll Tigers Baseball Vs Ballard 6-30-22
The Tigers fall to 1-24 overall and 0-14 in the Raccoon River Conference. They play Kuemper on KCIM on Friday.
Carroll Stats
Evan Loew 1-2
Tate Schleisman 1-2
Ethan Loew 1-3
Dreylen Schweitzer LP, 3 2/3 IP, 10 Hits, 5 ER, 2 K's, 2 BB
Stone Sibenaller 1 1/3 IP, 2 Hits, 1 ER, K, BB, 2 HBP
Ryan North 2/3 IP,
Box Score
Teams     1      2      3     4    5    6     Final
Ballard      3      0      0      5     0    3        11
Carroll       0     0      0      0     0    0         0
East Sac At Ridge View 
Ridge View 3
East Sac 0
One bad inning hurt the East Sac Raiders on Thursday, as they fell on the road to Ridge View. The Raptors took advantage of a couple defensive miscues in the 4th inning to score all 3 of their runs. The Raiders hit the ball all night, but early their hits were right at the defense. They began to find a few holes late in the game, but couldn't stretch them together.
The Raiders collected 4 hits with Bradyn Burns, Weston Drost, Luke Wright and Luke Wernimont all singled. The Raiders pitched well with Weston Drost, Karter Ludwig and Logan Schroeder all going 2 innings. Drost allowed 1 hit and struck out 2, Ludwig allowed 2 hits and 1 earned run and Schroeder struck out 1.
The Raiders finish the regular season 3-11 and will face SE Valley At SE Valley on the  opening round of the postseason on Saturday on KIKD 106.7.
East Sac Stats
Bradyn Burns 1-3
Weston Drost 1-2, BB- Pitching 2 IP, 1 Hit, 2 K's, 2 BB
Preston Mauer 1 BB
Luke Wright 1-3
Luke Wernimont 1-3
Ryan Zimmerman 1 BB
Karter Ludwig 2 IP, 2 Hits, 3 RA, 1 ER, K, HBP
Logan Schroeder 2 IP, K, BB, HBP
Box Score
Teams            1      2      3     4    5    6    7   Final
East Sac         0        0     0       0    0     0    0       0
Ridge View    0       0      0       3    0    0     0       3
IKM-Manning At South Central Calhoun 
South Central Calhoun 15
IKM-Manning 11
South Central Calhoun earned their sixth win of the season, using an 11-run 4th inning to take the lead after the Wolves had built a 9-3 lead through 3 innings. The Titans took advantage of a couple defensive errors in the 4th and several walks to keep runners on base. They finished with 11 hits, helping to drive in 14 of the 15 runs. The Wolves had 12 hits, including a home run.
The game went back and forth early with IKM-Manning taking a 1-0 lead but the Titans rallied with 3-runs in the 2nd inning and led 3-1 after 2 innings. The Wolves got their offense going in the 3rd, scoring 4-runs, then added 4 more in the top 4th to lead 9-3. That is where the game changed as the Titans got the momentum and scored 11 times to lead 14-9. They would never trail again, adding an insurance run in the 6th. IKM-Manning tried to rally in the 7th, scoring twice.
Andrew Anderson had a big night for the Titans, finishing with 3 hits, including a pair of doubles and driving in 4-runs. Keegan Soard added a triple, scoring 3-runs and scored 3 times himself. Charlie Nattress and Khyean Hawkins both had 2 RBI. Kaden Dorman, Brock Nattress both scored twice and Khyean Hawkins also scored 3 times.
Max Nielsen led the Wolves with 3 hits, including a double and a 3-run home run. He finished with 5 RBI and scored twice. Treyton Barry also had 3 hits and scored 3 times. Cooper Perdew and Ben Ramsey both had 2 hits. Lane Sams walked 3 times and scored 4-runs.
South Central Calhoun finishes the regular season 6-12 and will play Manson NW Webster At SE Valley on Saturday in the opening round of the playoffs on KIKD 106.7. IKM-Manning falls to 9-13 and they will open their playoffs on Saturday Vs Ar-We-Va At Kingsley Pierson on 1380 AM/95.1 FM KCIM.
South Central Calhoun Stats
Andrew Anderson 3-5, 2-2B, 4 RBI, RS
Jayden Soard 1-3, 2 RBI, RS, 2 HBP
Jacob Kalkwarf 1-5, RS
Kaden Dorman 1-4, 2 RS
Charlie Nattress 1-3, 2 RBI, RS- Pitching 3 IP, 5 Hits, 7 RA, 6 ER, 6 K's, 7 BB, HBP
Brock Nattress 1-4, 2 RS, 2 SB
Khyean Hawkins 1-3, 2B, 2 RBI, 3 RS, BB
Caleb Juhl 1-4, 2B, RBI, RS
Keegan Soard 1-1, 3B, 3 RBI, 3 RS, SB
Carson Shaver WP, 4 IP, 6 Hits, 4 RA, 4 ER, 2 K's, HBP
IKM-Manning Stats
Lane Sams 4 RS, 3 BB
Max Nielsen 3-3, 2B, 3-Run HR, 5 RBI, 2 RS, 2 BB
Reed Hinners 1-4, BB- Pitching 3 1/3 IP, 6 Hits, 11 RA, 9 ER, K, 2 BB
Cooper Perdew 2-4, RBI, RS
Ben Ramsey 2-4, RS, HBP, SB
Tristan Barry 1 BB
Treyton Barry 3-5, 3 RS, SB
Bryc Summerfeld 2/3 IP, HBP
Zander Richards 2 IP, 3 Hits,  4 RA, 3 ER, K, 3 BB
Davis Rasmussen 1-3
Box Score
Teams        1      2      3     4    5    6    7   Final
IKM-M         1      0      4      4     0    0    2         11
SCC               0      3      0     11    0    1     x         15