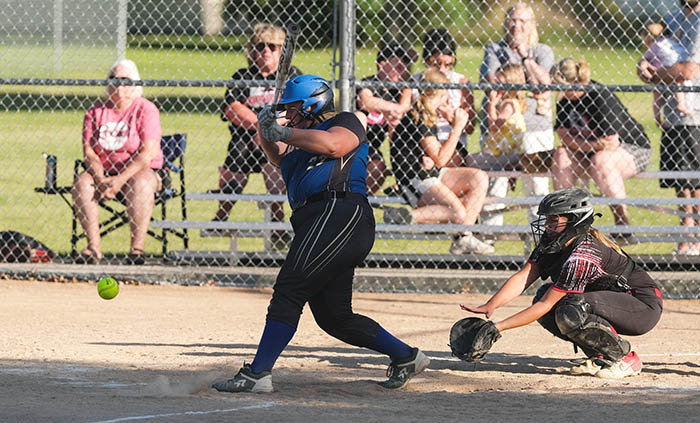 Softball Results for Tuesday, June 28th
Kuemper at Denison Schleswig
Kuemper                     7
Denison Schleswig    2
The Kuemper Knights continued to play well within the Hawkeye Ten Conference as they took on Denison Schleswig Tuesday for Strike Out Cancer Night. 
The first three innings for both teams went very quickly, but Kuemper was able to get a quick score across the plate when Hailey Ostrander scored off a hit from Malinda Schaefer, who was tagged out before she could reach third. Denison Schleswig struggled offensively against Kamryn Venner in the circle as they didn't get a base hit until the fourth inning. Speaking of Venner, she pitched all seven innings in the circle, and while struggled a little toward the end of the game, did well enough to record eight strikeouts and only allowed two earned runs off six hits. 
Kuemper was able to bring two more runners home in the third inning as Denison Schleswig committed an error in the infield that cost them big. The hits kept coming for Kuemper as Ostrander scored Kaci Peter with an RBI double, in the fourth inning, and Venner was able to knock a three RBI homerun in the fifth inning to give the Knights a 7-0 lead. Venner's pitching allowed Denison Schleswig to find ways to hit the ball and score two runners in the bottom of the fifth to cut down Kuemper's lead to 7-2. Despite those runs, the Knights' defense kept three Monarch runners on the bags in the sixth and Venner bounced back with two strikeouts in the seventh to elevate the Knights past the Monarchs by a final score of 7-2. 
The win brought the Knights to 19-13 overall on the season and 14-4 in the Hawkeye Ten Conference. They continue their regular season with a double header on Wednesday, June 29th when they host Glenwood. 
Kuemper Stats
Hailey Ostrander: 2-4, 2B, RS, RBI
Melinda Schaefer: 1-4, 2B, RBI
Jordan Schwabe: RS, SB
Kenadee Loew: 2-3, RS, SB
Kaylie Diercksen: 1-3, RS
Kamryn Venner: 1-4, HR, RS, 3 RBI; Pitching: 7 IP, 6 Hits, 2 RA, 2 ER, BB, 8 K, W
Kaci Peter: 2-2, 2B, HBP, 2 RS, SB
Kenzie Schon: SB
Box Score
Teams        1   2   3   4   5   6   7    Final
KUE            1   0   2   1   3   0   0  |    7
DS              0   0   0   0   2   0   0  |     2
Carroll at Gilbert
Gilbert    14
Carroll       4
The Carroll Tigers had a rough night in Raccoon River Conference action Tuesday night as they took on Gilbert and gave up a bunch of runs early on. 
The Carroll Tiger offense was able to draw first blood with a run scored in the top of the first inning, but it was Gilbert's first inning that trumped that performance. Gilbert was able to get 12 runners home and leave little room for Carroll to mount a comeback. Carroll did get three runners home in the top of the second thanks to performances from Parker Adams and Josie Ayala. Parker went a perfect 3-3 with a double, triple, and three RBIs along with a run scored, and Ayala went 1-1 with a homerun shot for an RBI and a run scored. Gilbert's defense was able to keep their 8 run lead intact up until their offense was able to add two more runs to their total in the fifth that ended the game at 14-4. 
The loss dropped Carroll to 14-15 overall on the season and 2-12, ending a four-game winning streak. The Tigers continue the regular season with another conference game on Thursday, June 30th when they take on Ballard at home. 
Carroll Stats
Parker Adams: 3-3, RS, 2B, 3B, 3 RBI
Josie Ayala: 1-1, RS, HR, RBI, BB, SB
Camryn Schable: 1-2, RS; Pitching: 0.1 IP, 5 Hits, 5 RA, 5 ER, BB
Averi Burke: 1-2, RS
Alyssa Brant: Pitching: 4.1 IP, 15 Hits, 11 RA, 8 ER, BB, 2 HB, K, L
Box Score
Teams         1   2   3   4   5    Final
CARR           1   3   0   0   0 |      4
GILB          12   0   0   0   2  |   14
Ar-We-Va At Glidden Ralston 
Glidden Ralston 11
Ar-We-Va 4
Glidden Ralston jumped out early scoring 6 times as they pounded 11 hits on their way to an 11-4 victory. Ar-We-Va trimmed the lead 6-2 with a couple of runs in the 2nd inning, after leaving the bases loaded in the 1st inning. The Rockets finished with 7 hits.
Vanessa Koehler started the Wildcats off in the bottom 1st with a single and stole 2nd base. Elizabeth Lloyd singled to load the bases and Ashlynn Tigges drove in a pair of runs with a single. Summer Toms reached on an error, Brileigh Bock and Brenna Bowman both walked and then Vanessa Koehler hit a double to score 2 more runs. Karime Sanchez doubled for the Rockets to start the 2nd inning, then scored when Kora Obrecht reached on an error which also scored Maggie Ragaller who singled. The Wildcats scored a run in the 3rd, then nearly ended the game in the 5th. Elizabeth Lloyd and Ashlynn Tigges walked, Summer Toms singled, Brenna Bowman singled to score a run and Addy Boell singled to score a pair of runs. They loaded the bases with 2 outs but couldn't score and led 10-2 going to the 6th. The Rockets added a pair of runs in the 6th inning. Trista Reis walked with 2 outs and scored on a triple by Maggie Ragaller, who scored on a wild pitch.
Summer Toms led the Wildcats with 3 hits and scored 3 times. Vanessa Koehler and Tiela Janssen both had 2 hits with Koehler doubled and scored a pair of runs and drove in 2-runs. Ashlynn Tigges finished with 2 RBI and scored 3 times and Brenna Bowman and Addy Boell each drove in a pair of runs.
Maggie Ragaller and Delaney Schurke each had 2 hits for Ar-We-Va with Ragaller hitting a triple, scoring couple runs and drove in a run. Schurke had a double. Karime Sanchez doubled and scored.
The Wildcats finished 9-9 and will host Boyer Valley on Friday in the postseason. Ar-We-Va wrapped up the regular season at 4-13 and will take on Storm Lake St Mary's in Emmetsburg on Friday in the postseason.
Glidden Ralston Stats
Vanessa Koehler 2-4, 2B, 2 RBI, RS, SB- Pitching WP, 7 IP, 7 Hits, 4 RA, 2 ER, 7 K's, 3 BB
Tiela Janssen 2-4
Kassidy Wenck 1 RS, 2 BB
Elizabeth Lloyd 1 BB
Ashlynn Tigges1-3, 2 RBI, 3 RS, BB
Summer Toms 3-4, 2B, RBI, 3 RS
Brileigh Bock 1-2, RS, BB
Brenna Bowman 1-3, 2 RBI, BB
Addy Boell 1-4, 2 RBI
BreAnn Hartwigsen 2 RS
Ar-We-Va Stats
Maggie Ragaller 2-4, 3B, RBI, 2 RS
Kora Obrecht 1-4
Delaney Schurke 2-4, 2B
Emma Leiting 1-3, BB
Karime Sanchez 1-3, 2B, RS
Trista Reis 1 RS, 2 BB
Amber Ragaller LP, 6 IP, 11 Hits, 11 RA, 6 ER, 3 K's, 6 BB
Box Score
Teams      1     2    3     4    5    6    7    Final
AWV          0     2    0     0    0    2    0        4
GR              6     0     1    0    3    1    x       11
East Sac at Storm Lake St. Mary's 
East Sac                            15
Storm Lake St. Mary's      3
The East Sac Raiders' offense was unstoppable Tuesday night as they took on Storm Lake St. Mary's and picked up their fourth win of the season.
The Raiders had their biggest inning right out of the gate, getting five runners home in the first inning. Aleisha Thayer was able to knock down a two RBI single while Kami Ross and Meredith Brown were also credited with an RBI apiece. The Panthers got a runner across in the first inning as well, cutting down the East Sac lead to 5-1. The Raiders kept the pressure on offensively with a three-run second inning. Brown this time was able to hit a two RBI triple and help her team to an 8-1 lead. The Raider defense also had a solid night, including Maci Gustavson in the circle. In six innings of work, Gustavson only allowed three hits and an earned run while striking out nine batters. 
The Raiders continued their scoring fest after a scoreless third inning with a run scored in the fourth, three in the fifth, and finally three in the sixth. Mary Bontrager was able to get herself a two RBI single in the fifth and another RBI in the sixth for three total on the night. Brown in this game was also able to carve out a solid night at the plate, going 4-5 with two triples, three runs scored, and three RBIs. After six innings, the Raiders stood victorious by a final score of 15-3. The win elevated the Raiders to 4-11 overall on the season and 4-6 in the Twin Lakes Conference. They have their final regular season game coming up on Wednesday, June 29th when they travel to take on Pocahontas Area. 
East Sac Stats
Emersyn Mack: 4-4, 2B, BB, 4 RS, 2 SB
Mary Bontrager: 2-4, 2 RS, 3 RBI
Meredith Brown: 4-5, 2-3B, 3 RS, 3 RBI, SB
Kami Ross: BB, RS
Maci Gustavson: 2-3, 2 BB, 2 RBI, RS; Pitching: 6 IP, 3 Hits, 3 RA, ER, 3 BB, 9 K, W
Aleisha Thayer: 1-2
Kendall Quirk: RS, BB, SB
Jamie Pierce: SB
Jen Aschinger: RS
Abby Schueneman: 1-1, 2 RS, BB, SB
Box Score
Teams         1   2   3   4   5   6    Final
ESC              5   3   0   1   3   3  |   15
SLSM           1   0   1   0   1   0  |     3
Audubon at CAM Anita
CAM Anita       3
Audubon         2
The Audubon Wheelers held on until the end against CAM Anita, but it was a single run that made the difference in the end Tuesday. 
While both teams didn't get a large amount of hits in this game, they got runs in when they needed. Audubon got on the board first in the second inning and took the early 2-0 lead. Jordan Mulford was able to single out to right field and stole second base and was able to score off the CAM Anita error. Mattie Nielsen was also able to get around the bags due to more errors from CAM Anita, but she was brought in by Jordan Porsch who singled to left field. The Cougars were able to tie the ball game up at 2-2 when they scored two runners off two ground ball sac hits. 
A big highlight for the Wheelers in this game was the performance from Kali Irlmeier. In five innings in the circle, she put up 10 strikeouts and only allowed two earned runs total. The defense behind her was also quite efficient, getting 18 putouts on 23 chances. Despite a solid defense, CAM Anita was able to get one more run past the Audubon defense in the sixth inning, to take the late 3-2 lead. Audubon's final chance to tie the game up again was thwarted as they got Kali Irlmeier on first but was struck out twice and had a flyout to the second baseman that awarded the 3-2 win to CAM Anita in the end. 
The loss dropped the Wheelers to 11-12 overall on the season. Their final regular season game will take place on Wednesday, June 29th as they travel to take on Griswold. 
Audubon Stats
Michelle Brooks: 2-3, 2B
Jordan Porsch: 1-3, RBI, BB
Addie Hocker: BB
Kylee Hartl: 1-2, 2B, BB
Mattie Nielsen: RS
Kali Irlmeier: 1-4; Pitching: 5 IP, 5 Hits, 3 RA, 2 ER, 2 BB, 10 K, L
Jordan Mulford: 1-3, RS, SB
Alexis Obermeier: Pitching, 1 IP, 2 K
Box Score
Teams        1   2   3   4   5   6   7    Final
AUD            0   2   0   0   0   0   0  |    2
CAM           0   0   0   2   0   1   X  |     3
Coon Rapids Bayard at Earlham
Earlham                        11
Coon Rapids Bayard     1
Coon Rapids Bayard had a tough time producing runs Tuesday night as they took on the Earlham Cardinals. 
Earlham's offense got off to a quick start against the Crusaders as they put up 10 runs in the first four innings. Coon Rapids Bayard was able to put up six hits in this game with Miranda McClellan having the best night by going 2-2 with an RBI. She was able to record that RBI in the fifth inning when Anna Hart scored that run. The Cardinals were able to close out the game in the fifth inning with a final run to win it 11-1. 
The loss dropped Coon Rapids Bayard to 12-10 overall on the season. The final game of the regular season for the Crusaders will take place on Wednesday, June 29th when they take on Glidden Ralston on the road. 
Coon Rapids Bayard Stats
Emma Hart: 1-3; Pitching: 4.2 IP, 13 Hits, 11 RA, 7 ER, 2 BB, 4 K, L
Lacie Davis: 1-2, BB
Anna Hart: 1-3, RS, 2B
Breeley Clayburg: 1-3, SB
Miranda McClellan: 2-2, BB, RBI, SB
Malia Clayburg: BB
Lydia Hofbauer: BB
Box Score
Teams        1   2   3   4   5   Final
CRB             0   0   0   0   1 |     1
EARL           4   3   2   1   1  |   11